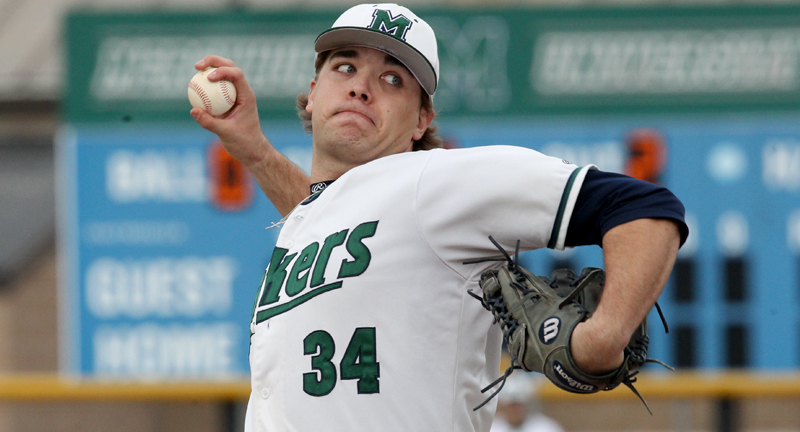 It's not uncommon for the reigning national champion of a college sport to be the preseason No. 1 the following season; in fact it's quite common. However, let's be honest, this distinction typically isn't formulated on astute forecasting. To be blunt, it's a tepid, uninformed prediction using only the past season's final outcome as basis. There really isn't much of a look into who teams are brining back and taking in the preseason rankings they are too often a rehashed, slightly remixed roster of clubs from the previous final poll.
This methodology is flawed because, in regards to the top teams, the reason a school is among the nation's elite is typically because they had a roster full of experienced upperclassmen along with top-shelf talent which made them the best of the best. Thus, at season's end, the band breaks up for good. Senior players graduate and the top players get drafted into the professional ranks.
Back-to-back titles aren't common. In the last 40 years a school has won the college baseball national championship twice in a row just eight times in D-I and D-II baseball combined; that's only 10 percent of the time. If you factor in the pair of occasions it has happened in D-III baseball the percentage drops to just over eight percent.
Therefore, if you're a fan of West Chester you may think that's it time to slow your roll in regards to clearing out a spot for another trophy, but I've gotta say, these dudes can totally do it.
The Golden Rams return much of the team that dog-piled in Grand Prairie last spring by sweeping their way through the NCAA postseason.  Nick Ward, Shane Dressler and Jared Melone each started every game last year and batted a combined .360 and had well over 100 total bases between them. The pitching staff looks good again too with Mike Cipolla and Jon Fisher, two of their three best starters, again back in purple and gold. Granted there are some holes to fill but head coach Jad Prachniak has some D-I transfers coming in to fill the void, along with Tyler Forbes, who earned all conference honors last season at Northampton Community College.
Their title defense won't be easy as WCU will have a target on their back as teams bring their best to come at the king, but these Rams not only have talent and experience, they've got the confident strut of a champion and they are not going to go down without a fight.

2018 Perfect Game NCAA Division II Preseason Top 25 Teams
| | | | | |
| --- | --- | --- | --- | --- |
| Rk. | 2017 | School | ST | '17 Record |
| 1 | 1 | West Chester Golden Rams | PA | 44-12 |
| 2 | 4 | Delta State Statesmen | MS | 45-13 |
| 3 | 6 | Tampa Spartans | FL | 39-14 |
| 4 | 16 | Minnesota State Mavericks | MN | 46-11 |
| 5 | 3 | Colorado Mesa Mavericks | CO | 50-12 |
| 6 | 7 | Mercyhurst Lakers | PA | 38-8 |
| 7 | 13 | Lubbock Christian Chaparrals | TX | 38-16 |
| 8 | 14 | Emporia State Hornets | KS | 42-13 |
| 9 | NR | Cal Baptist Lancers | CA | 35-18 |
| 10 | NR | UNC Pembroke Braves | NC | 41-17 |
| 11 | 18 | St. Thomas Aquinas Spartans | NY | 44-17 |
| 12 | NR | Florida Southern Moccasins | FL | 35-17 |
| 13 | 20 | Northwood Wolves | MI | 46-13 |
| 14 | NR | Georgia College Bobcats | GA | 35-14 |
| 15 | NR | Catawba Indians | NC | 40-17 |
| 16 | 15 | Azusa Pacific Cougars | CA | 42-12 |
| 17 | NR | New Haven Chargers | CT | 31-13 |
| 18 | 17 | Nova Southeastern Sharks | FL | 35-18 |
| 19 | 2 | UC San Diego Tritons | CA | 44-19 |
| 20 | NR | St. Cloud State Huskies | MN | 41-18 |
| 21 | 25 | Lincoln Memorial Railsplitters | TN | 35-19 |
| 22 | NR | North Greenville Crusaders | SC | 38-15 |
| 23 | 23 | Belmont Abbey Crusaders | NC | 37-17 |
| 24 | 10 | Angelo State Rams | TX | 43-15 |
| 25 | NR | Oklahoma Baptist Bison | OK | 42-15 |
1. West Chester Golden Rams
The Rams started last season unranked with the prediction that it was going to be a rebuilding year, but head coach Jad Prachniak's team went off script and went won the title a year early. It was the second national title in five years for WCU, capturing the D-II crown in style by sweeping their way through both the regional and national tournaments. With that being said, 2018 was supposed to be the year they competed for the title. Now along with another year of practice and experience under their belt, they also have the confidence and swagger that comes with being a champion. Almost all the cogs are still in place from last year's machine, including top hitter Shane Dressler (.375) and two of three of their top starting pitchers.
2. Delta State Statesmen
The Statemen, like West Chester, retain much of the 2017 team that powered them into the postseason and to the national championships. The offense is led by reigning Tino Martinez Award winner Zack Shannon (.434/.498/.758) who is just one of four returning All GSC selections back in the lineup. The pitching staff is again topped by Seth Birdsong, who earned the victory in 10 decisions last season during a year in which he threw 101 2/3 innings and held opposition to a 3.01 ERA. Although the retuning roster alone is enough to make them a favorite to reach the finals, head coach Mike Kinnison added some quality transfers as well to make the team even more imposing.
3. Tampa Spartans
Perennial power Tampa will once again field a championship quality club filled with carryover talent combined with one of head coach Joe Urso's patented top shelf recruiting classes. Matching last year's monster offensive numbers, a team tat collectively slugged .528, will be a tall order, but the pieces are in place for them to score just as many runs hitting for average with speed. The top returning hitter is Darren Miller, who is in line to become the next great Spartan slugger. Last season he batted .371 with 13 home runs and 15 doubles. Few, if any pitchers will be as formidable as David LeBron. He fanned 103 in 91 innings last season while holding opponents to a .213 batting average. He'll be joined by Cole Aker, who put up good numbers at North Carolina but wasn't getting the innings he needed to flourish.
4. Minnesota State Mavericks
The Mavs earned a lopsided 46-11 record in 2017, winning their fifth NSIC in the eight years, but fell short of their annual goal of reaching the finals. They'll be in good position to make it back to Cary this season with a balanced roster of developed talent. Dalton Roach was a statistical freak last season, earning the Brett Tomko award for D-II's best pitcher when he complied a near perfect 10-1 record, a dainty 1.56 ERA and a school record 128 strikeouts, while only issuing a dozen walks. While the rest of the staff isn't quite that phenomenal, they're not far from it. On offense the Mavs should push the 400 run mark with an experienced roster which has little drop off from the leadoff to the last batter.
5. Colorado Mesa Mavericks
The Mesa pitching is ghastly good as always and is one of, if not the, finest staff in the nation. CMU will have back all three of their top starters who went 32-2 last season. That is not a misprint or a typo, seriously, 32-2. Kyle Leahy is the Athos of the three, earning a 1.41 ERA with 96 strikeouts, four complete games and even a save. Together they led the team to an ERA nearly three full runs lower than anyone else in their conference. The offense took a hit in the offseason and will need to step up their game to ensure the Mavs don't make an early exit in the postseason.
6. Mercyhurst Lakers
The Lakers give the PSAC two of five of the top teams in the nation. Statistically the Lakers were better than conference rival West Chester last season, but they dropped four of their final six games (two to WCU) to have their season come to a disappointing end. The Lakers lost little in the offseason and will again tangle with the Golden Rams for conference and national supremacy. Mercyhurst has four starting pitchers back who collectively K'd 252 in 198 innings and had sub-3.00 ERAs. On offense Drew Delsignore is the top returning hitter. He hit an impressive .396 and had a double/double in home runs and stolen bases, but there is a steady drop in production after him.
7. Lubbock Christian Chaparrals
The Chaps have the necessary pieces to put together a brilliant run in 2018. The pitching staff boasts the double barrel assault of Ricky Contreras, a two-time Heartland Conference First Teamer and reigning conference Pitcher of the Year, along with Daniel Crooks, who topped the team in strikeouts (96) and held opponents to a measly .211 batting average. While the offense doesn't have quite the returning luster as the pitching staff, there are still some dangerous hitters and head coach Nathan Blackwood has usurped some quality transfers to up their game at the plate, including Andrew Pratt, who was a Freshman All-American at New Mexico.
8. Emporia State Hornets
The Hornets return five position players that started at least 10 games last year and added some extra oomph in top shelf transfers like Bryce Fischer, who hit .317 in a limited role at Oklahoma State last spring. ESU's Friday and Saturday starting pitchers are back on the mound in Seth Holman and Tanner Cairns. They'll reacquaint with five of the top six arms out of the last year's bullpen to give them an arsenal of quality experience on the mound. The MIAA is proving to be one of the best and most competitive conferences in D-II, which will prepare Emporia for a Darwinian postseason run.
9. Cal Baptist Lancers
The Lancers are looking to end their final D-II season with a national title. CBU's top hurler from last season was drafted, but Dylan Stowell, their 2016 ace, will be back after injury-redshirting last season. Stowell was the West Region Pitcher of the Year in '16 after earning a 1.52 ERA and averaging a strikeout per inning. The rest of the rotation will be rounded out by seasoned starters to give them an upperhand in every series they play. Nevertheless, the arm which is catching the most eyes is attached to 6-foot-6 Justin Montgomery. He's one of D-II top prospects headed into the season. The offense doesn't have quite the clout as other clubs in the PacWest, but they're a balanced bunch who can create run scoring opportunities up and down the lineup.
10. UNC Pembroke Braves
Despite not being ranked at all last season, UNCP starts the season in the top 10 with anticipation of big years from an established group of five returning position starters and six veteran pitchers from last season's club that finished with a 41-17 record. Roberto Rivera is one of D-II's most dangerous players, finishing last season with a .374 batting average with 10 triples and 25 stolen bases. Pitching-wise, another big season can be expected from Anthony Burke who earned the win in 11 of 12 decisions last spring. The x-factor for UNCP will be young River Ryan who was brilliant in a utility role as a freshman last spring. In addition to being the Brave's shortstop he made 10 appearances on the mound where he had a 0.71 ERA in 25 1/3 innings.
11. St. Thomas Aquinas Spartans
The Spartans made a memorable run last season, steamrolling through the East Regionals by outscoring opposition 38-7 and winning a pair of extra inning contests at the D-II National Championships. The stingy pitching staff was topped by Frankie Moscatiello, who earned a 2.00 ERA with 94 strikeouts in 90 innings while only allowing 67 hits. He'll be back on the mound along with three other hurlers who made at least eight starts. While the pitching staff accounts for much of the repeat optimism, enough can't be said about outfielder Giovanni Dingcong. The senior slugger personally out homered four of the six teams in the East Coast Conference last spring, putting 20 balls over the wall while batting .302 and stealing 25 bases as he earned New England League All Star honors and was a participant in the NECBL Home Run Derby over the summer.
12. Florida Southern Moccasins
The viability of the Mocs' quest for a 10th national championship will primarily rest upon what should be one of the most astute offensives in D-II baseball. Four of five top FSC batters will be back, topped by the multi-talented Logan Browning. Not only was Browning a major cog in the everyday lineup with his .380 batting average and seven home runs, he also was attributed eight wins on the mound, striking out 107 batters in 16 starts. Head coach Lance Niekro added Hayden Marze in the offseason, who, like Browning, is invaluable at the plate and on the mound. A former Mississippi State signee who received 20 D-I offers, Marze was named one of the top prospects in the Florida Collegiate Baseball League the past summer.
13. Northwood Wolves
Northwood was one of D-II baseball's biggest surprises last season as the upstart Wolves won 46 games, besting their previous school record by 16. They also established new highs in GLIAC wins, GLIAC winning percentage and consecutive wins while multiple players established a number of individual records as well. NU was a win away from reaching the D-II National Championships last year and return the core of their roster, which will make them a favorite to make it there this season. David Vinsky was phenomenal as a freshman, batting .449, which was good for second in the nation, and his 27 doubles tied for the lead. Tyler Jandron was nearly as impressive on the mound. He finished 12-1 with five complete games, three shutouts and struck out 102 batters in 91 innings. He'll be back along with two other quality starters, and Lennon Gwizdala, who held opposition to a .135 batting average in 17 relief appearances.
14. Georgia College Bobcats
Despite losing their biggest bat to the professional ranks, the 'Cats lineup will be one of the most merciless group of nine in baseball. Six players are back who batted at least .300 and each of them had double-digit doubles, except for one who finished with nine.  Brandt Stallings, a two-year starter at Georgia Tech, joined over the offseason and should make their offense even more potent. Cal Gentry topped the team in batting average as freshman, hitting .442 for neophyte GC head coach Jason Eller. Gentry and Eller are hoping to take the team further their sophomore seasons in Milledgeville and will have two of their established starters on the mound to help them along the way. Nevertheless, the staff is bit light on experience and expertise and needs an arm or two to elevate their game to take pressure off the offense.
15. Catawba Indians
With appearances in the D-II National Finals in 2012 and 2015, the Indians are due for another trip to the final eight assuming they are following a triennial schedule. With a wealth of quality players on the mound and in the lineup, the two hour trip east to Cary seems to be a likely possibility. Luke Setzer powers the offense, topping the team last spring with a .415 batting average and 18 home runs. At a listed height of 5-foot-4, Appalachian State transfer Jason Curtis likely won't have the same power numbers as Setzer, but will be a welcome addition to the everyday lineup and infield. The Catawba pitching staff was a little generous in allowing runs last season, but they do have quality upperclassmen arms to keep opposing offensives at bay.
16. Azusa Pacific Cougars
If the Cougars' Pablo O'Connor isn't D-II's most feared hitter he probably should be. The 2017 PacWest Player of the Year is looking for another big year after batting .392 with 19 home runs last season. He'll lead the APU attack which returns not some very capable hitters, but players with important defensive gloves as well. Like many teams, the Cougars pitching staff is the x-factor. Their hurlers don't dominate, but they get outs and keep the pressure off the lineup by keeping runs off the board. Former Texas draft pick and Oregon pitcher Isaiah Carranza was brilliant in the Northwoods League over the summer. If he pitches to his potential he'll be an invaluable member of the rotation.
17. New Haven Chargers
The Chargers have found themselves in the Franklin Pierce and SNHU rearview mirrors the past few seasons, but should be favorites to capture the NE-10 crown in 2018.  New Haven returns 10 position players from last year, including senior Jack Zagaja, who finished in the top 10 in the conference in batting, RBI and slugging percentage and was named a New England Intercollegiate Baseball Association All-Star over the summer. What truly takes UNH an elite club this season is their starting pitching tandem of David Palmer and Tim Kennedy. The pair earned the win in 15 of 16 decisions, had a combined 1.47 ERA and struck out 164 batters in 140 1/3 innings.
18. Nova Southeastern Sharks
The Sharks are one of the toughest teams to foretell as they'll feature a new look lineup infused with transfer talent as they compete for a second national championship in three years. Jake Anchia topped the team with 17 home runs, batted .326, is an invaluable asset behind the plate and improved over the summer in the Cape Cod League. However, he's one of the few holdovers from last season. Transfers up the middle – highlighted by Dylan Harris, who was third in the nation in batting at .448 for Sunshine State foe Saint Leo – will make up for some of the depleted offense. It's the same situation on the mound as it is at the plate. Head coach Greg Brown is going to relay on transfers to keep the Sharks in the mix. Christan Demby and Devin Conn are two-way players who can make immediate impacts, as will Joe Strzelecki. Each of the three transferred from D-I programs.
19. UC San Diego Tritons
The Tritons were the national runner-up last season, eliminating Dixie State, Azusa Pacific, Quincy, Lindenwood and St. Thomas Aquinas during their successful postseason run. UCSD will once again be led by Tyler Durma whose .363 batting average bested the team thanks to his 28-game hitting streak. Complementing him in the order will be UCLA transfer Zander Clarke. Clarke starred over the summer in the Great West League where he earned Player of the Year honors after leading the league in home runs while finishing second in hitting and RBI. Last year's opening day starter, Preston Mott, is one of six returning pitchers back who appeared in at least 10 games, and will be joined on the staff by Mitch Hickey, who was a freshman All American at Oregon State when he recorded 11 saves in 27 games for the Beavers.
20. St. Cloud State Huskies
The Huskies are set up to record another successful season with the goal of reaching the D-II National Championships, a target which has frustratingly eluded the team during head coach Pat Dolan's triumphant reign. Seven of nine hitters are back, including the batters who typically hit leadoff through sixth in the order. Cal Giese, who led the team with a 1.86 ERA, is back and could be one-half of an enviable tandem if Sheldon Miks, the 2016 NSIC Pitcher of the Year, is able to bounce back to form following Tommy John season. Dominic Austing, who K'd 95 in 80 1/3 innings, could make that magnificent duo a trio.
21. Lincoln Memorial Railsplitters
LMU earned the second-most wins in program history, finishing their season with a 35-19 record, good for a second-place finish the SAC regular-season standings, and they earned their first victories in the NCAA tournament. That same team is mostly intact this season and justifiably is set on elevating their on-the-field accomplishments once again. The top five hitters from last season are all back in the lineup. Each batted at least .320 with Logan Augustine topping the team at .399 with 13 home runs and 53 RBI. Head coach Jeff Sziksai has an apt righty/lefty combo in Ethan Elliott and Dominic Morabito to top his pitching staff.
22. North Greenville Crusaders
The Crusaders have quietly become one of D-II baseball's teams to beat, raising their profile from an 8-38 finish in 2014 to a 38-15 record and second place finish in the Conference Carolinas last season. This could be head coach Landon Powell's official breakout roster with a club that can boast six all conference returners and a hearty mix of transfers. The most notable incoming player is John Jones, who Powell plucked from his alma matter South Carolina. Jones was SEC Player of the Week twice in '16, but has struggled with consistently. He's hoping he can reignite his hot bat in Tigerville. Pitching-wise NGU looks like they can be dangerous with Tucker Burgess, who has excelled since transferring from Clemson, and Ethan Garner, who was the conference freshman of the year in 2016 but redshirted last season as he recovered from Tommy John surgery.
23. Belmont Abbey Crusaders
The Crusaders have a senior-laden lineup led by the 2017 Conference Carolinas Player of the Year Nick Beinlich, one of the most impressive and incendiary players in D-II baseball. Last season Beinlich erupted to bat .386 with 22 home runs and 34 stolen bases and paced the Crusaders to a 37-win season, which unceremoniously came to a dissatisfying end when they didn't get invited to regional play. That snub should give head coach Chris Anderson's club extra incentive to make sure this season is one to remember. Besides Beinlich, the rest of the roster is explosive as well and the team should finish the season in the top 10 in runs. The pitching staff returns three starters from last season including the indispensable Cameron Busby, who made 20 appearances, earned eight wins, threw five complete games and had a pair of saves.
24. Angelo State Rams
The Rams are an enigmatic bunch who have the potential to be great right out of the gate or could bungle until they develop into a contender. Regardless of which way they take, expect ASU to be a contender come April. There is unequivocal talent on the mound, but a good chunk is unproven or coming off injuries. If transfer pitchers like Andrew Croucher and Tyler Lesley can make an immediate impact early, it would snowball into future success. The everyday nine will be missing some key components to start the season as well but doesn't have as many holes to fill as the staff does. Regardless, with the reigning Lone Star Conference Player of the Year Jacob Boston and conference freshman of the year Nick Novak, the Rams won't fall too far off the pace.
25. Oklahoma Baptist Bison
In their first season of NCAA postseason eligibility Oklahoma Baptist should already be considered a national title contender. As they transitioned from the NAIA to the NCAA, OBU won back-to-back NCCAA Championships, sweeping through the tournament both times. This season they'll be looking for a bigger trophy as they bring back three players who ranked in the top 10 in the Great American Conference in batting average, the conference RBI leader and a pair of versatile starting pitchers who combined for a 2.71 ERA and averaged over 10 strikeouts per nine innings. With the shuttering of NAIA school St. Gregory's, the Bison scored Mychael Yarbor, who struck out 99 batters and threw 10 complete games for the now defunct Cavaliers.
2018 NCAA Division II Top 30 Prospects (by Brian Sakowski @B_Sakowski_PG)
| | | | | | | | | |
| --- | --- | --- | --- | --- | --- | --- | --- | --- |
| Rk. | Player | Pos. | B-T | HT | WT | School | Hometown | ST |
| 1 | Josiah Gray | RHP | R-R | 6-0 | 190 | Le Moyne | New Rochelle | NY |
| 2 | Justin Montgomery | RHP | R-R | 6-6 | 200 | Cal Baptist | Norco | CA |
| 3 | Cole Aker | RHP | R-R | 6-2 | 195 | Tampa | Kernersville | NC |
| 4 | Chris Vallimont | RHP | R-R | 6-5 | 235 | Mercyhurst | Erie | PA |
| 5 | Brad Case | RHP | R-R | 6-7 | 215 | Rollins | Pelham | NY |
| 6 | Jake Anchia | C | R-R | 6-1 | 210 | Nova Southeastern | Miami Lakes | FL |
| 7 | Cesar Capellan | RHP | R-R | 6-3 | 190 | Eastern New Mexico | Bonao | PR |
| 8 | Josh Smith | LHP | L-L | 6-5 | 230 | Grand Valley State | Saline | MI |
| 9 | Grant Wolfram | LHP | L-L | 6-7 | 220 | Davenport | Hamilton | MI |
| 10 | Avery Greer | RHP | R-R | 6-5 | 215 | North Greenville | Kennesaw | GA |
| 11 | Andrew Shaps | OF | L-L | 6-1 | 190 | Chico State | Paradise Valley | AZ |
| 12 | Tanner Lawson | LHP | L-L | 6-1 | 190 | St. Edward's | Spring | TX |
| 13 | Zach Shannon | 1B | R-R | 6-3 | 230 | Delta State | Cincinnati | OH |
| 14 | Gus Varland | RHP | L-R | 6-1 | 190 | Concordia (Minn.) | Maplewood | MN |
| 15 | Connor Grant | OF | R-R | 6-3 | 190 | North Greenville | Blythewood | SC |
| 16 | Michael Rothmund | 1B | R-R | 6-6 | 225 | Illinois-Springfield | Lombard | IL |
| 17 | Bryant Harris, Jr. | OF | R-R | 6-2 | 205 | West Florida | Hampton | GA |
| 18 | Nick Belzer | RHP | R-R | 6-2 | 185 | Minnesota State-Mankato | Bondurant | IA |
| 19 | Zack Tower | 1B | R-R | 6-4 | 225 | Franklin Pierce | Auburn | MA |
| 20 | Joe Corbett | RHP | R-R | 6-5 | 230 | West Texas A&M | Edmond | OK |
| 21 | Isaiah Carranza | RHP | R-R | 6-5 | 200 | Azusa Pacific | La Verne | CA |
| 22 | Jake Mielock | RHP | B-R | 6-4 | 210 | Colorado Mesa | Safety Harbor | FL |
| 23 | Andrew Ciolli | RHP | R-R | 6-7 | 215 | Mercyhurst | Hudson | OH |
| 24 | Kyle Griffin | RHP | R-R | 6-1 | 205 | Southern Indiana | Morganfield | KY |
| 25 | Dalton Roach | RHP | R-R | 6-2 | 200 | Minnesota State-Mankato | Eau Claire | WI |
| 26 | Russell Lamovec | RHP | R-R | 6-0 | 195 | Mercyhurst | Willoughby Hills | OH |
| 27 | Craig Lewis | OF | R-R | 6-0 | 190 | Seton Hill | Warren | OH |
| 28 | Matthew Minnick | LHP | R-L | 6-2 | 210 | Mercyhurst | Collins | NY |
| 29 | Jared Tobey | LHP | R-L | 6-4 | 230 | Wayne State (Mich.) | St. Clair | MI |
| 30 | Braun Miller | LHP | L-L | 6-5 | 180 | Malone | Sandusky | OH |
He might hail from a Division-II school, but Josiah Gray's name is certainly on the radar of pro scouts in the Northeast thanks to his fast and easy right arm and his ability to miss bats, which he did as a sophomore at Le Moyne and during the summer in the Cape Cod League, where he was ranked as the 41st best prospect. Though not overly physical in stature at 6-feet tall, Gray sports plenty of physical strength at 190-pounds as well as athleticism, components he incorporates well into his delivery as he's able to generate downhill plane on his fastball which will typically work in the 93-95 range in shorter stints and touched as high as 97 mph during the fall. The velocity comes easy for Gray and while the heater is certainly the calling card of his arsenal, the New York native shows three pitches he can land for strikes. Another alluring trait to Gray's profile is the relative freshness of his right arm, meaning there aren't many innings on it yet as he's spent time as a two-way player at Le Moyne, logging just 14 1/3 innings in 2017, with 13 more coming on the Cape. He exhibited good command during that time, with a 43-to-5 strikeout-to-walk ratio in 27 1/3 combined innings and is projected to go in the top 2-4 rounds of the 2018 MLB Draft.
This article originally appeared on the Perfect Game website here: https://www.perfectgame.org/Articles/View.aspx?article=14854