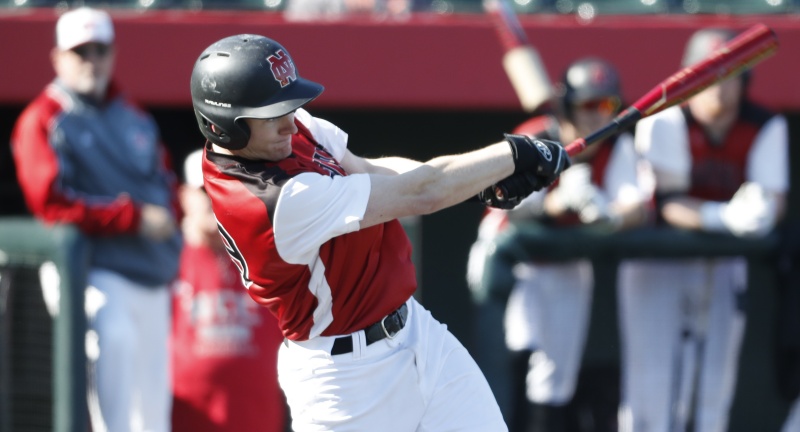 Last year the Webster Gorlocks were the clear-cut No. 1 team in the preseason, and for good reason. Returning to campus were seven position starters, five of six top pitchers and 27 lettermen from a team that had won its 13th consecutive St. Louis Intercollegiate Athletic Conference regular season title and went a combined 8-1 during the SLIAC conference tournament, NCAA Regionals and Super Regionals play. They had multiple All Americans on the roster and additionally armed with motivation following a too early exit in the NCAA Division III World Series courtesy of a pair of one-run losses.
Nevertheless, Webster did not play like a top team last spring.
The Gorlocks stumbled out of the blocks with a lackluster 8-5 record which included a 5-15 mercy rule loss. The offense, which had hit .301 and slugged .421 in 2019, slumped significantly and was down to .282 and .333 numbers, respectively. The pitching staff, which had baffled opposition and held batters to a scant .236 average and 2.86 earned runs per game, was now allowing clubs to hit .258 and score 3.95 earned runs per contest. The team was supposed to be getting better, not markedly worse.
With the NCAA allowing a one-year extension of eligibility due to COVID, the bulk of the team from last season, which is more or less the same team which won 37 games and earned a fourth trip in eight years to the D-III World Series in 2019, is back for another run. They now are another year older and more experienced, and will be looking to prove that last year's pallid performance was an aberration and not the expectation.
There is little doubt that Webster has national title caliber talent. The only question is if they can produce a national title result. Look for WU to correct last season's missteps and return to their winning ways with another trip to the final eight.
2021 Perfect Game NCAA Division III Preseason Top 25


| | | | | |
| --- | --- | --- | --- | --- |
| Rk. | School | State | 2020 Record | 20 Final Rk. |
| 1 | Webster Gorloks | MO | 8-5 | 15 |
| 2 | Southern Maine Huskies | ME | 0-1 | 6 |
| 3 | Randolph-Macon Yellow Jackets | VA | 15-1 | 1 |
| 4 | UW-Whitewater Warhawks | WI | 2-1 | 2 |
| 5 | Cal Lutheran Kingsmen | CA | 16-1 | 4 |
| 6 | North Central Cardinals | IL | 7-0 | 3 |
| 7 | Concordia Tornados | TX | 11-5 | 10 |
| 8 | Cortland State Red Dragons | NY | 4-7 | NR |
| 9 | Trinity Tigers | TX | 11-2 | 11 |
| 10 | Adrian Bulldogs | MI | 4-7 | NR |
| 11 | Texas Lutheran Bulldogs | TX | 9-4 | 14 |
| 12 | Chapman Panthers | CA | 12-3 | 19 |
| 13 | Johns Hopkins Blue Jays | MD | 9-3 | NR |
| 14 | Shenandoah Hornets | VA | 10-1 | 12 |
| 15 | Salisbury Seagulls | MD | 803 | 13 |
| 16 | Washington Bears | MO | 9-3 | 7 |
| 17 | Kean Cougars | NJ | 8-2 | NR |
| 18 | UMass-Boston Beacons | MA | 3-1 | 5 |
| 19 | Rowan Profs | NJ | 6-0 | 16 |
| 20 | Spalding Eagles | KY | 11-3 | 9 |
| 21 | Babson Beavers | MA | 2-1 | 8 |
| 22 | Heidelberg Student Princes | OH | 7-5 | 20 |
| 23 | Concordia University Chicago Cougars | IL | 5-5 | 25 |
| 24 | Tufts Jumbos | MA | 0-0 | 23 |
| 25 | Christopher Newport Captains | VA | 10-4 | NR |


1. Webster Gorloks

Third baseman Ben Swords has slashed .359/.437/.537 over his first three years as a Gorlock and earned such accolades as First Team All St. Louis Intercollegiate Athletic Conference, ABCA/Rawlings First Team All Central Region and All American honors. He will be back to lead the offense once again. On the other side of the infield, Kyler Kent will be playing his fifth year as a regular. Kent has hit .338 over 136 games at Webster. His best season was as a sophomore when he hit .428 and slugged .608. Matt Staker is another experienced starter with 111 games under his belt as the team's shortstop. He provides excellent defense and offense for the team. Outfielder AJ Smith is a sixth-year senior. He was second on the team among regulars in batting with a .342 average in 2019 and hit .304 last season. Aron Hopp, who also plays on the Webster basketball team, started all 50 games in center field and stole 23 bases in 2019.

Matt Mulhearn and Sean Beaver are the aces of the Webster staff. Mullhearn has thrown 246 innings over four seasons and earned a 2.60 ERA. Last season he held opposition to a .180 batting average over 28 innings. A big chunk of those innings came courtesy of what was technically one outing split over a week's time. He was credited with throwing 12 innings as he completed a suspended game which he started. Beaver has been a regular in the rotation for three seasons and has earned a 2.00 ERA over 162 innings on the mound. He has thrown four complete games, stuck out 146 batters and limited opposition to a .234 batting average. Hard-throwing Andrew Padilla has 30 2/3 innings of experience and is penciled in for a starting role. He has been hit around a bit and has struggled with control historically, but also puts up good strikeout numbers. Cooper Hake, who pitched at UI South Bend before transferring to WU, should round out the staff. Jake Anderson and Jordan Smevoll will be looked upon to close games out in the later innings. Transfer Deven Shulstad made 24 appearances out of the bullpen at Florida A&M in 2018 and made eight appearances at Harris-Stowe State in 2020.


2. Southern Maine Huskies

Andrew Hillier will be suiting up for his sixth season as a Husky as he received a medical hardship waiver as a freshman after getting injured early. He plays both infield corner positions and is an excellent hitter as demonstrated by his .350 career average. In 2019 he led the team with a .394 batting average and 25 extra-base hits. Andrew Olszak has played three full seasons at USM with a .320 average. In 2019 he batted .337 and only committed seven errors as the Huskies' shortstop. Sam Troiano was rated the number one outfielder and fifth-best prospect overall from Maine coming out of high school. In 2019 he hit .310 with a team-leading nine home runs and added 10 stolen bases. Outfielder Dylan Hapworth also has three solid seasons under his belt. His career average over 124 games is .339. Catcher Jason Komulainen also returns to stabilize the defense and pitching staff.

Ben Lambert was an All-American in 2019 when he led the Little East Conference in both wins and ERA. He finished the season with a 10-1 record and 1.38 ERA. In 71 2/3 innings Lambert only allowed 47 hits to finish with a .182 opposing batting average. Gage Feeney has been a three-year starter for the Huskies and has put up solid, but not quite spectacular numbers every year. Over the past two seasons he has finished with 3.41 and 3.59 ERAs and a 13-3 record. Josh Joy greatly improved from his sophomore season in 2019 as he dropped his ERA from a beefy 8.37 to a much more manageable 3.60. He only allowed 25 hits in 40 innings to hold opposition to a .180 batting average.


3. Randolph-Macon Yellow Jackets

RMC was the No. 1 team in the D-III rankings with a 15-1 record when the season was called in 2020. Back on campus is an extremely experienced, senior-heavy class which includes five position players who propelled the team to the 2018 College World Series. The team also returns three-quarters of last year's starting rotation.

Third baseman Mike Nickles was named the 2019 Old Dominion Athletic Conference Player of the Year when he hit .358 and slugged .642. He has earned a .323 batting average over five seasons for the Yellow Jackets. His brother Shawn is in his fourth year on the team and batted .299 with 12 stolen bases in 2019 and was hitting .339 last season. Ryan Duphorn, the team's leadoff hitter and center fielder, has a .335 career average and has stolen 69 bases. Catcher Reece Yeargain bats cleanup and was hitting a career high .361 when the season was called.

The staff will be without the accomplished Michael Zubovich who transferred to Wiliam & Mary to pursue a master's degree, but three starters from last year's team remain on the roster. John Reynolds Jr. has made 18 starts over three seasons at RMC. In those outings he has a 3.66 ERA. He struck out 21 batters in 21 1/3 innings last season while only issuing four walks. A third Nickles brother, Matt, who is the twin of Michael, will be a five-year starter on the team. He was putting up the best numbers of his career last spring with a 2.79 ERA. In 143 2/3 total innings on the mound he has struck out 141 batters and only allowed 128 hits. Cam Furman excelled as a freshman last spring. He had a 1.50 ERA in four appearances and held opposition to a .190 batting average. Hayden Moore joined the team last season after pitching his first three seasons at VCU where he appeared in 45 games and had a cumulative 3.17 ERA. He appeared in seven games in relief and had a 2.70 ERA.


4. UW Whitewater Warhawks

In 2019, shortstop Nick Santoro slashed .379/.439/.651, hit 16 doubles, eight triples and seven home runs and finished first in the Wisconsin Intercollegiate Athletic Conference in total bases. He is one of several players back who are experienced accomplished hitters. Matt Korman amassed a .540 slugging percentage in 2019 which placed him 10th in the conference and batted 341. Connor Moroder batted .350 in 37 games as the team's regular DH/PH in 2019 and is also a viable pitching option. He impressively has only struck out seven times in 143 college at-bats. Catcher Ryan Norton joined the starting lineup last season, as did freshman first baseman Donovan Brandl. Both are expected to be important parts of the team's offense.

The Warhawks' pitching staff has two top starters along with an arsenal of other accomplished and talented arms. Matt O'Sullivan made 12 starts in 2019 and totaled 78 1/3 innings of work which included four complete games. He was a First Team All-WIAC pitcher who earned his spot with a 2.87 ERA and 80 strikeouts. Opposition batted a paltry .225 against him. Also back will be Westin Muir who has struck out 97 batters in 82 1/3 innings over two seasons. He had a perfect 8-0 record, 2.73 ERA and 0.99 WHIP in 2019. Connor Spear and Evan Sigmund were devastating to opposition in 2019. Spear had a 1.44 ERA in 15 games which included five starts. He only allowed seven earned runs which was the second-fewest ever in a season for a UWW pitcher who threw at least 25 innings. Sigmund worked almost exclusively out of the bullpen and pitched 20 1/3 innings in which he only issued two walks with 21 strikeouts. His ERA on the season was 1.77. Ben Muscatello made his Warhawk debut last season after spending a season at William Jewel. He started one of the three UWW games played in 2020.


5. Cal Lutheran Kingsmen

The Kingsmen had two good-but-not-great seasons following their capture of the national title in 2017. CLU looked to be ready to contend nationally once again last season as they were 16-1 when COVID cancelled the season.

Tanner Wright has three solid seasons under his belt as the team's third baseman. In 2019 he was an All-Southern California Intercollegiate Athletic Conference First Team selection after topping the team in seven categories including batting average and stolen bases. He was batting .388 in 67 at-bats last year. On the other side of the infield, Zach Bullard played sparingly his first two seasons, but was a regular starter at first base last spring. He had multi-hit outings in six of nine outings and was hitting .382 when the season was called. Daniel Parr's batting average has been rising exponentially in his three seasons at CLU. He raised his career average to .305 after batting .355 last season. Harrison Dunkel batted .400 as redshirt freshman last season and true freshman Austin Carrillo was leading the team with a .423 batting average, six doubles and five stolen bases in 14 games. Middle infielder Nick Fusari committed to LMU out of high school, but has transferred to CLU for 2021.

Alexander Rivas and Zach Hardman have the ability to pitch professionally. Rivas has been excellent in 14 appearances and six starts over two seasons. In 51 2/3 innings he has struck out 44 batters while allowing 43 hits. Hardman excelled out of the bullpen in 2019 and as a starter in 2020. Over three seasons he has a 2.57 ERA in 31 appearances and has struck out 63 batters in 63 innings. Mase Snodgrass, who joined the rotation as a junior last season, will be a regular starter once again. Tyler Hazlett threw for Hawaii Pacific and Mt. San Antonio College before joining the Kingsmen last season. He had a 2.30 ERA in eight bullpen appearances in 2020.


6. North Central College Cardinals

Catcher Rob Marinec was the College Conference of Illinois and Wisconsin Player of the Year in 2019 after slashing .344/.462/.644 with 15 stolen bases. He received an invitation to play in this upcoming summer's newly-formed Major League Baseball Draft League which will feature the top draft-eligible players in the country across all NCAA divisions. Joe Rizzo has a .362 average over 69 games and was the pivot man of the middle infield which led the nation in double plays in 2019. Michael Stoltz and Colin Weilbacher are also integral parts of the offense. Stoltz is the team's shortstop and batted .303 with 15 stolen bases in his first full season in 2019. Weilbacher, an outfielder, will be playing his fifth year at NCC and has a .334 career average. Justin Rios struggled as a freshman at the plate, but hit .533 in seven starts last spring.

The pitching staff is extremely experienced and talented and has retained many of the pitchers who led the team to the 2019 Regional final. Charles Klemm was the College Conference of Illinois and Wisconsin Pitcher of the Year after leading the team in ERA at 2.20, opposing batting average at .212 and strikeouts with 84. Jason Shanner finished 2019 with a 3.14 ERA and 47 strikeouts in 48 2/3 innings. Luke Lamm started in 10 of 11 appearances in 2019 as a freshman. In two seasons he has a 3.82 ERA. In 2019, Tyler Jones appeared in 18 games as the Cards' closer. He finished the year with a 1.33 ERA and held opposition to a .195 batting average.


7. Concordia (TX) Tornadoes

CTX was a win away from advancing to the College World Series in 2019, but were bested by the eventual national champion Chapman in Super Regional play. The Tornados will be a threat to go deep once again with one of the most complete and dominating pitching staffs in D-III baseball that features a trio of legitimate aces.

The Tornadoes' offense is led by Bret Leiferman and Casen Novak. Both earned First Team All-American Southwest Conference honors in 2019. Leiferman has a .387 batting average over five seasons with 48 stolen bases. Novak, the team's leadoff-hitting shortstop, has earned All-ASC honors three times and likely would have added a fourth last spring as he was hitting .444 with three home runs in 15 games. Owen Hill struggled in limited action last season but did hit .288 as a freshman. Marcus Thach also had trouble making solid contact last season, but he had hit .328 over the past two years.

Matthew Williams has a 3.38 ERA over four seasons and 306 2/3 innings for the Tornadoes. Last season he was on his way to having his best season yet with a 1.24 ERA over 36 1/3 innings in five starts. He had struck out 55 batters and only allowed 16 hits and six walks. Calvin Bush spent two seasons on the roster of Texas State before transferring to CTX. In 2019 he struck out 110 batters in 72 2/3 innings and had a 1.49 ERA. He excelled as a starter and reliever and threw two complete game shutouts as well as four saves. Last season he held opposition to a .153 batting average and struck out 44 over 31 innings. Michael Smith provides a third seasoned and accomplished arm. In two seasons after transferring from Coastal Bend JC, Smith has a 2.19 ERA and 11-1 record in 24 appearances. Opposition had been held to a .193 batting average and he has struck out 69 batters in 65 2/3 innings.


8. Cortland State Red Dragons

The Red Dragons finished 2019 with a 34-13-1 record and made their record-tying 27th straight NCAA tournament appearance; nevertheless, they were struggling in 2020 with a dismal 4-7 record when COVID cancelled the season. The underwhelming performance from last season will go down as an aberration and this year should be back up to their standard elite level.

While Cortland's pitching faltered last season, the offense was playing mostly as anticipated with a strong lineup. Senior outfielder Scott Giordano was the State University of New York Athletic Conference's Player of the Year in 2019 as he batted .326 and amassed 21 doubles, five triples and four home runs. Colin BeVard will be making his fifth season for Cortland as a starter. In 2018 and 2019 he earned All-SUNYAC honors and was second on the club with a .359 batting average and slugged .635 thanks in part to a team-best seven home runs. Mat Bruno impressively hit .337 as a freshman and was batting .314 in nine outfield starts last season. Catcher James Varian earned First-Team All-SUNYAC honors in 2019 with a .321 average and was leading the team with a .476 average last spring.

Zac Durant threw well in 2019 and finished the season with a 2.96 ERA and held opposition to a .226 batting average over a team-leading 70 innings. Scott Roberts was a member of Cal Lutheran's 2017 title-winning team and pitched three seasons for the Kingsmen. He was limited to four relief appearances last spring due to COVID. Joe Valentino and Brandon Buchan should round out the starting staff. Valentino went 8-0 and struck out 92 batters in 48 1/3 innings (17.1 per 9) at Suffolk County CC in 2019 with a 1.12 ERA. Buchan previously pitched at Nassau Community College and had a 2.20 ERA and 53 strikeouts in 32 2/3 innings as a freshman. He made two starts for Cortland last spring. Cooper Crunick from Binghamton will solidify the staff.


9. Trinity Tigers

Shortstop Michael Herrera and outfielder Rafe Chaumette lead the Tiger offense. Herrera starred at Scottsdale CC and helped the Fighting Artichokes advance to the NJCAA World Series. He also spent a season at Abilene Christian before transferring to Trinity last season. Chaumette has put together four strong seasons for TU with a career batting average of .357. He has earned All-SCAC First Team honors every season. Mason Meredith and Michael Goodrich add another pair of proficient bats. Meredith has hit .332 over 80 games and is typically penciled into the lineup as the team's cleanup hitter and center fielder. Goodrich splits time between catcher and DH duties. He led the team in home runs in 2019 and has a .313 average over 111 games at TU. Tyler Pettit was the starting catcher at Incarnate Word for two seasons before transferring to Trinity. He batted .341 in 12 games last season. Jack Vonderhaar was hitting .383 with six doubles and four triples when the season was called last spring.

The pitching staff has three very good starters, but doesn't have a proven bullpen. Corey Carter and James Nittoli provide the club with a pair of experienced, excellent arms to start games. Carter has been nothing short of exceptional in three seasons. Overall he has a 2.18 ERA and 134 strikeouts in 123 innings. Nittoli committed to be a Texas Longhorn out of high school, but chose to attend TU instead. He has made 41 appearances and 32 starts as a Tiger and has a 3.43 ERA. Cade McGahan was a highly rated pitcher out of North Carolina. As a freshman last season he appeared in four games and struck out 20 batters in 18 2/3 innings while only allowing 13 hits and had a 0.96 ERA. Senior Matthew Thomas made appearances in seven of the Tigers' 13 games last spring. He held opposition to a .221 batting average and earned a win and three saves.


10. Adrian Bulldogs

Gunner Rainey is a fifth-year starting catcher and leads the offense. He is hitting .349 for his career, a mark which is buoyed by a phenomenal .411 average in 2019. He is the reigning Michigan Intercollegiate Athletic Association Player of the Year as he helped propel the Bulldog offense to over nine runs per contest in 2019. Second baseman Brady Wood is also back for a fifth season. In 107 games for AC, Wood has earned a .364 average and has only made eight errors in 361 total chances. Rejoining Wood in the middle of the infielder will be shortstop Thomas Miller. Miller hit .382 as a freshman in 2019 and is astute with the mitt as well. Brandon Cooper, who hit .393 in 2019, and Tristin Richardson, a career .291 hitter, will be back in the outfield.

Mo Hanley, Pierce Banks and Maxwell Denny provide the team with three high quality starting pitchers. Hanley didn't get much love from scouts coming out of high school in Tampa, but is now listed on multiple MLB draft boards and has been seen by at least 20 teams. He has struck out 132 batters in 98 1/3 innings for AC. In his three appearances last spring he struck out 30 in only 17 innings while only allowing 11 hits. Banks has four seasons of solid experience on the mound. He has a 25-5 career record with a 3.21 ERA. In 238 1/3 innings he has struck out 221 batters. Denny was the MIAA Pitcher of the Year in 2019 after earning a 2.10 ERA and a 9-0 record in 60 innings on the mound. Spencer Ford provides the team with an experienced arm out of the bullpen.


11. Texas Lutheran Bulldogs

TLU followed up their national runner-up season in 2018 with a 31-14 record in 2019 despite having a revamped roster. The Bulldogs have national title potential once again with a wealth of now-seasoned talent at the plate and on the mound.

Tyler Cauley will be playing in his fifth season for Texas Lutheran. Overall he has a .346 batting average and has 80 extra-base hits which includes 28 home runs and 25 stolen bases. Center fielder Cullen Motsinger is an excellent defender and a solid hitter as well. In 56 games the senior has a .319 batting average and .434 on-base percentage. Joe Jimenez was the Southern Collegiate Athletic Conference Freshman of the Year in 2019 after having led the team with a .376 batting average. Colon was First-Team All-SCAC at second base in 2019. He has hit .302 in three seasons. Outfielder Caleb Maly led Wharton County JC with a .393 batting average in 2019. In his first year at TLU he hit .375 in 10 games.

Starting pitching experience was a minus for TLU last season. While they still don't have a lot of game action due to the COVID shortened season, they have had time to develop. Matthew Hickey built upon a solid freshman season with a great start in 2020. He had 28 strikeouts in 22 1/3 innings while only allowing 15 hits. His ERA in two seasons is 2.52. Joe Burch only made one start in 13 appearances in 2019 but each of his four outings in 2020 were starts. He threw 23 innings and had a 3.52 ERA. Landon Weatherly has made 15 starts over four seasons for the Bulldogs. He looked good last spring with a 2.45 ERA in 22 innings which included three starts. Nolan Tenpas was a highly-rated prep pitcher coming out of high school but hasn't taken to the mound yet. If he is able to pitch to even a fraction of his forecasted ability, he could put up outstanding numbers.


12. Chapman Panthers

Brad Shimabuku and Mack Cheli lead the offense. Shimabuku led the team with a .340 batting average and was batting .382 over 15 games last season with extra pop. Cheli, a 6-foot-4, 230-pound slugger, can play first and catcher. Coming out of high school and initially committed to play D-I level baseball at Saint Mary's. In 2019, Henry Zeisler was the team's top hitter when he batted .303 with 20 extra-base hits. He was hitting .480 in 50 at-bats last spring and will be back in the lineup for the Panthers. Third baseman Miguel Cebedo, who has a .309 batting average over two seasons, and dependable shortstop Drew Littwin, who has a great glove and arm, also return.

The Panthers' 2019 title was received largely in part by an elite starting pitching. Two of the arms which comprised the staff, Tyler Peck and Nick Garcia, are professionals now. Riley Glenn and Wyatt Thompson are expected to be the teams' one-two combo as starting pitchers. Glenn will be entering his fourth season on the mound and for Thompson it will be his just his second with the abbreviated 2020 season being his only experience. Glenn baffles batters with a devastating slider. In five starts last spring he struck out 35 batters in 30 innings. Thompson's fastball has been entering the mid-90s and could be a mid-rounds draft selection next year. Cody Turner has struck out 97 batters over 92 innings for his career thanks to an excellent changeup and command. He has earned a 3.62 ERA over three seasons at Chapman and entered the rotation last spring after being a bullpen specialist his first years. Chase Doris has a good fastball/curveball mix and could make an impact as a freshman.


13. Johns Hopkins Blue Jays

James Ingram is a tremendously versatile athlete who primarily plays behind the plate, but also can be found in left field due to his speed and strong arm. He was one of the top-100 players to come out of his New Jersey high school class and should improve on the .278 batting average he has compiled his first two seasons. Second baseman Matthew Ritchie became a full-time starter in 2019 and was crushing the ball last spring as he was hitting .341 with four home runs in 44 at-bats. Austin Sacks and AJ King are another pair of excellent offensive performers. Sacks can be found in the outfield on defense and the cleanup position in the batting order. He had a .280 career average over 62 games. The offense was strengthened with the addition of a pair of Ivy League transfers. Dai Dai Otaka played four seasons at Yale, primarily at shortstop, and will finish his college baseball career as a Blue Jay. David Harding started 99 games at Princeton and led the team in batting as a freshman with a .318 average.

Jonah Offman and Peter Schaefer are the team's top two starting pitchers. Offman has 48 strikeouts in 40 innings over three seasons on the mound. He had a 3.15 ERA and has held opposition to a .230 batting average. Schaefer made two starts as a freshman last spring. He earned the win and both had a 1.80 ERA. Coming out of high school he was one of Tennessee's top prep pitchers and earned strong marks from scouts for his ability to throw strikes and his biting curveball. Jack McRae is another young pitcher who could see starts. He made two as a freshman last season. Brian Linton and Ben Keever give the staff experience and depth. Grad student Grant McCarthy, who graduated from Alabama in two years with a 4.0 GPA at the age of 19, has also joined the staff.


14. Shenandoah Hornets

The two-time defending Old Dominion Athletic Conference champions won 35 games in 2019 and were 10-2 in the truncated 2020 season. The Hornet offense is quite solid with a number of experienced starters. The pitching has potential but lacks experience.

The team's No. 1 power threat and mainstay in the middle of the lineup is Keegan Woolford. Woolford has a .342 batting average and 29 home runs in three seasons for SU. He was in the zone with a .463 average last spring. Senior captain Grant Thompson will be playing his fifth season for the Hornets. He has a .339 career average and was hitting .479 last year. Shortstop Frankie Ritter batted .336 as a freshman and was hitting .348 with two doubles and four triples last season. Center fielder Henry Delavergne hit .330 as a freshman starter, but his average dramatically dipped to .235 in 2019. He had regained his hitting form last spring with a .429 average.

Gerard DePhillips provided dependability and top-shelf performance out of the bullpen last spring. He appeared in 20 games in which he led the nation and set an ODAC record with 13 saves. He had a 2.59 ERA and struck out 22 batters with only seven walks in 31 1/3 innings. Carson Kulina and Calvin Pastel give the team three experienced starters back on the mound. Kulina was in the starting rotation as a freshman and pitched 50 innings in which he earned a 3.78 ERA. In four starts last season he held opposition to a .127 average in 16 2/3 innings. Pastel was also a regular in the rotation as a freshman where he had mixed success. Over the past two years he has made seven starts in his 13 appearances. Tad Dean threw well in four appearances last year as a sophomore who hadn't previously earned much mound time.


15. Salisbury Seagulls

Outfielders Justin Meekins and Cameron Hyder start off the Seagull attack. Meekins originally committed to play at the University of Maryland out of high school, but has become a Salisbury legend instead. He has been a regular starter every year and has slashed .354/.502/.514 with 59 stolen bases over four seasons in the outfield. Meekins' monocle and old-timey villain mustache in his roster photo earned him mention on ESPN last year. Hyder has hit .335 over two seasons and excelled playing for the AAU USA International Collegiate Baseball Team in 2019. Stephen Rice took over the starting position at second base last spring and typically bats third for SU. He has a .333 batting average over two seasons. Christian Murphy batted .388 with 12 stolen bases for the Chesapeake College Skipjacks in 2019. He batted .290 in eight games for Salisbury last spring. Brandon Bonesteel didn't hit as anticipated in 2019 after transferring from Ulster County, but was good out of the gate last year with a .306 average and hit three of the team's six home runs. Kavi Caster only had one at-bat last season, but has huge potential. He was Maryland's fifth-highest rated outfielder coming out of high school.

Salisbury has an abundance of excellent pitchers headlined by Jackson Balzan, Jimmy Adkins, Aaron Combs and Clayton Dwyer. Balzan was a highly-touted hurler out of Medford, New Jersey and was one of the top-20 high school pitchers coming from the Garden State. He threw well as a freshman as he struck out 32 batters in 21 2/3 innings with a 4.15 ERA. Adkins, who is also the team's regular shortstop, didn't pitch last season but threw 83 innings and three complete games in 2019. He held opposition to a .207 opposing batting average and had a 3.14 ERA. Aaron Combs is a freshman with a high ceiling and a fastball with steadily-increasing velocity. Christian Dwyer pitched 98 2/3 innings, had four complete games and struck out 84 batters in 2019.


16. Washington Bears

The Bears' won't have John Brinkman, the 2019 University Athletic Association Position Player of the Year, which is a huge loss not only in the lineup, but in the bullpen. Fortunately the Bears still have shortstop Caleb Durbin, whose offensive stats nearly mirrored Brinkman's. In 2019 Durbin tied Brinkman's team-leading total of 90 total bases and batted .392 with a team-leading 20 extra-base hits. He was three times more likely to get hit by a pitch than strikeout as he had 15 HBPs and only fanned five times. Shortstop Johnny LaMantia struggled at the plate in 2019, but was hitting .314 over 12 games last spring. Senior outfielder Sean Robinson has a .386 batting average over three seasons for the Bears. Third baseman Collin Kahal will be playing his fourth season as a starter for WashU and was hitting .400 last season.

In 2019, the Bears' pitching staff led the nation with a diminutive 2.05 ERA and remains largely intact. Ryan Loutos, an All-American starter, has struck out 171 batters over 135 1/3 innings and a 2.19 ERA over three seasons as a starter. He was a top-20 overall prospect out of Illinois out of high school. In back-to-back appearances against Monmouth and Knox in 2019, Loutos threw 17 2/3 innings while only allowing nine hits with 29 strikeouts. Austin Sachen and Troy Bauer round out the rotation and are excellent pitchers with professional-level ability as well. Sachen, a left-hander, came to St. Louis via Los Angeles and had been topping out in the mid-90s. Bauer has struck out 44 batters in 44 2/3 innings over three seasons on the mound. He had a 1.88 ERA over 14 1/3 inning last spring and only allowed seven hits. Tim Tague has earned a 12-2 record over three seasons with a 2.24 ERA. He has amassed 76 1/3 innings on the mound and only allowed 65 hits while striking out 76.


17. Kean Cougars

The Cougar offense is led by outfielder Zach Marzano and catcher Josh Jackson. Marzano batted .373 with 10 doubles, five triples and four home runs in 2019 as a freshman to earn All-New Jersey Athletic Conference First Team honors. He also provided invaluable innings on the mound with a 2.16 ERA over seven appearances. Jackson played one season at Delaware State before moving on to Kean. He hit .333 in seven games last season. Mike Perone will be playing his sixth season as a Cougar. He missed much of his first two seasons due to injury, but was an All-NJAC selection in 2019 when he slashed .278/.388/.485. Phil Mahlik and Frank Logiudice wield dangerous bats as well. Mahlik hit .353 as a freshman last season and Logiudice has batted .356 over 123 games when he isn't on the mound.

Kevin Stewart and Colin Kiernan could both play professionally once their college careers are over. Stewart previously pitched at Marist and Ramapo. In three appearances last season he struck out 23 batters in 19 innings while only allowing 12 hits and four earned runs. Kiernan made 15 appearances for Rutgers in 2018 and had a 3.14 ERA. Last season he had a 1.62 ERA in three appearances which totaled 16 2/3 innings. Tyler Hopman and Bruce Weyand round out the rotation. Hopman has earned the NJAC Pitcher of the Week once in each of his four complete seasons. He will be playing his sixth season for the Cougars. In nearly 300 innings on the mound he has a 3.54 ERA. Weyand has made eight starts over two seasons and amassed 38 2/3 innings. During his time on the mound he has held opposition to a .228 batting average and a 3.72 ERA.


18. UMass Boston Beacons

The Beacons have a strong pitching staff, but it is hard to gauge their offense, which is heavy on youth and transfers who haven't played in many games together.

Nico Kydes and Craig Corliss should pace the offense. Kydes made 37 starts in 2019 as the team's regular catcher. He only batted .226, but he did add a slew of walks and HBPs to amass a respectable .375 on-base percentage. Corliss played three seasons and started 41 games at NCAA D-I Siena before transferring back to his home state this season. He'll spell Kydes behind the plate and play DH. Ben Irvine hit .342 as a sophomore at Northern Essex CC which earned him a roster spot at Maryland in 2019. He is also returning to his Massachusetts roots this spring. Steve Brookwell spent time at Villanova in 2018 and hit .357 for Rowan College in 2019. Curits Tirone batted .321 for Suffolk in 2017. Both played in all four of the Beacons games last spring and should be regulars in the lineup this year. Gianni Zarrilli started each of last year's games as freshman.

Tylor Arruda has made 33 appearances and 19 starts on the mound for the Beacons. In 2019 he earned Little East All-Conference honors after finishing the season with a 2.86 ERA and holding opposition to a .229 batting average. Dylan Fashempour impressed as a freshman in 2019 as he made 11 starts and threw 64 2/3 innings. He only allowed 51 hits to hold opposition to a .214 batting average. His ERA was 2.78 and coaches believe he has the stuff to play professionally once his college career is over. Alex Amalfi, a hard-throwing freshman, also has next level ability. He didn't get a chance to pitch last season in the spring, but showed potential pitching for Worcester of the Futures Collegiate Baseball League over the summer. He struck out 19 batters in 12 innings while only allowing 10 hits for the Bravehearts.


19. Rowan Profs

Senior second baseman Alex Kokos earned All-New Jersey Athletic Conference honors in 2018 and 2019 and was hitting .308 last season. Nick Schooley has hit .329 over three seasons and only made one error in six starts at shortstop last spring. In 2019, Ryan McIsaac hit .368 with 11 home runs to help Cumberland County College to the NJCAA national title and was initially headed to High Point, but transferred to Rowan instead. He hit .286 last season in limited action. Trip McCaffrey previously played at UMass-Lowell for two seasons, but didn't hit well for the River Hawks. It appears he regained his stroke as the center fielder was batting .333 last year when the season was called. Another transfer, Ryan Mostrangeli, hit .325 at Rowan Burlington JC in 2019 and should be a starter for the Profs in the outfield this season.

The Profs pitching prospects were concerning last season as they lacked experience, but with COVID cancelling the season, those apprehensions are mostly negated. Drew Ryback has spent considerable time on the mound at Rowan as he has accumulated 130 2/3 innings. Over his 34 appearances he has made 19 starts and earned a 3.03 ERA. Donald Zellman struck out 145 batters in 113 innings over two seasons at Ocean County College with only 22 walks. He threw five scoreless innings in his only outing last spring. Eli Atiya and Thomas Sullivan should round out the rotation. Each of them were limited to pitching in a single game last season as well. Atiya was one of the top prep pitchers from New Jersey in 2019. He pitched four shutout innings with six strikeouts to earn a save. Sullivan threw well and only allowed one earned run in 3 2/3 innings. Chris Au could see action and put up good numbers as a true freshman.


20. Spalding Eagles

The Eagles will be without Garret Wilson, but still have a St. Louis Intercollegiate Athletic Conference Player of the Year on the roster in Eric Meyer. Meyer batted .373 with 14 doubles and 10 home runs in 2019. He has batted .375 over three seasons for SU. Evan Trentman improved his average nearly 100 points (from .274 to .367) in 2019 while also increasing his power and stolen base numbers. Last spring he was batting .412 over 14 games. Outfielder Mitchell Langley batted .311 in 2019 and .300 over 14 games last spring. Zane Baker and Jace Pinkston are seniors who will start at catcher and second base.

Jack Parisi earned SLIAC All-Conference honors in 2018 and 2019. Over his career he has struck out 173 batters in 142 1/3 innings while only allowing 116 hits. His college ERA is 3.67 and he has held opposition to a .223 batting average. Sophomore Garrett Mathews is anticipated to put up big numbers in his first full season on the mound. The big 6-foot-5, 265-pound strong-armed hurler had a 3.05 ERA as a freshman and struck out 28 batters in 20 2/3 innings last season. Peyton Hood should also be a formidable presence on the mound. He had a 3.66 ERA and struck out 30 batters in 19 2/3 innings. Caleb Collins and Zach Vogt are additional young arms that should see plenty of action.


21. Babson Beavers

The Beavers' 39 wins in 2019 established a school record for wins for the third year in a row. They also advanced to the D-III College World Series for the first time in program history. The team returns a wealth of players from the 2019 team club which includes several top run producers and some strong starting pitchers.

The loss of Jake Oliger, who transferred to Iona to finish college is a huge minus, but quality experience and potential remain. Senior first baseman Matt Valente carries a career collegiate batting average of .300 and should hit in the middle of the order. Catcher Sean Harrington batted .310 and had 41 walks to amass a .482 on-base in 2019. Thomas Lapham batted leadoff last season and has hit .301 over 133 college at-bats. Josh Yellen redshirted at the College of Charleston in 2019 and received high praise from scouts coming out of high school in Michigan.

The pitching staff is in much better shape with three proven pitchers who will go a long way in determining how far the team goes into the postseason. Senior Tyler Bell had a solid season in 2019 as he compiled 37 strikeouts in 51 innings while only allowing four walks. His ERA on the year was 2.47. Michael Nocchi, who is also a senior, has appeared in 35 games with 14 starts. In 2019 he had a 3.45 ERA and struck out 45 batters in 47 innings. Jordy Allard spent a season at Southern New Hampshire before transferring to Babson. He chose to join the Beavers over the D-I program Fairfield. He went 8-1 with a 4.13 ERA as a sophomore in 2019. Henry Leake has been exceptional out of the bullpen. In 2019, he appeared in 24 games and threw 27 1/3 innings. While on the mound, he limited opposition to a 1.98 ERA and struck out 37 batters while only allowing 22 hits and nine walks. Riley Teevens showed great promise in high school and was one of Massachusetts' top prep RHPs. He missed time in 2019 due to injury and should play a major role this season.


22. Heidelberg Student Princes

Heidelberg has a dynamic mix of young and old players. The bulk of the lineup which propelled them to the 2019 D-III World Series is still on the roster. Their two top starting pitchers graduated; however they have some excellent arms returning which missed 2019 and some freshman and sophomores ready to fill in some big innings.

Heidelberg will rely on Kyle Jenkins and Marc Ochoa to lead the team on offense. Jenkins slashed .345/.382/.447 in 2019 and earned honors as the All-Ohio Athletic Conference's First Team third baseman. He was batting .300 in 12 games last season. Ochoa, who primarily plays behind the plate but also pitches, also was named a First-Team All-Conference pick previously. In 2019 he hit .344 with 20 extra-base hits and impressively threw out 23 would-be base stealers. Senior outfielder Keatron Mark has a .325 batting average over three seasons. He missed a chunk of 2019 due to injury, but returned last season to bat .341 in 11 games. Zach Doran and Eric Devore are also welcomed returnees. Doran is in his fifth season on the team. He batted .307 and stole 16 bases in 2019 as the team's shortstop. Devore splits time between DH and first base. He hit .343 in 2019 and will be playing in his fourth season.

Ross Thompson was injured in 2019, but threw well in his return last spring with a 22 strikeouts in 14 2/3 innings. He previously was the top pitcher at conference rival Capital University where he had a 2.67 ERA in 67 1/3 innings in 2018. Cam Deemer also missed 2019, but returned healthy last spring. In 11 innings over five outings he struck out 15 and had a 0.82 ERA. Brady Knizner dazzled as a freshman in 2019. In 23 games with three spot starts he led the team with a 2.74 ERA in 46 innings. He was roughed up in a couple of outings last season, but should return to form. Mason Metz will be in his fourth year on the mound for the Student Princes. In 23 games over three seasons out of the bullpen he has a 2.36 ERA.


23. Concordia University Chicago Cougars

The Cougars' offense has consistently finished among national leaders the past couple of seasons, but it has been overhauled since 2019. They are very young offensively but have the guys to make an impact. Garry Maynard, a freshman third baseman from the Chicago suburbs, got high marks from scouts coming out of high school. He should be an impact player both at the plate as well as on the field thanks to his strong arm. Shortstop Bryce Vincent is also big on potential, but sparse on experience. He hit .297 in 10 games last season as a true freshman. Brody Mariotti will be in the middle of the lineup once again after batting .348 with a team-leading 13 home runs. First baseman Brody Mariotti and outfielder Howie Hatton are returning players who have more experience on the diamond. Mariotti has hit .323 over three seasons and hit 14 doubles and 13 home runs in 2019. Hatton hasn't had a lot of playing time, but coaches anticipate he will have a big season and is scheduled to hit third in the lineup. Freshman Aidan Donovan will help on defense in the infield and hit harder than he looks.

The pitching staff will determine the success of the team. They don't strike a lot of guys out, but they are talented, throw strikes, and are supported by a strong defense. Cole Carman made major strides in 2019 as his ERA dropped from 5.79 to 2.41. He led the team in innings with 71 and only allowed 67 hits and nine walks. Cade Laudenschlanger will be entering his fourth season as a pitcher for the Cougars. In 40 1/3 innings over 18 appearances he has a 3.12 ERA.

Chandler Kerr and Westin Stutzman are two of the younger arms on the team that should see a good amount of action. Mike Tobin appeared in 22 games out of the bullpen in 2019 to earn eight saves and held opposition to a 2.22 ERA. Wyatt McLaughlin, a freshman from outside of Phoenix, could be the team's closer.


24. Tufts Jumbos

The Tufts' team was one of the hardest hit by COVID last season as they didn't get opportunity to play a single game.

The trio of Peter DeMaria, Kyle Cortese and Ryan Daues will spur the offense. DeMaria was an All-New England Small College Athletic Conference First Team selection as well as the conference's Rookie of the Year in 2019. He topped the team with a .361 batting average, 18 doubles and 40 RBI. Cortese also played his first full season in 2019. In the NESCAC Championship he set the record for home runs in a game (3) and in a championship (5). He slashed .298/.468/.596 on the season. Third baseman Ryan Daues batted .333 in 12 games before breaking his wrist in 2019. Brandon Bay is a strong defensive outfielder with the ability to hit for average and power.

Brad Marchetti appeared in 17 games with 36 1/3 innings in 2017, but missed 2018 and 2019 due to injury and the team didn't play last season. He could be the best hurler on the team if he regains his previous form. Cameron Mayer was rated highly out of high school and touted for his "good feel for three pitch mix with projectable body and arm speed" by scouts. He will be making his first outings on the mound as he was a freshman last season. Michael Volgende has a team-high 18 appearances in 2019, but is penciled in to be a starter this season. He had a 2.86 ERA and struck out 20 batters in 22 innings as a freshman. Spencer Langdon provides another experienced arm on the team. He has made 26 appearances over two seasons with nine starts. He has a 2.57 ERA and held opposition to 68 hits in 77 innings. Aiden Tucker made seven starts in 2019 and accumulated 64 innings with a 3.94 ERA.

25. Christopher Newport Captains

Unlike the 2019 version which blasted 75 home runs, this year's edition of the CNU offense should rely heavily on speed and smart hitting. Senior center fielder Connor Clark sparks the Captains' offense. He set the freshman single seasonrecord in 2018 and was fifth nationally in 2019 with 34 stolen bases. He has a .322 college career batting average which got a boost last spring after he had hit .483 in 14 games. Eric O'Brien hit .372 in 2019 and was magnificent behind the plate. He didn't have a single error and threw out six of 19 potential base stealers. Jonathan Fisher hit .314 as a freshman shortstop last season in 51 at-bats. Outfielder Michael Martorano was batting .349 and had hit three home runs in 13 games in 2020 in his first season as a starter. Alec Rielly should contribute at the plate as an outfielder as well as on the mound.

The Captains' pitching staff is very young with a number of top roles anticipated to be filled by freshman and sophomore hurlers. Dylan Weber and Connor Pennel looked good last season as freshmen. Weber starred in high school and set his school's record for strikeouts in a season and lowest ERA. He made six appearances and four starts last season and had a 3.48 ERA with 25 strikeouts in 20 2/3 innings. Pennel threw in five games last season and struck out 21 batters in 22 innings. His ERA was 3.27. Jack Braley and Jay Cassaday could see substantial innings as freshmen.

2021 NCAA Division II Top 10 Prospects