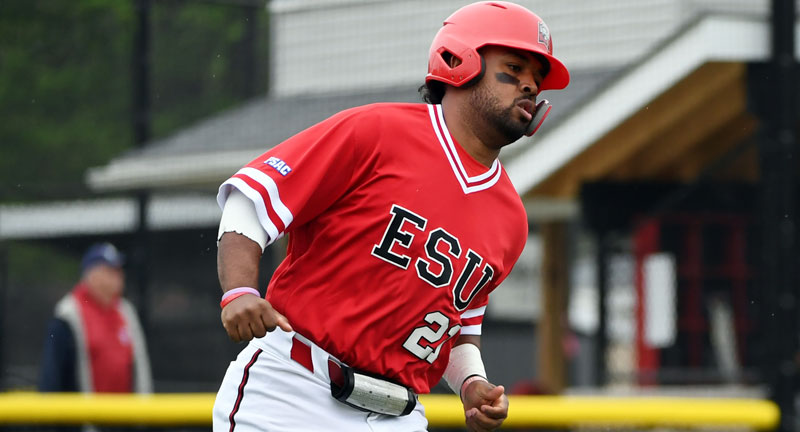 Between innings of a college baseball doubleheader there are a number of tasks that need to be tended to before the first pitch of the second game is thrown. The infield needs to be drug, the batter's box will definitely need a re-chalking, the mound should get a solid tamping and the visiting team will refuel with a sub and a cookie from the local Jimmy John's or Jersey MIke's.
What typically doesn't occur between contests is that players are told that their season has come to an abrupt, confusing close.
"We got done with the first game and we have like 30 minutes or so between the games" recalled Central Missouri shortstop Dusty Stroup. "I overheard the coaches talking to someone from the opposing team. I'm not sure who it was, it wasn't the coach, but they were talking about postponing the games. Coach Crookes, our head coach told us, 'We don't know what's going to happen with this series moving forward, or the season, so play in the game like it's your last.' All of us were thinking the season really wasn't going to end because of a virus."
The Mules did indeed go out with a bang. Stroup and his teammates played their potential farewell game and tied a UCM single-game record with an astonishing nine home runs. Stroup himself went 4-for-6 with each of his hits sailing over the outfield wall. With the output Stoup raised his batting average to .453 and his slugging percentage neared the century mark at .965 as he had already been compiling no-doubt All-American numbers.
It wasn't just Stroup who was creating astronomic numbers. Hot hitting by the Mules was just as infectious as the virus which ended their season. The Mules had averaged over 18 runs per game over their last five outings and stretched their winning streak to 14 games. They were batting .350 as a team while the pitching staff was dominating as well as they had been holding opposition to a .211 batting average and had struck out 234 batters in only 191 innings.
The Mules, who had amassed the most wins of any NCAA program since the turn of century, were unquestionably one of the top teams in NCAA D-II baseball in 2020 and looked to be a sure thing to advance to Cary and a favorite to capture what would be their third national championship. Then it all came to a quick close.
"It was kind of crazy realizing that it could be my last college game as a senior not knowing that I was going to get another year of eligibility back," Stroup said. "It kinda was a lot to take in. Some of us seniors were pretty sad about it, but we really didn't know how to feel because nothing was official and it was just a weird time."
Since then the NCAA, as well as the NAIA, has officially nixed the remainder of the 2020 spring sports seasons. The question of what would happen to the sports' seniors remained in flux for what seemed like an eternity. Had they unceremoniously thrown their last pitch or taken their last at-bat? Had they laced their cleats and stepped between the white lines for the last time? A dark cloud of uncertainty of their future hung in the air.
To the delight and joy of many an extra year of eligibility was granted to athletes who competed in the spring semester. Their college careers weren't over quite yet.
"I think as a whole a lot of us are going to be coming back, if not all of us," East Stroudsburg senior infielder Anthony Torreullas stated. His Warriors had earned a 14-1-2 record this spring and were climbing the rankings when the season was stopped. "We definitely have some unfinished business and there obviously are a lot of programs that feel that way."
Torreullas, described by his head coach as an "elite hitter" and "one of the best in our league," uniquely plays high-level defense at each of the infield base positions as well as outfield. He was batting .400 while leading the Warriors in extra-base hits. If the season were to have abruptly ended and he not been able to return, his promising college career would have been cut short. He wouldn't have the opportunity to impress scouts with aspirations of being drafted and competed for a conference and national championship.
For him the extra year or eligibility is a gift he is grateful to receive. He had started his college career at Nyack, a small Christian school in New York, but transferred to ESU for an opportunity to play baseball at a higher level and take classes in the school's lauded business program. When he transferred he lost a solid amount of credits and was already anticipating returning to school to complete his degree.
However, for some student athletes the bonus season is like getting a gift card to a restaurant that has closed. They've been given an extra year to play, but will they be able to use it?
The Lyon Scots were one of the NAIA's top baseball teams on the season. They had complied a 20-6 record while playing one of the most stringent schedules in the nation. After starting the season ranked 22nd in the nation they were on the cusp of entering the top 10 thanks in large part to senior slugger Kylan Barnett.
"I am a senior and I do graduate in May so it's going to suck," Barnett lamented. "It hurt us a lot. We were having a really great season and we were about to do really big things this year. We had a really great squad and it just sucks that it had to end this way."
Barnett was batting a team-leading .432 on the season with a .818 slugging percentage. He had been getting looks from scouts and had the season not been nixed he would have had an opportunity to show them he was capable at competing at the next level. He was looking forward to leading the senior-laden Scots to Lewiston to play in the NAIA World Series, but for he and other upperclassmen at the college level, an extra year of eligibility comes with an extra year of tuition payments.
"Honestly, I really don't think too many people will be coming back," Barnett remarked of his fellow seniors. "Lyon is pretty expensive so money is a problem and some people are just ready to move on and start their career which I completely respect and understand.
"I'm up in the air. Not too many may be coming back because I feel the financials are a big thing."
They are a very big thing. Lyon is a private independent college in Batesville, Arkansas where the tuition cost for 12 credits for 2019-2020 was a wallet-draining $28,550. If you add in fees, housing and dining, the annual bill to attend Lyon approaches $40,000 per year. For Scot seniors who will be earning their degree and have jobs lined up, the gift of an extra year of eligibility is a benefaction they can't afford to take.
Barnett was hoping to impress scouts this spring and earn an opportunity to play professional baseball, but now his future is in indefinite doubt. Not only has his college season been cut short, but he doesn't know if he'll get the opportunity to play over the summer either. He had signed to play for the Bancroft Bandits of the Pioneer Collegiate Baseball League, but that season is in jeopardy as well as the coronavirus pandemic continues.
Barnett can't even continue to work out and take regular batting practice with gyms and practice facilities being shut down across the nation. He's been working out at home and has some pitchers lined up to throw some ABs, but he can't recreate real game scenarios or perform in front of an audience greater than a number he can count on his hands until its safe for people to travel and congregate once again.
If he is unable to play this summer or receive a professional offer he's considering returning to school and earning an additional academic minor so he can slug for the Scots once again in 2021 despite the steep cost.
Finances aren't the only hurdle for players wishing to reclaim their lost senior season. For others it's just time to move on and put their playing careers behind them. When you're a senior you are typically graduating, and when you're graduating you typically are ready to enter the job market.
"You see it all across the country. You see people get their (senior) year taken from them and the people who I feel for the most are people who have jobs lined up. This was it," explained Southeastern Fire outfielder Zack Cornell. "I played at Middle Georgia State before Southeastern and one of my closest boys, he literally came back – he had messed up his shoulder and had nine months surgery and rehab – just to play this final year. He knew he was done. And the fact that he got this year taken away… I feel more for him than anyone else.
"Those types of stories are so heartbreaking. I feel for those seniors who can't come back. They've got a life outside of baseball or softball or whatever sport they're trying to do. It's tough."
While the NCAA and NAIA have granted players an extra year of eligibility, it's not that simple for teams and players to simply come back and play again. The teams of the four players mentioned above were a combined 80-11-2 – a stupefying .879 winning percentage – when the baseball season was cancelled. Those wins don't carry over to the next season and they'll all start with the same record as everyone else. Subsequently, each member of the quartet was batting no less than .400 and Cornell was scorching opposition at a bewildering .519 pace.
While each of the players can come back, none can reclaim their current success. Each will start their new season without a single at bat, hit or run. They can play another year of baseball, but the world doesn't get another do over as well.
Torreullas is one of the fortunate ones. He was already planning on at least another year in school and now he can take to the diamond once again.
"I'm looking at it in a positive way because I'm a real positive person, I don't like to be negative," Torreullas mused, "I'm just looking forward to what I know and what I know so far is that I can come back and that's all I'm looking forward to – just getting better and being a better player for next year."