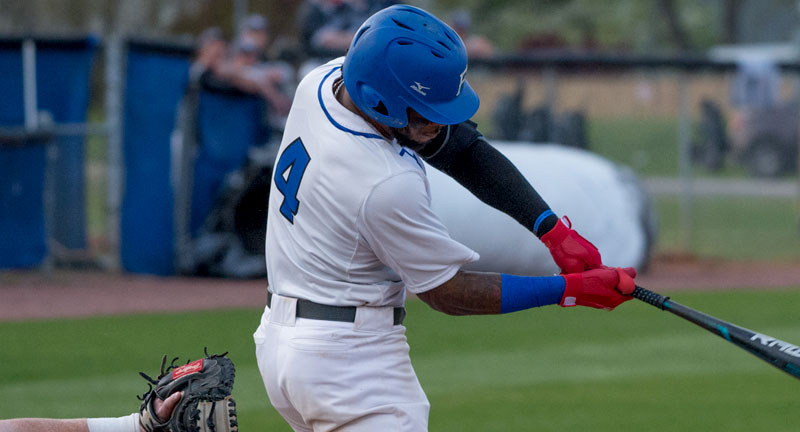 The championships for each of the small school divisions begin this weekend. Returning to Cary, North Carolina, the Division II Baseball Championships will be held. Their D-III brethren will be battling it out in Appleton, Wisconsin for the final time and the NAIA World Series will be played once again in Lewiston, Idaho.
In each of the two NCAA divisions only eight teams remain while there are still 10 schools hoping to take home the title in the NAIA. Accompanying each of the 2018 penultimate rankings is a Reader's Digest sized summary of the final teams remaining in each of the three divisions and their outlook to take home the title. The schools are listed in their current ranking order, which is their predicted placement once the final outs are made.
In each of the three there is a clear-cut favorite. Florida Southern spent the majority of the season atop the D-II rankings and there is no reason to doubt them headed into the final week. Faulkner was an easy choice as the NAIA preseason favorite and has spent the entire season in that division's catbird seat. In D-III, Wooster was ranked third in the preseason, spent the entire year in the top three and took over the top spot a month ago.
Nevertheless, seldom do things go the top team's way. If any club either than top seed ends up winning it all it would be surprising, but certainly not a shock. It's cliché to say it, as it gets seemingly repeated every year, but there truly is a well-stocked pond of teams left in each of the divisions.
Rankings are based on games through Sunday, May 20.
NCAA Division II
1. Florida Southern Moccasins
The Mocs spent half of the season as the No. 1-ranked team in the Perfect Game rankings, elevating to that distinction just over a month into the year after being placed 12th in the preseason rankings.  In the South Regional, the Mocs left little doubt they were deserving of such high praise. To close the regular season they took two of three from rival Tampa on the road to earn home field advantage for the region. They then dispatched the Spartans two more times (and Nova Southeastern once) in the South Regional to earn the opportunity to play for their tenth national title in school history.
The Mocs have a stocked lineup compete with a handful of players who will have their name called in the upcoming MLB amateur draft. Logan Browning is DII's most valuable player as he contributes significantly both on the mound and at the plate. As a pitcher he started 16 games and earned nine wins in 101 1/3 innings on the mound with 105 strikeouts while only allowing 85 hits. In the South Region title game Browning stuck out the side in the ninth to clinch the title for FSC. In the batter's box Browning was equally adept, batting .442 with a 1.190 OPS.
Also exceeding on at the plate is Hayden Marze, who spurned 20 D-I offers to play in Lakeland . He is topping the team with 19 home runs while hitting .326. Invaluably joining Browning on the staff is J.T. Hintzen, who is a perfect 13-0 with a 2.07 ERA. He made his only start in the regional play, throwing a complete game to keep FSC in the winner's bracket. The Mocs will unquestionably be the favorite to bring home the championship, but it won't be easy.
3. Columbus State Cougars
The Cougars survived the battle royale of the Southeast Region, completing an unexpected ascension to title contender. CSU wasn't particularly remarkable last season, finishing the year 29-21 with a quick 0-2 ouster from the Peach Belt Conference Tournament. That, combined with a complete turnover to their rotation, didn't forecast into 2018 being the remarkable season it developed into. While the pitching staff was inexperienced, the lineup returned seven of nine everyday regulars who've are perhaps the sluggingest group in all of D-II. Five players reached double-digits home runs, topped by leading hitter Austin Pharr, who is batting .345 with 17 homers.
What makes the Cougars a contender however, is their top-of-the-line pitching staff. CSU has a 3.59 ERA which places them 13th nationally and is downright dainty for a team in the PBC. Kolton Ingram, had put up respectable numbers in season's past in a relief role, but really erupted this year, going 12-3 with a 2.23 ERA and 135 strikeouts. Perez Knowles, another reliever converted bullpen pitcher, also made the most of this new position, also eclipsing the century mark in K's, fanning 118 while holding opposition to a .231 batting average.
6. Mercyhurst Lakers
The Lakers were sixth in the preseason rankings, the same position they are at as they enter the final week. The finished the season atop the always cutthroat Pennsylvania State Athletic Conference but stumbled in the PSAC tournament, getting ousted in three quick games. Head Coach Joe Spano's team rebounded well, going undefeated in the Atlantic Regional with a win over upstart Bloomsburg, defending national champion West Chester and a pair of victories over Seton Hill.
Enough can't be said about Chris Vallimont and the 'Hurst starting pitching staff which is absolutely phenomenal. Vallimont has arguably been the top pitcher in the entire D-II division, striking out 136 batters in 74 1/3 innings while only allowing a minuscule 34 hits. In the final game of the regional, he entered the game in relief and fanned four of six batters to earn the save and secure the team's second trip to Cary. Tyler Garbee and Russell Lamovec, while not quite as jaw-dropping, are nearly as impressive.
The lineup is solid and experienced with seven players who started at least 40 games; five of that group batted at least .305. They don't knock the cover off the ball and don't steal a lot of bases, but they work well as a team with timely hitting and dependable performances.

10. Texas A&M Kingsville Javelinas
Although they were absent from the preseason rankings, the Javelinas were one of the first additions to in-season Top 25, entering the mix a month into the season. TAMKU only finished third in their conference standings and only had one player named to the Lone Star All-Conference First Team, but they were unquestionably better than their record showed and the proverbial whole is greater than the sum of the parts was in effect as demonstrated by their South Central Regional title. The Javelinas overcame an early loss and earned their first trip to the national championship round by defeating host West Texas A&M, avenged their loss to Colorado School of Mines and twice took down perennial power Colorado Mesa.
Two of the most significant difference makers on the diamond for TAMUK reside in the team's bullpen. Tyler Flores, who also makes spot starts, is 6-1 with 71 strikeouts in 59 innings with a 3.20 ERA. Josh Valdez averages almost 15 strikeouts per nine innings pitched and is the team's closer. The Javelinas don't have many players who mash the ball to throw straight cheddar, but they do have a team of solid baseball players. Fundamental play, defense and speed may not make for the most exciting games to watch, but it could win a championship.
15. UC San Diego Tritons
The Tritons were the national runner-up last season and are the only team making a return to the final eight from last year's edition. UCSD was ranked 19th in the Perfect Game preseason rankings, but dropped out halfway through the season when they went through an unimpressive 7-6 stretch. UCSD had a magnificent end of the year, however, winning their final series by a combined 47-6 score and then swept through the California Collegiate Athletics Association and West Regional tournaments.
Zander Clark, who transferred from UCLA and was the Great West League Player of the Year, had made an immediate impact on the team, resurrecting their depleted offense and is the far-and-away team leader in batting average at .394, home runs with 18 and RBI with 85 (which places him third in the nation). He and Tyler Durna lead the offense which easily topped the CCAA in on-base and slugging percentage.
The pitching staff was arguably the best in the west.  The Tritons were the one of only two teams in the conference with a sub 4.00 ERA and should pass the 500-team strikeout mark in their next outing. They aren't the most glamorous bunch but have moxie, which will make them a difficult team to beat.
18. Southern New Hampshire Penmen
Entering the season it appeared that a changing of the guard was in store for the Northeast 10 conference. For the past several seasons SNHU and Franklin Pierce had hoarded conference titles with little interruption by the rest of the teams. This season however New Haven and Le Moyne were on an upswing and were on the verge of wrestling power from the stalwarts.
However, the Penmen didn't get the memo. They put together yet another winning season, earning the best winning percentage in the conference and rolled though the East Regional, outscoring opposition 28-4. Judging SNHU statistically is a bit irksome compared to other teams as the conference uses wood bats in conference games which dilutes offensive numbers. Nevertheless, when Penmen pitchers tally as many strikeouts as they do, it doesn't matter if the bat is wood, metal or vibranium.
Only one pitcher on the team who has thrown at least 30 innings doesn't have a strikeouts per nine ratio under 9.00, and his mark is 8.74. SNHU has two graduate students, Andrew Lalonde and Shane McDonald, who each started a dozen games and struck out a combined 186 batters in 151 innings. Again, the offense is hard to gage, but if Tom Blandini can hit .341 with 13 doubles and 10 triples while swinging a wood bat, he'll be downright dangerous in Cary.
19. Augustana Vikings
The Vikings started the year an astonishing 36-2, but finished the regular season 4-6. The abrupt turnaround in their on-field results raised the question of if their early success was due to quality play or simply them rolling over lesser completion as they earned a host of wins against the ilk of Adams State, U-Mary and non NCAA schools like Briar Cliff and Morningside. However once the Northern Sun Intercollegiate Conference championship began, the wins started coming in droves once again.
The Vikings went 4-0 in the NSIC and added another quartet of victories in the Central Region against Pittsburg State, Emporia State, Central Missouri and Southern Arkansas. The team's success has come primarily due to a pitching staff which has held opposition to a third in the nation 2.88 ERA and has two starters, Jacob Blank and David Flattery, who are holding batters to sub-.200 batting averages while striking out 176 batters in 127 innings. Over the past two seasons Blank has a 1.39 ERA, an 18-0 record and thrown four shutouts in six complete games.
The lineup excels at small ball, with a team batting average of .310, a combined 62 sacrifice flies/hits and 162 stolen bases. The Vikings are also a soft-handed bunch, committing only 45 errors in 57 games so far this season.
21. Southern Indiana Screaming Eagles
It's odd to consider the Eagles a dark horse considering they've taken home the title twice over the past eight years, but USI won't be a favorite in the final eight. Aside from a series win over Tampa, USI was a paltry 3-12 against schools that advanced to regional play and has the most losses of any of the teams remaining at 21. Nevertheless, USI earned their chance and made the most of it. USI went undefeated in the Midwest Regional with wins over Bellamire, Ashland, Ohio Dominican and Illinois-Springfield.
Offensively the Screaming Eagles are a scrappy bunch with five players who are batting at least .299 with double-digit stolen bases. Freshman Bryce Krizan has 72 hits on the year, with only five of them going for extra bases, but he leads the team in runs scored thanks largely in part to his 43 stolen bases, which is second nationally. Despite the bat-to-ball mentality, USI does have a big bat in the middle of the lineup. Drake McNamara may be the best overall hitter digging in during the series. For the season he is batting .390 with 25 doubles and 17 home runs.
On the mound three of four of USI's starting pitchers have given up more hits than innings which is a bit atypical for a Cary-bound club, but as long as the offense produces they won't need to shut opposition down, just keep them in check.
| | | | | | |
| --- | --- | --- | --- | --- | --- |
| Rk. | Prev. | School | ST | Record | Week |
| 1 | 4 | Florida Southern Moccasins | FL | 42-9-1 | 3-0 |
| 2 | 1 | Tampa Spartans | FL | 42-11 | 3-2 |
| 3 | 9 | Columbus St. Cougars | GA | 43-13 | 5-1 |
| 4 | 13 | Belmont Abbey Crusaders | NC | 40-14 | 3-2 |
| 5 | 2 | North Greenville Crusaders | SC | 46-10 | 2-2 |
| 6 | 14 | Mercyhurst Lakers | PA | 36-13 | 4-0 |
| 7 | 3 | Delta State Statesmen | MS | 42-11 | 2-2 |
| 8 | 5 | Georgia College Bobcats | GA | 44-12 | 1-2 |
| 9 | 6 | Illinois Springfield Prairie Stars | IL | 47-9 | 2-2 |
| 10 | 17 | Texas A&M Kingsville Javelinas | TX | 41-15 | 4-1 |
| 11 | 8 | Colorado Mesa Mavericks | CO | 43-16 | 3-2 |
| 12 | 7 | Nova Southeastern Sharks | FL | 35-16 | 1-2 |
| 13 | 11 | St. Thomas Aquinas Spartans | NY | 39-15 | 3-2 |
| 14 | 10 | UNC Pembroke Braves | NC | 39-15 | 1-2 |
| 15 | NR | UC San Diego Tritons | CA | 42-15 | 4-0 |
| 16 | 12 | Azusa Pacific Cougars | CA | 41-11 | 2-2 |
| 17 | 16 | West Texas A&M Buffs | TX | 40-14 | 1-2 |
| 18 | NR | Southern New Hampshire Penmen | NH | 39-15 | 4-0 |
| 19 | NR | Augustana Vikings | SD | 48-9 | 4-1 |
| 20 | 18 | St. Leo Lions | FL | 38-11 | 0-0 |
| 21 | NR | Southern Indiana Screaming Eagles | IN | 36-21 | 4-0 |
| 22 | 15 | West Chester Golden Rams | PA | 31-17 | 0-2 |
| 23 | 19 | New Haven Chargers | CT | 39-12 | 2-2 |
| 24 | 24 | USC Aiken Pacers | SC | 35-19 | 0-0 |
| 25 | NR | Southern Arkansas Muleriders | AR | 41-19 | 5-2 |
Dropped out: Central Missouri (20), Cal Baptist (21), Northwood (22), Mount Olive (23), Le Moyne (25).
NAIA
1. Faulkner Eagles
The Eagles have been the top-ranked team the entire season and earned their invite to Lewiston by mauling Talladega 20-0 and taking two from Indiana Tech in their hosted regional. The win sent Faulkner to their sixth straight national championship with a walk-off extra-inning three-run home run. The Eagles are a complete team, ranking in the top 10 nationally in batting average, ERA and stolen bases and maintain a solid .961 fielding percentage as well.
The Eagles have played nine games against the championship field this season, earning the win in eight of those contests. Ace Tyler Tungate is likely the pitcher opposing teams want to face the least while in Idaho. So far this season he has thrown 77 innings, a quartet of complete games and struck out 94 batters while only allowing a stingy eight walks.
Games this season against the championship field:
W – Reinhard, Feb 14 9-8
W – UNOH, Feb 17, 14-4
W – UNOH, Feb 17, 8-6
W – UNOH, Feb 18, 8-5
W – UNOH, Feb 18, 7-1
W – Georgia Gwinnett, Feb 24, 7-5
W – Georgia Gwinnett, Mar 30, 6-1
L – Georgia Gwinnett, Mar 31, 8-9
W – Georgia Gwinnett, Mar 31, 13-2
2. St. Thomas Bobcats
Aside from the preseason rankings when they were fourth, the Bobcats have spent the entirety of the season in the top three. In the Hattiesburg Regional, STU took two games from the host, William Carey, and another over Indiana Southeast. The Bobcats have topped the NAIA in runs and runs scored per game, totaling an astonishing 638 and 10.127 respectively. They have an impressive pitching staff as well, holding teams to 3.29 earned runs per game (ninth in the nation). Individually catcher Nelson Mompierre, who transferred in from the University of Missouri, is the club's top player to watch with 15 home runs, 74 RBI and a .396 average.
Games this season against the championship field:
W – Southeastern, Apr 20, 6-5
L  – Southeastern, Apr 21, 9-14
3. Georgia Gwinnett Grizzlies
Aside from their admittedly conservative preseason rank of 11, the Grizzlies have spent the entire season easily in the top five. No team has been tested more this season than GGC with a regular season schedule filled with elite competition. Seemingly every week the Grizz faced a different ranked team and nearly each time they came away with a series win or sweep. Gwinnett has an explosive offense which is always looking to turn a single into a double or move a runner into scoring position with a steal. Not consequently they are fifth nationally in runs scored and second in stolen bases.
Marcus McCorkle is the straw that stirs the GGC drink. He has stolen 86 bases the past two seasons and this spring he has a .493 on base percentage. Gregory Loukinen leads the solid staff. He has been holding opposition to a .184 batting average and yet only once in his 16 appearances did he face a team that wasn't in the opening round of the playoffs.
Games this season against the championship field:
L – Faulkner, Feb 24, 5-7
L – Lewis-Clark State, Mar 6, 10-9
W – Lewis-Clark State, Mar 7, 26-15
W – Lewis-Clark State, March 7, 13-11
L – Lewis-Clark State, March 8, 6-7
L – Faulkner, Mar 30, 1-6
W – Faulkner, Mar 31, 9-8
W – Reinhardt, Apr 9, 6-0
W – Reinhardt, Apr 10, 8-1
4. OKLAHOMA CITY STARS
The Stars were ranked second in the preseason, finished fourth headed into the finals and spent the entire season firmly entrenched in the top 10. OCU's primary weapon is their offense, which topped the nation in runs, hits, batting average and slugging percentage. Twenty-seven times this season the Stars scored double-digit runs including a 21-0 win over Bellevue, a 27-1 mashing of Friends and a 17-4 walloping of Tabor.
The pitching staff is more than capable, but lacks the ferocity of the everyday lineup. Lane Milligan is one of the, most electrifying player in the NAIA and certainly the Stars' MVP. So far this season he is batting .458 with nine doubles, 15 triples and 15 home runs with only 16 strikeouts. It will be interesting to see how Milligan and the offense fare against the pitching of the World Series field. They haven't played a schedule as stout as other teams in the finals and earned their way into the final 10 with wins over unranked Jamestown and Central Methodist.
Games this season against the championship field:
W – Freed-Hardeman, Feb 2, 5-1
W – Freed-Hardeman, Feb 3, 9-2
5. Southeastern Fire
Practically the entire Fire's roster was turned over after 2017's final out, as well as their coaching staff; as a result the Fire was unranked in the preseason. Nevertheless, SEU is headed to the NAIA World Series for the first time in program history after besting Clarke and Tennessee Wesleyan twice in regional action.
Head Coach Adrian Dinkel revamped the roster by bringing in Nick Bottari from Hofstra, who is topping the team in batting average, Dan Valerio from Gloucester CC, who is leading in home runs and RBI, stolen base leader Manuel Mesa from ASA College and Jonathan Bermudez from Polk County CC, who is topping the team in ERA and strikeouts. Interestingly Bottari, Valerio and Mesa all came to Florida from the New York/New Jersey area.
As with all finals-bound teams the club is well rounded, but their best weapon is their pitching staff. SEU hurlers are topping the nation in strikeouts, are forth in opposing batting average and eighth in ERA.
Games this season against the championship field:
L – Southeastern, Apr 20, 5-6
W  – Southeastern, Apr 21, 14-9
8. Antelope Valley Pioneers
The Pioneers earned their first-ever World Series berth by winning the opening round's most invigorating game, a 16-15 winner-take-all walk-off victory over William Jessup. Impressively the UAV program is in just its fifth year of existence. Of all the teams in the final 10 the Pioneers may have the most balanced lineup with strong performers from the leadoff batter to the last.
Clayton Rabiel is the undisputed ace of the staff, having thrown 107 innings with a 3.28 ERA and 11-0 record. There is a noticeable drop-off after him (the team has a 5.09 ERA) which makes their overall title hopes a bit concerning. One top pitcher and a makeshift staff can win a series, but capturing a title in a 10-team championship brawl will be difficult.
Games this season against the championship field:
L – Lewis-Clark State, Feb 16, 4-18
L – Lewis-Clark State, Feb 16, 1-5
W – Lewis-Clark State, Feb 16, 5-3
W – Lewis-Clark State, Feb 16, 18-9
9. Freed-Hardeman Lions
The Lions are the hottest team headed into the championships, having gone undefeated through the American Midwest Conference Tournament and their opening round tilts against Cumberland and Oklahoma Wesleyan as well as winning 28 of their last 30 games overall. Unranked in the preseason, FHU will be making their trip time to Lewiston.
Statistically FHU doesn't drop jaws like some of the other teams, but they are solid all around, especially on the often overlooked attribute of defense where they maintain a .971 fielding percentage. Their ascension into NAIA elite has been in large part to towering freshman Josh Sears who is leading the team in batting average, home runs and RBI. Another unquestionable major contributor on the team is senior closer Beau Caviness who has appeared in 29 games for the Lions and leads the nation with 16 saves.
Games this season against the championship field:
L – Oklahoma City, Feb 2, 1-5
L – Oklahoma City, Feb 3, 2-9
12. Reinhardt Eagles
The previously unranked Eagles are the most enigmatic team of the final 10 teams remaining, making the trip to Lewiston despite having their head coach removed early in the season. The Eagles have since been steered by Bill Popp, the school's athletic director and inaugural head coach from 2005-2011, along with a pair of neophyte coaches to their inaugural World Series.
Reinhardt had received strong rankings consideration during the second half of the season but have been habitually left in the proverbial "others receiving consideration" section. Nevertheless, the Eagles received an at-large bid into the opening round and made the best of the opportunity. They earned an extra innings win over Science and Arts and twice defeated a very strong Campbellsville team to advance to Lewiston.
Like their initial World Series opponent Antelope Valley, Reinhard plays sound fundamental baseball to win games. Their defense is stout and they have a trio of capable starting pitchers to keep the opposition off balance. They're not the most potent team offensively, but their gloves and pitching could make for a Cinderella-esque run.
Games this season against the championship field:
L – Faulkner, Feb 2, 8-9
L – Georgia Gwinnett, Apr 9, 0-6
L – Georgia Gwinnett, Apr 10, 1-8
14. Northwestern Ohio Racers
The Racers opened the season ranked 16th, but started the year an unimpressive 14-13 which yanked them from the Top 25. Since mid-March, however, the Racers have lived up to their preseason expectations, going 28-5 (yet a suboptimal 0-4 record against Madonna) to earn their first trip to the NAIA World Series.
The Racers will be a difficult team to beat because rather than excelling at one or two aspects, they're partially adept at everything. Their batters can get a timely hit, their pitcher can force a crucial out or their defense can make a critical stand with a game on the line. With their opposition will hope for is that closer Jacob Hulcher won't be on the mound when the game is at stake. The 6-foot-8 closer appeared in 26 games for UNOH, throwing 41 innings while only allowing 18 hits and 14 walks with 54 strikeouts. If the Racers are going to have success out west, Hulcher will unquestionably be a part of it.
Games this season against the championship field:
L – Faulkner, Feb 17, 4-14
L – Faulkner, Feb 17, 6-8
L – Faulkner, Feb 18, 5-8
L – Faulkner, Feb 18, 1-7
19. Lewis-Clark State Warriors
The host team of the NAIA World Series, Lewis-Clark State, receives an automatic bid to complete the 10-team field.
Games this season against the championship field:
W – Antelope Valley, Feb 16, 18-4
W – Antelope Valley, Feb 16, 5-1
L – Antelope Valley, Feb 16, 3-5
L – Antelope Valley, Feb 16, 9-18
L – Georgia Gwinnett, Mar 6, 10-9
W – Georgia Gwinnett, Mar 7, 26-15
W – Georgia Gwinnett, March 7, 13-11
L – Georgia Gwinnett, March 8, 6-7
| | | | | | |
| --- | --- | --- | --- | --- | --- |
| Rk. | Prev. | School | ST | Record | Week |
| 1 | 1 | Faulkner Eagles | AL | 53-7 | 3-0 |
| 2 | 2 | St. Thomas Bobcats | FL | 56-7 | 3-0 |
| 3 | 4 | Georgia Gwinnett Grizzlies | GA | 48-10 | 3-0 |
| 4 | 3 | Oklahoma City Stars | OK | 50-8 | 3-1 |
| 5 | 7 | Southeastern Fire | FL | 54-7 | 3-0 |
| 6 | 5 | USAO Drovers | OK | 46-8 | 3-2 |
| 7 | 6 | Oklahoma Wesleyan Eagles | OK | 53-8 | 2-2 |
| 8 | 9 | Antelope Valley Pioneers | CA | 44-12-1 | 3-1 |
| 9 | 17 | Freed-Hardeman Lions | TN | 43-14 | 3-0 |
| 10 | 11 | William Jessup Warriors | CA | 41-17 | 3-2 |
| 11 | 8 | Cumberlands Patriots | KY | 47-11 | 1-2 |
| 12 | NR | Reinhardt Eagles | GA | 41-18 | 3-1 |
| 13 | 12 | Point Park Pioneers | PA | 47-9 | 2-2 |
| 14 | NR | Northwestern Ohio Racers | OH | 42-18 | 4-0 |
| 15 | 18 | Campbellsville Tigers | KY | 40-17 | 4-2 |
| 16 | 16 | Tennessee Wesleyan Bulldogs | TN | 39-21 | 2-2 |
| 17 | 15 | Bryan Lions | TN | 41-17 | 1-2 |
| 18 | 14 | Indiana Southeast Grenadiers | IN | 41-14 | 1-2 |
| 19 | 19 | Lewis-Clark State Warriors | ID | 38-11 | 0-0 |
| 20 | 24 | Indiana Tech Warriors | IN | 44-21 | 2-2 |
| 21 | 10 | Middle Georgia State Knights | GA | 45-18 | 0-2 |
| 22 | 21 | LSU Shreveport Pilots | LA | 40-22 | 1-2 |
| 23 | 13 | Mobile Rams | AL | 42-17 | 0-2 |
| 24 | 25 | Webber International Warriors | FL | 37-24 | 2-2 |
| 25 | NR | William Carey Crusaders | MS | 36-25 | 3-2 |
Dropped out: Texas Wesleyan (20), Lyon (22), Taylor (23).
NCAA Division III
1. Wooster Fighting Scots
The Scots have been among the top teams the entire season, starting the year at No. 3 and working their way to the No. 1 position a month ago. Wooster swept their way through their regional, topping Wabash twice (who usurped the Scots in the NCAC tournament), Shenandoah and Adrian to earn their first trip to the finals since 2009.
The team is led by Michael Wielansky who has been phenomenal over the second half of the season. In the regional alone, the junior shortstop went 9-for-18 with seven runs and five RBI. For the season he's hitting .411 with 19 doubles, seven doubles and seven home runs. He is just one of several skilled batsmen who combined for a team .353 batting average and torched opposition for over 10 runs per game. The Scots pitching staff, led by Nanak Saran who has gone 17-2 the last two seasons, doesn't blow batters away, but they keep the ball down and opposition off the basepaths.
2. Randolph-Macon Yellow Jackets
The Jackets worked their way down from the preseason No. 18 position to spend the final month in the top 10. They rebounded from a disappointing 1-2 ODAC tournament showing to go undefeated in the South Regional, taking down LaGrange, Denison and Christopher Newport twice to earn their first trip to the D-III CWS. It was a remarkable run which was the complete opposite of last year's finish when they ended they year going 11-10.
Last season's Old Dominion Athletic Conference Player of the Year Cole Migliorini and Joseph Tuzzolo are a phenomenal pair few teams can match offensively. This season they batted a combined .373 to pace the team. Colin Shelby was this season ODAC Pitcher of the Year as he has a 2.60 ERA and has stuck out 122 batters in 90 innings. If the Yellow Jackets can win their first two games and earn him some extra rest, R-MC will have an edge on taking home the title.
3. Concordia University Chicago Cougars
The Cougars started the season ranked fifth overall and were in the top five nationally for the overwhelming majority of the season. They had some unexpected losses late in the year, including a disappointing runner-up finish to Aurora at the Northern Athletics Collegiate Conference tournament, but still played more than well enough to earn an at large bid to the NCAA postseason. CUC earned their trip to the finals with an exhilarating come-from-behind ninth inning win over Bethany, a win over Bethel and Dubuque and 2-1 mark over Wisconsin-Oshkosh.
The team's top weapon is their bullpen, led by the tandem of Mike Formula and Alex Meyers; the duo combined for 112 innings this season. Formella made his only start of the season in the game which sent the Cougars to Appleton, a complete game three hit win over UW-Oshkosh.  Offensively CUC isn't a powerful bunch, but they are scrappy on the basepaths, stealing 151 bases so far this spring.
4. Texas Lutheran Bulldogs
Texas Lutheran has been one of the hottest teams to close the season, sweeping their way through both the SCAC Championships and the Spokane Regional. TLU started the year unranked, but earned their way into the Top 25 a few weeks into the season after earning wins in consecutive games over UT Dallas.
The Bulldogs have the finals top spring pitching duo in Nathan Malinovsky and Landon Weatherly. The two earned a combined 22-2 record, threw nine complete games and stuck out 216 batters between them. The pair accounted for half of the team's total innings pitched so if they can somehow be chased off early, it would leave their comparatively inexperienced bullpen. The offense has the standard bell curve overall ability with a core of stars backed by a strong supporting role. This team is as dangerous as their top players, which unfortunately for TLU's opposition, is very, very good.
6. Oswego State Lakers
Oswego looked to be rebuilding this season as last year's team, which finished third overall in the rankings, was a senior-laden club and lost a ton of experience over the summer. Nonetheless, the Lakers are headed back to the final eight after earning wins over Suffolk and Keystone as well as a pair of lopsided wins over UMass-Boston. With that, if Texas Lutheran isn't the hottest team headed to Appleton, then that label must be bestowed on the Lakers. Oswego has won eight of nine, which in addition to their regional wins, also includes a pair of victories over Cortland.
What makes the Lakers dangerous is that they are a well-balanced club with an even keeled offense that can strike anywhere in the lineup with a full-bodied pitching staff. There aren't many standouts on the team, although it's hard to overlook Mike Dellicarri's .624 slugging percentage and Robert Donnelly's 1.22 ERA and eight complete games, which will keep their opponents on their toes with every pitch.
14. Texas Tyler Patriots
The Patriots opened the season ranked 21st, but started the year an unimpressive 10-8 and quickly were removed from the Top 25. UTT remerged once again midway through the season, but again dropped games they shouldn't have and were displaced once more. After finishing as the American Southwest Conference Championship runner-up, the Patriots earned an at-large berth to resurrect their title hopes once more. UTT had an memorable run in the Saget, Illinois Regional, winning six games to advance to Wisconsin. The game that put them in the final eight was a come-from-behind ninth-inning rally in which they scored five runs to advance.
The Patriots are strong defensively, but their strongest attribute is their solid pitching. They have three top-shelf starters and a handful of relievers with reversible roles, which has kept them in games all season. Offensively, the pride of Canada, slugging first baseman Alex Bishop has one-third of the team's home runs. It's his job to drive home UTT's aggressive baserunners who have stolen over 100 bases this spring.
17. Misericordia Cougars
The Cougars hadn't been ranked during the regular season, but they certainly are worthy of it now. For the eighth straight season Misericorida won the MAC Freedom title to advance to the NCAA's.  There they earned a win over Rowan, two against Virginia Wesleyan and forced Babson to a winner-take-all title tilt which overwhelmingly went in favor of the Cougars. The win earned Miscericordia their first-ever trip to the D-III CWS.
The Cougars win with fundamental baseball, moving runners base-to-base, making few errors and being aggressive on the basepaths. The pitching staff has few statistical standouts, but is very deep with seven pitchers who have thrown at least 25 innings, nine different players who started a game and seven who earned a save. Only three times this year did the Cougars allow double-digit runs to be scored against them – Misericorida did that in each of their three last games.
19. Swarthmore Garnett
Swarthmore is the upstart underdog of the final eight. After twice upsetting Johns Hopkins and Arcadia to earn the Centennial Conference auto bid, the Garnett earned just their second invite into the NCAA tournament in school history. Despite their low strength of schedule entering regional play, the Garnett showed they are capable of taking on all challengers, defeating Baldwin Wallace, Cortland and Southern Maine twice to earn their way to Appleton while setting a new school single season record for wins.
Since they don't play in a major conference and didn't have many remarkable opponents, judging the team's overall ability is enigmatic. Swarthmore led their conference in the offensive slash line categories, tops in fielding percentage and were second in the conference in ERA. They had four players named to the All-Centennial first team which is noteworthy as the Garnett only had six first-teamers in the conference's previous 24 years. The most outstanding performer of the bunch is Charles Levitt who raised his batting average from .292 to .349 this season while pacing the club in total bases and on-base percentage.
| | | | | | |
| --- | --- | --- | --- | --- | --- |
| Rk. | Prev. | School | ST | Record | Week |
| 1 | 1 | Wooster Fighting Scots | OH | 40-8 | 4-0 |
| 2 | 6 | Randolph-Macon Yellow Jackets | VA | 35-7-1 | 4-0 |
| 3 | 9 | Concordia University Chicago Cougars | IL | 38-13 | 5-1 |
| 4 | 10 | Texas Lutheran Bulldogs | TX | 38-9 | 4-0 |
| 5 | 2 | UW-Whitewater Warhawks | WI | 33-8 | 2-2 |
| 6 | 13 | Oswego State Lakers | NY | 30-12 | 4-0 |
| 7 | 3 | UMass-Boston Beacons | MA | 37-10 | 3-2 |
| 8 | 4 | Cortland State Red Dragons | NY | 35-12 | 3-2 |
| 9 | 8 | Rowan Profs | NJ | 35-11 | 2-2 |
| 10 | 12 | Christopher Newport Captains | VA | 35-12 | 3-2 |
| 11 | 16 | Southern Maine Huskies | ME | 30-15 | 3-2 |
| 12 | 7 | La Roche Redhawks | PA | 35-10-1 | 1-2 |
| 13 | 11 | Shenandoah Hornets | VA | 35-12 | 1-2 |
| 14 | NR | Tyler Texas Patriots | TX | 35-17 | 6-1 |
| 15 | 14 | Salisbury Seagulls | MD | 34-12 | 1-2 |
| 16 | 15 | Ramapo RoadRunners | NJ | 35-15 | 3-2 |
| 17 | NR | Misericordia Cougars | PA | 36-13 | 5-1 |
| 18 | 17 | Babson Beavers | MA | 35-12 | 3-2 |
| 19 | NR | Swarthmore Garnet | PA | 37-9 | 4-0 |
| 20 | 19 | North Central Cardinals | IL | 29-14 | 1-2 |
| 21 | 21 | Baldwin Wallace Yellow Jackets | OH | 33-14 | 2-2 |
| 22 | NR | UW-Oshkosh Titans | WI | 34-10 | 3-2 |
| 23 | 20 | The College of New Jersey Lions | NJ | 29-11 | 1-2 |
| 24 | NR | Rhodes Lynx | TN | 32-16 | 3-2 |
| 25 | 5 | Roanoke Maroons | VA | 31-11 | 0-0 |
Dropped out: Trinity (18), Marietta (23).
This article originally appeared on the Perfect Game website: https://www.perfectgame.org/Articles/View.aspx?article=15196