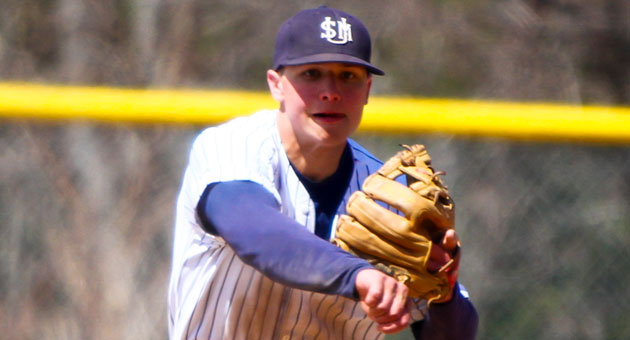 Headed into last year's NCAA Division III World Series, Cortland State had always been the bridesmaid, but never the bride. Twelve times before the Dragons had made the march to the final series but they were disappointingly sent home each time without championship rings. They had come close, excruciatingly close even, twice finishing as the runner-up, but fate always turned its back to them in the end.
However their 13th trip to the D-III CWS ended up being the magical end to a bittersweet, storybook season.
Cortland had been playing their games with the letters "BW" on the backs of their hats throughout the spring. The nod was a gesture to their former coach, longtime supporter and the man the Red Dragons' baseball field was named after, Bob Wallace, who had passed away during the offseason.
Once in Appleton, there was little doubt Cortland would be a final team standing. Just as they did all season long, the Dragons scorched their opposition, winning their first four games by a combined score of 44-12. Cortland was down late in the second game of the championship series, but pulled away at the end with a 6-2 win as they claimed their elusive first national title.
The Dragons dominated all season long and finished with a remarkable 45-4 record. It was a magnificent season and one for the record books. That's real bad news for opposition. Really, really bad because Cortland State may be even better in 2016.
Coach Joe Brown welcomes back seven seasoned batters who made an offensive impact last season, highlighted by Conrad Ziemendorf who was the World Series Most Outstanding Player and batted .369 and led the team in extra-base hits. He will be backed by two players anticipated to contribute big after excelling in limited action last season, Nick Hart and Fabio Ricci. The tandem batted .430 and .400 respectively and will round out the outfield with Ziemendorf. The team also had experience at the corner infield positions and a possible breakout star of a catcher in Matt Personius who batted .452 as a freshman in 28 games.
Despite their prodigious offense, the foremost reason why the Dragons look to dominate once again is their pitching staff.  Seth Lamando is a legit ace who can put up zeroes every time he takes the mound. Last season he had a wafer thin 1.16 ERA and fanned 56 batters in only 46 2/3 innings while only allowing just 30 hits and 11 walks.  Travis Laitar was nearly hittable from the bullpen, holding opposition to a teeny-tiny .109 batting average while he struck out 26 batters in 19 1/3 innings.
Not only will they be back and rejoined by some other top-notch vets, Coach Brown has added a pair of former D-I hurlers to fill out the staff to make them even more formidable. The Dragons' pitching staff shutout their opposition six times last season and it's a real possibility that number could reach double-digits considering the talent on the team.
As tough-to-beat as Cortland looks this season, there are plenty of clubs who'll be up for the challenge.
Emory, last year's Perfect Game D-III preseason No. 1, has another phenomenal roster with top-flight hurler Jackson Weeg who led the nation with 12 wins and nearly reached the century mark in strikeouts with 98. Webster is looking to advance to the CWS for the fourth time in five years and has a clubhouse full of experienced upperclassman led by slugger Kyle Uhrich who crushed 17 homers for the Gorlocks. Southern Maine once again has a well-rounded roster highlighted by top pro prospect Sam Dexter who be looking to win a second D-III Player of the Year honors after compiling video games numbers last season.
Also look for big seasons from St. John Fisher, Adrian and a reinvigorated St. Thomas team. Each of those schools have clubhouses full of experienced, upperclass talent which can go a long, long way in giving a team the final push and motivation in needs to be the team that dog piles in the infield when the final out is made.
2016 Perfect Game Division III Preseason Top 25 Teams

| | | | | |
| --- | --- | --- | --- | --- |
| RK | School | ST | Record | 15 RK |
| 1 | Cortland State Red Dragons | NY | 45-4 | 1 |
| 2 | Emory Eagles | GA | 31-15 | 4 |
| 3 | Webster Gorloks | MO | 34-15 | 6 |
| 4 | Trinity Tigers | TX | 40-14 | 5 |
| 5 | Rhodes Lynx | TN | 33-13 | 9 |
| 6 | UW La Crosse Eagles | WI | 36-16 | 8 |
| 7 | Kean Cougars | NJ | 35-12 | 11 |
| 8 | Southern Maine Huskies | ME | 32-15 | 21 |
| 9 | Baldwin Wallace Yellow Jackets | OH | 31-12 | 14 |
| 10 | UW Whitewater Warhawks | WI | 35-11 | 7 |
| 11 | Salisbury Seagulls | MD | 33-6-1 | 3 |
| 12 | Birmingham-Southern Panthers | AL | 37-12-1 | 12 |
| 13 | St. Thomas Tommies | MN | 24-16-1 | NR |
| 14 | Cal Lutheran Kingsmen | CA | 32-12 | 23 |
| 15 | Shenandoah Hornets | VA | 28-10-1 | 13 |
| 16 | Wooster Fighting Scots | OH | 36-9 | 25* |
| 17 | Pacific Lutheran Lutes | WA | 32-14 | 19 |
| 18 | Concordia Tornados | TX | 31-12 | 20 |
| 19 | Adrian Bulldogs | MI | 33-12 | NR |
| 20 | Tyler Texas Patriots | TX | 34-12 | 15 |
| 21 | UW Stevens Point Pointers | WI | 33-14 | 10 |
| 22 | Concordia University Chicago | IL | 33-15 | NR |
| 23 | St. John Fisher Cardinals | NY | 25-18 | NR |
| 24 | Ohio Northern Polar Bears | OH | 30-9 | NR |
| 25 | Tufts Jumbos | MA | 26-10 | NR |

25. Tufts Jumbos, New England Small College Athletic Conference
There should little separation in the NESCAC standings this season, but the Jumbos, with Tommy O'Hara in the middle of the order and a pair of quality starting arms back on the mound, have an advantage on the competition.
24. Ohio Northern Polar Bears, Ohio Athletics Conference
ONU graduated their top two run producers from last season, but much of the rest of the lineup returns. More importantly, the Polar Bears can claim an experienced, deep pitching staff with five pitchers who threw at least 25 innings.
23. St. John Fisher Cardinals, Eastern College Athletic Conference
Scott Eisenmenger and Cody WIktorski give the Cardinals plenty of punch offensively; however they won't need to worry about carrying the team as almost the entire staff, which had a team ERA two runs less than opposition, is largely intact.
22. Concorida-Chicago Cougars, Northern Athletics Collegiate Conference
Andrew Massey and Mitch Wilson give the Cougars a solid middle infield capable of creating scoring opportunities. The pitching staff took a monster hit as NACC pitcher of the year Cody Caballero had Tommy John surgery, but the club still has a number of capable arms.
21. UW Stevens Point Pointers, Wisconsin Intercollegiate Athletic Conference
The Pointers will be a bit of a team in flux in 2016 as they look to earn their 11th NCAA Tournament appearance in 12 seasons. A host of players have moved on, including UWSP's two All Americans, and Jeremy Jirschele takes over the reigns after four seasons as an assistant.
20. Tyler Texas Patriots, American Southwest Conference
The Patriots have an extremely deep pitching staff with one of D-III baseball's most dominating closers in Chad Hayes who had more saves (13) than hits allowed (11) last season. The overall offense is a bit depleted following graduations but a pair of All-ASC first teamers will be back.
19. Adrian Bulldogs, Michigan Intercollegiate Athletic Association
Few teams return as many vital cogs to their success than the Bulldogs. Adrian has four hurlers back who tossed at least 40 innings and went a combined 21-5. Offensively few teams can match the tandem of Ryan Darrow and Jeff Gertley who each batted over .350 with double-digit home runs.
18. Concordia Univ. Texas Tornados, American Southwest Conference
Concordia will be without last year's ace, but have another emerging in Justin Traxler. CTX also returns mighty bat of Connor Bartsch – who led ASC in batting average, RBI, slugging percentage, on-base percentage – and six other players who started at least 30 games.
17. Pacific Lutheran Lutes, Northwest Conference
Last year's Lutes team was one of the best in program history and will likely be a preface for another great season. The pitching staff has tremendous depth and each of the projected infield starters have received all-conference recognition at least once in their college careers.
16. College of Wooster Fighting Scots, North Coast Athletic Conference
In addition to returning four pitchers who tossed at least 45 innings, the Scots welcome back slugger Jamie Lackner who led the nation in home runs (17), RBI (69) and total bases (143), with a .420 batting average, along with five other skilled starters.
15. Shenandoah Hornets, Old Dominion Athletic Conference
After winning their first-ever ODAC championship last season, the Hornets will be looking to hoist the title once again with a phenomenal pitching staff that has four regular pitchers back with sub 2.50 ERAs. The offense looks a little sketchy, but won't need to score much if the staff dominates as anticipated.
14. Cal Lutheran Kingsmen, Southern California Intercollegiate Athletic Conference
Four of five Kingsmen who earned All-West region honors last season were underclassmen which will give CLU a talented, experienced roster ready for a deep postseason run. In all, the Kingsmen return six position players and six pitchers as they look for their fourth straight SCIAC regular season title.
13. St. Thomas Tommies, Minnesota Intercollegiate Athletic Conference
Last season the Tommies had double-digit losses for just the second time under Head Coach Chris Olean and UST will be looking to prove the downfall was more due to bad luck than bad play. Three starters who had season ending injuries early will rejoin a mostly intact roster which should take the team deep into the postseason.
12. Birmingham-Southern Panthers, Southern Athletic Association
The Panthers will be without their top hitter and pitcher from last season but return a number of regulars which will keep them in contention for another deep postseason run. Ryan Gaines and Stephen Mimic are a pair of pitchers who aren't just all conference level performers, but have professional caliber arms as well.
11. Salisbury Seagulls, Capital Athletic Conference
The Seagulls will field another formidable roster but will be without some of their top hitters and pitchers from last season's club that made its second-straight, and fifth overall, appearance in the D-III CWS. If history is any indication, the CAC stalwart will have little problem reloading and making another run to Appleton.
10. UW Whitewater Warhawks, Wisconsin Intercollegiate Athletic Conference
The offense needs re-tooling as many of the top bats from last season won't be back on campus, but three-quarters of UW-Whitewater starting staff is slated to return, including the highly touted Lake Bachar who went 7-1 as a freshman with a 2.24 ERA.
9. Baldwin Wallace Yellow Jackets, Ohio Athletics Conference
The Yellow Jackets finished 2015 with a school record for wins for the fourth straight season. Another year of unaccomplished success is within reach as BW returns their top four hitters and a host of experienced arms led by the talented Mark Zimmerman who fanned 68 in 65 innings.
8. Southern Maine Huskies, Little East Conference
With a top shelf pitching staff back on campus, the defending LEC regular season and tournament champions are a formidable opponent. Yet what really puts them on the short list of top teams is their accomplished shortstop Sam Dexter. He'll be looking to win his second D-III Player of the Year honor after batting .441 with 21 doubles, eight home runs and 44 RBI in 46 games last season.
7. Kean Cougars, New Jersey Athletic Conference
The Cougars have appeared in the NCAA Tournament each of the past 10 straight seasons and made six trips to the World Series during that time. There are some important pieces of last year's puzzle gone, but plenty of experienced upperclassman are still around to continue Kean's winning ways.
6. UW La Crosse Eagles, Wisconsin Intercollegiate Athletic Conference
The Eagles won a school record 36 games last season and made their first appearance in the D-III CWS, where they finished as the runner-up. UW-L returns their top two hitters which includes Taylor Kohlwey who led the team in hitting with a .413 average and had 30 extra-base hits. The pitching staff will be without two top starters and closer but still have plenty of depth to compete.
5. Rhodes Lynx, Southern Athletic Association
The Lynx are one of the lightest hitting clubs but make up for it in spades in pitching, situational hitting and base running. Rhodes returns their top four arms from last year's pitching staff that had the lowest team ERA in D-III (2.48), as well as speedy shortstop Bill Munson, who has led the division in stolen bases the past two years.
4. Trinity Tigers, Southern Collegiate Athletic Conference
The Tigers took 20 of their last 24 games to capture the SCAC and West Region tournament titles and finished third at the D-III CWS. The pitching staff needs some players to step up to continue their winnings ways but ace Ryan Gray will be back along with every offensive starter from last year's club.
3. Webster Gorloks, St. Louis Intercollegiate Athletic Conference
The Gorloks advanced to the D-III World Series for the third time in the last four years last season and adding a digit to each of those numbers is definitely a possibility. Webster welcomes back an apt pitching staff and seven everyday starters, including Kyle Uhrich, who hit .354 with 17 home runs.
2. Emory Eagles, University Athletic Association
The Eagles offense had some upheaval in the offseason with the departure of several senior players, but the team returns 25 players from last year's elite squad overall and should be a contender once again. Emory's pitching staff has the ability to dominate, headlined by Jackson Weeg, who led the nation with 12 wins and finished with a 2.59 ERA and 98 strikeouts.
1. Cortland State Red Dragons, State University of New York Athletic Conference
Making their 13th CWS appearance, Cortland claimed their first national title last year, finishing the season with a remarkable 45-4 record. An already deep, veteran pitching staff added a pair of former D-I pitchers to make them even more competitive as they look to defend their title. The small ball specialists are unquestionably the team to beat for the 2016 season.
2016 Perfect Game Division III Preseason Top 10 Prospects
| | | | | | | | | | |
| --- | --- | --- | --- | --- | --- | --- | --- | --- | --- |
| RK | Player | POS | YR | B-T | HT | WT | School | Hometown | ST |
| 1 | Lake Bachar | RHP | JR | R-R | 6-3 | 210 | Wisconsin-Whitewater | Wheaton | IL |
| 2 | Zack Kirby | RHP | SR | R-R | 6-2 | 190 | Framingham State (Mass.) | Rochester | MA |
| 3 | Aaron Barteau | RHP | SR | R-R | 6-7 | 200 | Mary Hardin-Baylor (Texas) | Dallas | TX |
| 4 | Derek Hug | OF | SR | L-R | 6-3 | 230 | Heidelberg (Ohio) | Bryan | OH |
| 5 | Sam Dexter | SS | SR | R-R | 5-11 | 180 | Southern Maine | Oakland | ME |
| 6 | Ben Buerkle | OF | JR | L-R | 6-1 | 175 | St. Mary's (Minn.) | Roseville | MN |
| 7 | Robert Robbins | RHP | SR | R-R | 6-4 | 201 | Stevens Institute of Technology (NJ) | Tallahassee | FL |
| 8 | Felix Baez | RHP | SR | R-R | 6-1 | 205 | Keystone (Pa.) | San Juan | PR |
| 9 | Joe Venturino | 2B | SR | R-R | 6-0 | 180 | Ramapo (N.J.) | Barnegat Light | NJ |
| 10 | Tyler Heitmann | RHP | SR | R-R | 6-3 | 170 | Bethel (Minn.) | Baldwin | WI |

The No. 1 prospect at the NCAA Division III level, Lake Bachar, was named the 13th-best prospect last summer in the Northwoods League last summer. Here is his scouting report from that feature:
Also a member of the 2014 NCAA Division III National Championship Wisconsin-Whitewater football team as a kicker, Bachar is a good overall athlete that shows good balance on the mound and repeats his mechanics well. He generates easy heat from his 6-foot-3, 210-pound frame, pounding the strike zone with 91-93 mph fastballs while mixing in a low-80s changeup and upper-70s breaking ball. Bachar works quickly, and while he may be maxed out physically his presence and ability to change speeds and throw strikes makes up for what he lacks in future projection. He posted similar numbers this summer for the Chinooks (6-3, 2.47 ERA, 63-to-19 strikeout-to-walk ratio in 65 2/3 innings) as he did during the spring for the Warhawks (7-1, 2.24 ERA, 46-to-9 in 60 1/3).
Originally appeared on Perfect Game website: https://www.perfectgame.org/Articles/View.aspx?article=12116