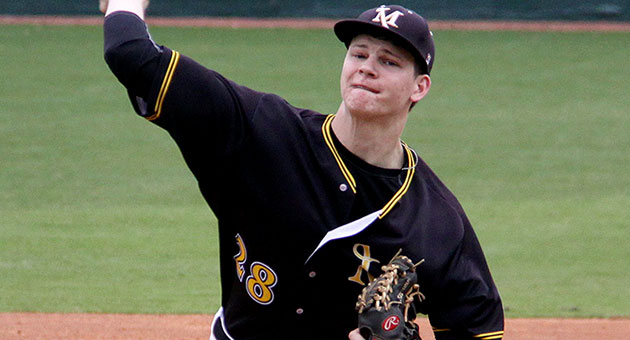 Typically it's not a difficult decision to select the top preseason team in the nation. Every year there seems to be at least one club that stands above the rest. Last season selecting the Tampa Spartans as the preseason No. 1 was an absolute piece of cake. They were coming back from a record-breaking season, returned a roster full of gifted and experienced players and were motivated by falling just short of winning the title the previous spring.
It doesn't get much easier than that. This year however, it is not that simple. Far from it.
An easy pick would be to choose Tampa once again. The Spartans are riding the wave of capturing their seventh school title and consistently have one of the best teams in D-II. Even when the leaders on the diamond graduate or get drafted, UT Head Coach Joe Urso always rolls out another roster ready to complete for the national title.
However this year it will be a tall task for the perennial powerhouse to finish No. 1. The Spartans return only two offensive starters from last season. The pitching staff is a little more stable with two established starters and the return of redshirt junior Trey Oest, but it still isn't quite the UT staff on paper that it has been in the past. In order to stay at the top of the Sunshine State Conference standings and make the trip to Cary once again the red and black attack will have to rely on an inundation of junior college and D-I transfers. That strong dependence keeps Tampa out of the top spot – for now anyway.
Last year's national title bridesmaid, Catawba, isn't the preseason favorite either. While they can boast having the behemoth Will Albertson back, who was tops in the nation with a .467 average while clubbing 26 homers and collecting 91 RBI, he is only one of two returning everyday batters who hit over .300. His re-emergence on the diamond can't single handedly overcome the loss of Cubs' draftee Craig Brooks, who was the D-II MVP and Pitcher of the Year. The Indians should be shoo-ins to win the SAC title and advance to regional play, but labeling them as the team-to-beat is a bit of a stretch.
So then who is the preseason favorite? It's a really, really, hard choice this year. There are a number of schools that are worthy of being No. 1, but each have an Achilles Heel that makes them vulnerable.
At one time early in the process the Colorado Mesa Mavs were penciled in for the top spot. The Mavs have been averaging well over 40 wins the past half-decade and should reach that mark once again. They have a well-rounded team stocked with some of the best players in the region, and like Tampa, they have a pipeline of JUCO and D-I transfers to pick up where departed players left off. The roster hits for an average in accord with the Colorado altitude and the pitchers put up an ERA uncharacteristically low for a club in the offense-laden RMAC. Nevertheless, the Mavs enter the season at the No. 5 spot.
St. Edward's and Millersville also were given long, hard looks to be the top team. Both clubs won their conference titles and advanced to regional play on the backs of a quality starting lineup and phenomenal pitching. Each have made the trip to Cary within the past few seasons and a return trip to the D-II National Championship Series is a realistic, attainable goal. What makes both clubs especially formidable for this season is their experience.
SEU lost only five seniors from last year's team and has an absolute ace in Collin Sherrod who has returned to campus despite being drafted. Millersville returns seven position players as well as their DH and can claim one of the nation's top pitchers as well in Brandon Miller who is coming back from an all-star season in the Cape Cod League. Both teams are deserving of the No. 1 spot but are the third and fourth positioned clubs headed into the year.
Anointing Franklin Pierce as the No. 1 team is tricky. Their record last season was remarkable, going an astonishing 46-2. Replicating that record will be difficult as they'll be without the reigning Northeast-10 Pitcher of the Year and a top presence behind the plate, but Head Coach Jayson King's Ravens have won over 30 games every season since 2002 thanks to his ability to recruit and develop upper-echelon talent. The overwhelming reason FPU is able to accumulate their lopsided win totals is players on the field and coaching, but don't exactly face a murderers' row of opposition.
This season the Ravens don't have a single series scheduled against an opponent in the top 25 – only three midweek games against SNHU are on the agenda. Playing out of New Hampshire makes it difficult to schedule non-conference games and the NE-10's wood bat makes comparing the Ravens to other clubs cumbersome. Nevertheless, the fact that FPU's batting average last season was .123 points higher than opposition and their team ERA was less than a third of their opponents shows they are a force to be reckoned with.
The top team in the Perfect Game D-II preseason rankings is the St. Cloud State Huskies. SCSU Head Coach Pat Dolan's team has finished as the runner-ups in Central Region tournament four of the last six years.  The Huskies continually have one of the top teams in the region, but haven't won the final game that sends them to Carolina. If the Huskies are to ever take that elusive final step and advance to the D-II National Championship Tournament, this is the year.
SCSU won the 2015 Northern Sun Intercollegiate Conference regular season championship, besting longtime rival and D-II stalwart Minnesota State, with a 31-3 NSIC record and finished the year with a school record 54 wins with only five losses.  Their offseason casualties were kept to an absolute minimum and the bulk of their 2016 production will come from senior players who've been entrenched at their position for multiple seasons.
From last year's regular lineup, seven will be back in uniform – two of which, third baseman Zak Hoffman and shortstop Kyle Lieser, were recently named NCBWA DII All-Central Regional Team preseason picks. The Husky pitching staff is also in great shape for 2016 as well. Sheldon Miks had a 1.15 ERA with 10 wins as a freshman and will be the yin to the yang of three-time All-American Reese Gregory. Last season Gregory, en route to winning the Daktronics Division II Pitcher of the Year, went 13-0 with a 1.49 ERA and amassed 92 strikeouts and just 19 walks in 84 2/3 innings on the hill. He also added six saves and batted a robust .339 as the team's regular designated hitter.
Another unheralded pitcher back for SCSU is sophomore, Kevin Bolder. In his college debut season Bolder made 16 appearances which included a pair of spot starts. In those opportunities he struck out 35 batters with only nine walks. His continued develop from being one of the top lefthanded hurlers out of Wisconsin could be the pièce de résistance for the Cary-or-bust Huskies.

2016 Perfect Game Division II Preseason Top 25 Teams
| | | | | |
| --- | --- | --- | --- | --- |
| RK | School | ST | Record | '15 RK |
| 1 | St. Cloud State Huskies | MN | 54-5 | 6 |
| 2 | Franklin Pierce Ravens | NH | 48-4 | 9 |
| 3 | Millersville Marauders | PA | 45-11 | 11 |
| 4 | St. Edward's Hilltoppers | TX | 40-13 | 18 |
| 5 | Colorado Mesa Mavericks | CO | 47-9 | 5 |
| 6 | Tampa Spartans | FL | 43-13 | 1 |
| 7 | Quincy Hawks | IL | 40-17 | NR |
| 8 | Missouri Southern St. Lions | MO | 40-14 | NR |
| 9 | Minnesota State Mavericks | MN | 43-9 | 12 |
| 10 | West Florida Argos | FL | 30-18 | NR |
| 11 | Florida Tech Panthers | FL | 38-13 | 19 |
| 12 | Cal Poly Pomona Broncos | CA | 46-17 | 3 |
| 13 | Mercyhurst Lakers | PA | 40-11 | 4 |
| 14 | Cal Baptist Lancers | CA | 31-22 | NR |
| 15 | Southern Arkansas Muleriders | AR | 40-18 | NR |
| 16 | Nova Southeastern Sharks | FL | 39-13 | 8 |
| 17 | West Alabama Tigers | AL | 42-11 | 7 |
| 18 | Columbus St. Cougars | GA | 35-14 | 14 |
| 19 | St. Leo Lions | FL | 36-13 | NR |
| 20 | Ashland Eagles | OH | 38-19 | NR |
| 21 | Catawba Indians | NC | 47-15 | 2 |
| 22 | Southern Indiana Screaming Eagles | IN | 28-21 | NR |
| 23 | Southern New Hampshire Penmen | NH | 31-14 | NR |
| 24 | Minnesota Duluth Bulldogs | MN | 35-16 | NR |
| 25* | Lee Flames | TN | 39-19 | NR |
| 25* | East Stroudsburg Warriors | PA | 31-19 | NR |
25.* East Stroudsburg Warriors, Pennsylvania State Athletic Conference
Last season the Warriors batted .337 as a team, 12 best in the nation, and averaged a lofty 7.5 runs per game. However, their pitching staff had trouble keeping opposition off the bases, allowing a beefy 5.43 earned runs per game. Despite their inflated numbers the ESU staff has a number of strong arms which will make the Warriors a formidable opponent even if they develop to only a fraction of their total potential. Almost every player who put in quality innings in either the batter's box and on the mound, including Ian Allen, who excelled at both, returns for this spring.
25.* Lee Flames, Gulf South Conference
After starting the season with a 20-15 record the Flames caught fire and finished at 39-19-1 which included a second place finish at the NCCAA World Series. In their first year of full NCAA compliance Lee should contend for the top of the GSC standings. Trenton Hill who had a 2.82 ERA in 83 innings with 97 strikeouts on the mound – and also batted .305 as a part of the team's outfield – and former Michigan State standout Justin Alleman give Lee one of the nation's top pitching tandems.
24. Minnesota Duluth Bulldogs, Northern Sun Intercollegiate Conference
Minnesota State and St. Cloud State are the perennial favorites of the NSIC, but don't overlook UMD.  The everyday lineup, which established a team record .970 fielding percentage last season, includes four returning batters who hit at least .380 and compiled a combined 452 bases, led by senior Alex Wojciechowski who topped the team with a .417 batting average and 12 home runs. The team also has the bulk of their pitching staff back on campus which will give them depth and experience as they look to advance to postseason play.
23. Southern New Hampshire Penmen, Northeast-10 Conference
The Penmen should have little trouble earning their fifth consecutive regional appearance with another roster full of highfalutin hard-throwing pitchers. The Penmen's 2015 ace Alex Person, who went 8-1 with a 1.26 ERA, and the much improved pro prospect Justin Valdespina, will spearhead a staff that should best last season's second-ranked 2.50 team ERA. Head coach Scott Loiseau, who transformed the team from single-digit win totals to a spot in the D-II National Championships, will be back in the dugout after a year as an assistant coach at Oklahoma.
22. Southern Indiana Screaming Eagles, Great Lakes Valley Conference
Southern Indiana will be looking to earn their third national title in sixth years with another successful spring season. While the Eagles had rutted results last season, they did earn a road win over eventual national champion Tampa to start the season and finished with a strong run to give much optimism for 2016. Much of a robust roster, including Kyle Kempf and Trent Gunn who stir USI's offensive shake, are back on campus along with enough arms to make sure they don't have to solely rely on their potent bats.
21. Catawba Indians, South Atlantic Conference
Despite finishing as the runner-up at the D-II championships last season, the Indians' wins were more notable by quantity than quality, as it wasn't until the postseason that Catawba earned a win over a ranked opponent. With that, forecasting the Indians' outlook for 2016 is a bit tricky. What isn't difficult to determine is the impact the loss of Craig Brooks will have on the team who was the D-II MVP and Pitcher of the Year. Catawba still has super slugger Will Albertson who was third in the nation with 26 homers and second with 91 RBI, but he is only one of two returning everyday batters who hit over .300 last season.
20. Ashland Eagles, Great Lakes Intercollegiate Athletic Conference
The Eagles will be without All-American Stephen James and MLB pick Art Warren, but most of the remains of the team that finished first in the GLIAC will be back for another run at Cary. Their season's success will rest primarily on the arms to pitchers Jake Baldwin and Brandyn Sittinger who went a combined 13-4 last season with 167 strikeouts in 152 1/3 innings. The Eagles led the GLIAC in batting average, runs, home runs and stolen bases last season, but a repeat of those fortunate numbers seems unlikely unless some bats develop quick.
19. St. Leo Lions, Sunshine State Conference
Making a mark in the ultra-competitive Sunshine State Conference is a difficult task, but with the top three teams from last season looking to reload after losing vital cogs, the seasoned St. Leo team will be ready to make a move up the standings. The Lions return two established starters and have top hitters Alex Mata, Troy Siedler and Dylan Harris, up to the task as Head Coach Sean O'Connor continues the resurrection of his alma mater program and positions the team to head back to the NCAA postseason for the first time since 2001.
18. Columbus St. Cougars, Peach Belt Conference
With a 35-14 record and third place position in the Southeast Region heading into the PBC tournament, the Cougars looked like a shoo-in for a postseason beth, but a series of upsets kept them unexpectedly home. CSU returns a top-shelf offense comprised of a number of potent bats, including Mike McClellan, who has led the team in home runs the past two seasons, but the pitching staff has some big question marks. The rotation has had a major transformation in the offseason which ultimately may be to the team's benefit or demise.
17. West Alabama Tigers, Gulf South Conference
Last year the Tigers won both the GSC regular and tournament championships and advanced to he NCAA tournament for the first time since 2008. UWA's key to success was a stellar pitching staff which was fifth in nation in ERA. A repeat of the performance will require a revamp of their starting staff as their top three pitchers, who went a combined 21-5 with a 1.85 ERA, have graduated or been drafted. The new arms look promising but it would be extremely optimistic to imaging them duplicating the success from last season.
16. Nova Southeastern Sharks, Sunshine State Conference
NSU is the biggest enigma for the upcoming season. The Sharks exceeded expectations last season, earning top billing in the rankings late and finishing in the top 10, but whether or not they'll be able to keep their momentum is a concern. They have an ace starter and proven closer, but their lineup will be sans one of last year's biggest bats nationally as well as much of his supporting cast. An influx of transfers will determine where the Sharks finish in the postseason – although having one of them being the highly-touted Danny Zardon gives reason to be optimistic.
15. Southern Arkansas Muleriders, Great American Conference
The Muleriders advanced to the NCAA regional tournament for the eighth-straight year while winning 40 or more games for the seventh time in the past 10 seasons. Increasing each of the totals shouldn't be a problem for SAU as they have another roster full of competitive talent. Landon Simpson's ability on the mound and Trevor Rucker's dynamic prowess at the plate and basepaths could make this the year the Muleriders make their first appearance in the D-II Championships.
14. Cal Baptist Lancers, PacWest Conference
The Lancers have made the D-II West Regional the past two seasons and should safely pencil their name in for a third trip this spring. CBU's top three hitters are all back on campus which should provide for plenty of run production, but the big story in Riverside is their pithing staff. The Lancers will have two top-shelf starting hurlers back on the mound, including the highly touted Tyson Miller. Miller's professional stock has been steadily rising and is projected to be the first D-II players taken in the upcoming June amateur draft.
13. Mercyhurst Lakers, Pennsylvania State Athletic Conference
Mercyhurst earned the program's first-ever trip to the Division II National Championship last season and finished the year with a 40-11 record. With another roster jam-packed with proven and up-and-coming talent, nothing short of another trip to Cary should be the goal for Coach Joe Spano's team. If Colin McKee and Hank Morrison continue to develop, Mercyhurst won't just return to North Carolina, they'll bring home the title as well.
12. Cal Poly Pomona Broncos, California Collegiate Athletic Association
Success in the CCAA is often determined by the club with the best pitching staff, and if that trend continues into 2016, the Broncos should be the team to be beat. Draftee Cody Ponce got the most ink last season, but Ryan Olson was statically the more dominant, going 12-0 with a 1.73 ERA. He'll be back with a number of his fellow compadres who compiled a 2.69 ERA last season that ranked third in the nation. The offense needs a big bat in the middle to develop, but when you're holding opposition to a .228 batting average with a 1.18 WHIP (sixth in the country), you don't need to score many runs.
11. Florida Tech Panthers, Sunshine State Conference
The Panthers are poised to have a sensational season thanks to a core of returning players and an influx of talent. FIT touted one of most prolific offenses last season, finishing the year hitting at a .336 clip, and also boasted a strong staff that finished just outside the top 25 with a 3.52 ERA. While some core players won't be back on campus, plenty of great players remain and will welcome some new faces, primarily Tyler Deel and John Sternagel who both suited up for Florida last season. Deel will combine with established starter Ty Cohen to give the Panthers and enviable 1-2 combination.
10. West Florida Argos, Gulf South Conference
The Argos have a phenomenal pitching staff and return three elite starting pitchers, led by NCBWA South Region Pitcher of the Year Brandon Nagem, in an effort to return to the regional tournament after narrowly missing the cut the past two years. While their offense wasn't a strongpoint last season, UWF's speedy and sure-handed lineup does return seven of nine starters. Additionally Coach Mike Jeffcoat has recruited some promising transfers and freshman to return the Argonaut offense into juggernauts.
9. Minnesota State Mavericks, Northern Sun Conference
The Mavericks won at least 40 games for the sixth year in a row and were one of only four teams last year to complete the season with single-digit losses. MSU is well established as one of D-II's most dominating teams and 2016 shouldn't be a break from the norm. A big part of their prolific offense graduated, but their departure is more than made up for by a strong, steady pitching staff. The Mavs' top four starting pitchers will all be back on the mound, as well as a well-stocked bullpen with a dominating closer that should make MSU a favorite to reach Cary once again.
8. Missouri Southern Lions, Mid-America Intercollegiate Athletics Association
Last season was one of the most memorable in MSSU Baseball history as impressive benchmarks were established on the mound, in the batter's box and on the field. The Lion hurlers established a school record 410 strikeouts while coming within a single walk from tying the school record for fewest walks in a season. From that staff the top two starting pitchers return. Also back will be Jesse Rall, who tied the MSSU single-season record of 16 home runs and he's just one of four top batters back in the everyday lineup. To complete Southern's fortune for 2016, much of the supple leather which finished with a school record .973 fielding percentage will be back on the diamond as well.
7. Quincy Hawks, Great Lakes Valley Conference
The Hawks posted a 40-17 record last season, winning the runner-up in the GLVC regular season title and were named the Midwest Regional Tournament's top seed. With their three top starters, a rock-solid closer and the bulk of their starting lineup back on campus, QU is on the short-short list of teams that should be favorites to make it to Cary. If another big bat in the middle of the lineup can emerge the Eagles should be making the trip for the first time in school history. Keep an eye on Eagles' up-and-coming ace Graham Spraker, who excelled in his first full season of a starting role, to take home All-GLVC First Team honors once again.
6. Tampa Spartans, Sunshine State Conference
Last year's national title Tampa team was senior-laden and as a result many of the straws that stirred Spartan drink are no longer on campus. Much of the everyday lineup, as well as a healthy chunk of the pitching staff, will need to be replaced. Reloading isn't typically a problem for Head Coach Joe Urso, but this year the incoming players will really have to find their mark quick if UT is to capture their eighth championship. The talent to win the title is unquestionably there, but the reloaded team needs to muster that certain je ne sais quoi for another deep postseason run.
5. Colorado Mesa Mavericks, Rocky Mountain Athletic Conference
The Mavericks, who have been averaging nearly 43 wins a season the past five years, shouldn't have a problem extending that streak to a half-dozen. CMU returns three hitters who batted at least .375 and played in 50 games and also have some praiseworthy transfers coming in to fill spots at the top and heart of the batting order. The pitching staff is also in excellent shape with a trio of established starters who helped the team to a 3.64 ERA. That is an extremely impressive number considering they play in the RMAC where, if you take out the Mavs' numbers, the conference ERA is 6.25 (although its partially that high because they have to pitch against strong-slugging Mesa).
4. St. Edward's Hilltoppers, Heartland Conference
The Hilltoppers have had a mountain of success the past several years, earning three-straight Heartland Conference Championships, four consecutive league tournament titles and a third place finish at the D-II World Series in 2013. This year's team may be the best of them all. The roster is chock full of experienced seniors in both the lineup and on the mound which should give them a big advantage headed into the season. However, not as big as a boost they get when Collin Sherrod takes to the mound. In his three years in Austin the lefty has gone 24-4 with ERA of 2.45. Offensively, SEU gets another boon from the bat of Jonathan Arrowood who led SEU in almost every offensive category. He was drafted by the Reds but has come back for another year of college ball.
3. Millersville Marauders, Pennsylvania State Athletic Conference
Millersville returns a team with seven position players that was one win shy of a regional championship. The offense absolutely oozes with offensive talent, led by Dan Stoltzfus, who set team records in home runs, RBI and total bases while batting .396, and leadoff batter Tyler Orris, who has started every game since joining MU (169 consecutive games). Hurler Brandon Miller will be the ace of the staff after an all-star season in the Cape Cod League. This may be Head Coach Jon Shehan's best team since he took over the reigns, which is saying a lot considering their five PSAC East Division Championships, three 40-win seasons and D-II CWS appearance in 2011.
2. Franklin Pierce Ravens, Northeast-10 Conference
The Ravens had their 2015 season come to an abrupt, unsatisfying conclusion. Headed into the NCAA East Regional, FPU was an astonishing 46-2, had home field advantage and seemed like a shoo-in to return to Cary for the third time in six years. Nonetheless, the Ravens fell short of making it back to Carolina, and the disappointment from not reaching their goal last year should give them the boost they need this spring. The Ravens always have one of the elite pitching staffs in the nation and this year will have a nearly as formidable offense as well. Jay Jabs is unquestionably one of the most dangerous players at the plate and puts up insane numbers for someone who uses a wood bat for most of the season.
1. St. Cloud State Huskies, Northern Sun Intercollegiate Conference
The Huskies are coming off one of their most successful seasons in team history as they captured the 2015 NSIC regular season championship with a 31-3 record and finished the year with a school record 54 wins.  Despite their stratospheric success under Head Coach Pat Dolan, SCSU has been unable to advance to Cary; the Huskies have repeatedly found themselves just missing the trip as they have been the Central Region runner-ups in 2010, 2012, 2013 and 2015. This could finally be the year for the Huskies as they return seven lineup regulars from last year's team as well as four pitchers who started at least eight games. The MVP of the club is three-time All-American Reese Gregory who went 13-0 with a 1.49 ERA last season with five saves while also batting .339 as the team's regular designated hitter.
2016 Division II Top 40 Prospects
| | | | | | | | | | |
| --- | --- | --- | --- | --- | --- | --- | --- | --- | --- |
| RK | Player | POS | YR | B-T | HT | WT | School | Hometown | ST |
| 1 | Tyson Miller | RHP | JR | R-R | 6-5 | 200 | California Baptist | Trabuco Canyon | CA |
| 2 | Brett Morales | RHP | JR | R-R | 6-1 | 200 | Tampa | Tampa | FL |
| 3 | Dan Jagiello | RHP | JR | R-R | 6-2 | 180 | LIU Post (N.Y.) | West Islip | NY |
| 4 | Mike Marcinko | SS/2B | SR | R-R | 5-10 | 180 | Shippensburg (Pa.) | Philipsburg | PA |
| 5 | Danny Zardon | 3B | JR | R-R | 6-0 | 200 | Nova Southeastern (Fla.) | Pembroke Pines | FL |
| 6 | Casey Scoggins | OF | SR | L-L | 5-10 | 185 | Tampa | Port St. Lucie | FL |
| 7 | Vahn Bozoian | OF/1B | SR | R-R | 6-5 | 235 | Concordia (Calif.) | Chino Hills | CA |
| 8 | Tim Viehoff | LHP | SR | L-L | 6-4 | 200 | Southern New Hampshire | Derry | NH |
| 9 | Ryan Olson | RHP | JR | R-R | 6-2 | 195 | Cal Poly Pomona | Upland | CA |
| 10 | Brandyn Sittinger | RHP | JR | R-R | 6-1 | 200 | Ashland (Ohio) | LeGrange | OH |
| 11 | Michael Koval | RHP | JR | R-R | 6-1 | 175 | Cal Poly Pomona | Alta Loma | CA |
| 12 | Will Albertson | C | SR | R-R | 5-11 | 190 | Catawba (N.C.) | Sophia | NC |
| 13 | Brian Campbell | OF | SR | L-R | 6-0 | 185 | Stonehill (Mass.) | Franklins | MA |
| 14 | Paxton De La Garza | 3B/RHP | SR | R-R | 6-0 | 195 | Angelo State (Texas) | Lubbock | TX |
| 15 | Anthony Alicki | RHP | JR | R-R | 6-2 | 220 | Bridgeport (Conn.) | Milford | CT |
| 16 | Brandon Miller | RHP | JR | R-R | 6-4 | 210 | Millersville (Pa.) | Ephrata | PA |
| 17 | Shane Billings | OF | JR | R-R | 5-11 | 180 | Wingate (N.C.) | Kernersville | NC |
| 18 | Tyler Davis | 3B | SR | R-R | 6-0 | 187 | Northwest Nazarene (Idaho) | Orinda | CA |
| 19 | Davis Marcus | 1B/3B | SR | L-R | 6-0 | 210 | California-Penn | Whitby | ON |
| 20 | Tyler Deel | LHP | JR | L-L | 6-4 | 215 | Florida Tech | Jacksonville | FL |
| 21 | Mike O'Reilly | RHP | SR | R-R | 6-0 | 185 | Flagler (Fla.) | Wading River | NY |
| 22 | John Silviano | C | SO | L-R | 6-1 | 220 | Lynn (Fla.) | Boynton Beach | FL |
| 23 | Dan Ward | 1B/3B | JR | R-R | 6-4 | 230 | Eastern New Mexico | Cleveland | OH |
| 24 | Peter Bayer | RHP | SR | R-R | 6-4 | 185 | Cal Poly Pomona | Parker | CO |
| 25 | Justin Flores | 1B | SR | L-R | 6-4 | 210 | Cal State Monterrey Bay | Fresno | CA |
| 26 | Michael Messier | LHP | JR | R-L | 6-6 | 206 | Bellarmine (Ky.) | Milton | GA |
| 27 | J.D. Crowe | C/3B | SR | L-R | 6-0 | 210 | Francis Marion (S.C.) | Birmingham | AL |
| 28 | Manny Cruz | SS | JR | R-R | 5-11 | 180 | Southern New Hampshire | Wolcott | CT |
| 29 | Nathaniel Maggio | 1B | JR | L-R | 6-6 | 225 | North Greenville (S.C.) | Alpharetta | GA |
| 30 | Jordan Kurokawa | RHP | SR | R-R | 6-3 | 181 | Hawaii-Hilo | Honolulu | HI |
| 31 | Chaz Pal | 2B | SR | R-R | 6-0 | 200 | USC Aiken | Deerfield Beach | FL |
| 32 | Kevin Santa | SS | JR | L-R | 5-11 | 175 | Tampa | Yabucoa | PR |
| 33 | Matt Swarmer | RHP | SR | R-R | 6-5 | 185 | Kutztown (Pa.) | Mohnton | PA |
| 34 | Matt Tulley | RHP | SR | R-R | 6-1 | 200 | Rollins (Fla.) | Lowell | MA |
| 35 | David Jacob | 1B | JR | L-R | 6-5 | 200 | Quincy (Ill.) | Springfield | IL |
| 36 | Colin McKee | RHP | JR | R-R | 6-3 | 220 | Mercyhurst (Pa.) | Butler | PA |
| 37 | Laz Rivera | 2B | JR | R-R | 6-1 | 185 | Tampa | Miami | FL |
| 38 | Jay Jabs | 3B | JR | L-R | 6-0 | 200 | Franklin Pierce (N.H.) | Schwenksville | PA |
| 39 | Trey Oest | RHP | JR | R-R | 6-3 | 205 | Tampa | Brandon | FL |
| 40 | Reese Gregory | RHP | SR | R-R | 6-0 | 195 | St. Cloud State (Minn.) | St. Cloud | MN |
Originally appeared on Perfect Game website: https://www.perfectgame.org/Articles/View.aspx?article=12111