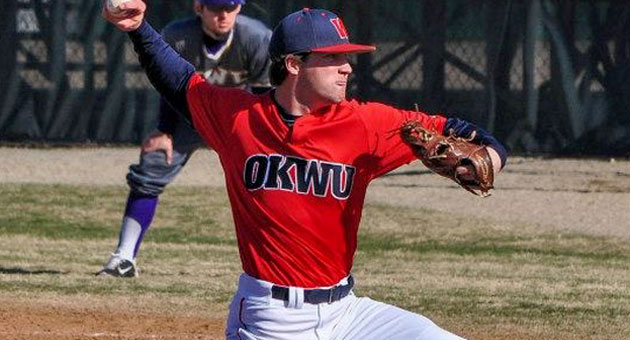 While home runs, strikeouts and diving catches capture the headlines, it's often the little things that make a difference in a ballgame. A hit-by-pitch, poorly played hop, errant toss or missed cut-off can be just as meaningful as a grand slam.  The 2015 season proved that a single miscue can reshape an entire game.
It started with Point Park's two run lead heading into the seventh inning at the KIAC Baseball Tournament. They were up 4-2 and playing for the opportunity to earn the conference's automatic bid into the national tournament. With a top 25 ranking the Pioneers probably felt the game wasn't necessarily a must-win to advance, but wanted to remove any doubt they'd be playing in the extended postseason.
Nevertheless, one bad inning, fueled by a pair of hit-by-pitches and a wild throw, cost them the lead and ultimately the game. The Point Park club would have to wait to see if they'd get an invite to continue to play for a trip to Lewiston.
When the at-large bids were announced the Pioneers' name wasn't on the list. The senior class, which compiled a 169-58 (.744) record in their four years and made the national tournament the three years prior, was left without the opportunity to play in the extended postseason. Their college careers were over.
Three weeks later Faulkner was two outs away from an appearance in the championship round of the World Series. Up 3-0 with one out and the bases empty, St. Thomas rallied to cross the plate three times to send the game to extra innings. A hit-by-pitch and a ground ball error led to the tying run.
The next inning the Bobcats scored three times to send the Eagles into a win-or-go-home game.
Despite the loss, Faulkner had another chance to play for the title and avenge their loss to STU. Again they were up late, this time to Lewis-Clark State, a team they took to the woodshed two nights prior and thumped 12-0, but the lead was only 8-7 with 2 ½ innings left to play.
A home run began the unravelling as the Warriors tied the game. A pair of costly hit by pitches allowed the go-ahead and insurance runs to score. The Eagles lost and embraced in consolation. For the seniors their hope of ending their college career with a national title ring would evaporate two wins away from their goal.
The next night St. Thomas, who inconceivably rallied a few days prior to advance to the championship game, was leading 7-1 after five innings, 7-3 after six and held a three-run lead with six outs to go.
In the eighth inning the Bobcats imploded. LCSU plated six runs thanks in part to a pair of hit-by-pitches and an error. Instead of St. Thomas coming home with the first national championship in school history in any sport, the Warriors celebrated by capturing their 17th baseball crown.
Fate and luck don't win championships, players do. And it takes an entire team to take home the title when the last out is made.
Compiling and sorting the list of teams most likely to advance to Lewiston is an arduous task. Different teams have different talents. What one club lacks in pitching, they may make up for it in batting. Another school may have a lineup void of power hitters, but they could have a roster filled with speed and great defense.
Each of the 25 teams as listed below, as well as dozens of others, were examined up, down, left, right, inside and out. It's a list that will evolve each week as games are played out on the field. In June it won't necessarily be the team with the best players that dogpile at Harris Field, it will be the club that best uses their talents and takes advantage of the opportunities presented to them between the chalked lines.
Following are the Top 25 NAIA teams determined to be the best positioned and prepared to bring home the 2016 championship.

2016 Perfect Game NAIA Preseason Top 25 Teams
| | | | |
| --- | --- | --- | --- |
| RK | School | ST | Record |
| 1 | St. Thomas Bobcats | FL | 48-18 |
| 2 | Oklahoma City Stars | OK | 46-13 |
| 3 | Tabor Bluejays | KS | 54-12 |
| 4 | Oklahoma Wesleyan Eagles | OK | 49-14 |
| 5 | Faulkner Eagles | AL | 51-15 |
| 6 | The Master's Mustangs | CA | 42-14 |
| 7 | Davenport Panthers | MI | 51-12 |
| 8 | Lewis-Clark State Warriors | ID | 46-12 |
| 9 | Keiser Seahawks | FL | 40-14 |
| 10 | Freed-Hardeman Lions | TN | 37-17 |
| 11 | Lindsey Wilson Blue Raiders | KY | 41-19 |
| 12 | Bellevue Bruins | NE | 46-15 |
| 13 | Georgia Gwinnett Grizzlies | GA | 50-14 |
| 14 | LSU Shreveport Pilots | LA | 46-14 |
| 15 | Vanguard Lions | CA | 39-22 |
| 16 | Northwestern Ohio Racers | OH | 45-15 |
| 17 | Sterling Warriors | KS | 47-15 |
| 18 | Missouri Baptist Spartans | MO | 43-13 |
| 19 | Bryan Lions | TN | 44-18 |
| 20 | Point Park Pioneers | PA | 37-13 |
| 21 | Madonna Crusaders | MI | 37-17 |
| 22 | Auburn Montgomery Warhawks | AL | 40-18 |
| 23 | Mt. Vernon Nazarene Cougars | OH | 37-12 |
| 24 | Tennessee Wesleyan Bulldogs | TN | 45-12 |
| 25 | Westmont Warriors | CA | 47-17 |
25. Westmont Warriors, Golden State Athletics Conference
How deep the Warriors are able to go into the postseason will depend much on the head-turning athletic ability of Alex Bush. As one of the top pro prospects in the NAIA, Bush was barely bested in leading the GSAC in batting at .375 last year and combines his tremendous hitting ability with surprising speed and steady defense. His offense will be especially needed if new arms aren't found to step up and replace some of last year's top-shelf pitching staff.
24. Tennessee Wesleyan Bulldogs, Appalachian Athletic Conference
Almost the entire starting lineup from last season's Bulldog AAC regular and tournament title team won't be back this spring. Luckily for TWC, their primary holdover is one of the best players in the NAIA, shortstop Wardy Polano who batted  .417 (tied for 20th in the nation). Nevertheless, neophyte Head Coach Travis Watson's acclaimed bench skills and ability to recruit should keep Wesleyan's season results in par with recent successes.
23. Mt. Vernon Nazarene Cougars, Crossroads League
The Cougars made their sixth consecutive appearance in the NAIA National Championship Opening Round last season and increasing that total to a lucky No. 7 shouldn't be a problem. While the offense had a bite taken from it following the final out of last season, the bulk of the pitching staff – which held opposition to a 3.62 ERA – returns, including three pitchers who combined for 34 starts on the mound.
22. Auburn Montgomery Warhawks, Southern States Athletic Conference
AUM won both SSAC regular-season and tournament championships but lost a big chunk of last year's lineup, especially at the start of the order. As a result Coach Marty Lovrich will have to rely more on pitching and defense to make up for the loss of batting prowess and speed for another successful season. The Warhawks do return senior all-conference ace Cole Goodwin who finished 2015 with a 10-1 record and a 3.06 ERA which will make them a formidable opponent in any single-game matchup.
21. Madonna Crusaders, Wolverine-Hoosier Athletic Conference
The Crusaders return three first team all-conference performers and lost only a single senior from last year's team that advanced to the NAIA National Championship Opening Round. If the experienced lineup can pump up their stats a bit to complement the numbers generated by the staff MU should go deep into the postseason.
20. Point Park Pioneers, Kentucky Intercollegiate Athletic Conference
An already stacked Pioneers pitching staff added some additional top end arms to ensure that last season's postseason snub won't happen again. A speedy outfield, anchored by gold glover and pro prospect Demetrius Moorer, may lack pop, but should hit for a high average and put constant pressure on teams from top to bottom both in the batter's box and on the basepaths.
19. Bryan Lions, Appalachian Athletic Conference
The Lions finished last spring with a school record 44 wins and made it to the third day of NAIA regional play before getting eliminated. BC also placed more players on the All-AAC Team than ever before. That talented team is largely intact for 2016 and ready for an extended run to Idaho. They'll be without their ace from last season, but still have a deep pitching staff that includes NAIA top 10 pro prospect Chad Burrows whose stock has been steadily rising since he arrived on campus.
18. Missouri Baptist Spartans, American Midwest Conference
The Spartans will be without three players who were selected in MLB draft, but will still have a dugout full of talent that Head Coach Eddie Uschold enthusiastically believes may be one of his best clubs he's assembled in 17 years at the MBU helm. The Spartans have three pitchers who can easily touch the 90s on the radar gun, most remarkably done by the imposing 6-foot-6 Austin Sweet who is slated to be MBU's closer.
17. Sterling Warriors, Kansas Collegiate Athletic Conference
SC returns the majority of their club, including the reigning KCAC Player of the Year, a Preseason All American and three-quarters of their starting staff from last season. Adding to an already stout staff is John Jaeger who was one of the most dependable arms for D-I's Pacific Tigers and helped the Wisconsin Rapids Rafters of the Northwoods League set a franchise records for wins over the summer.
16. Northwestern Ohio Racers, Wolverine-Hoosier Athletic Conference
UNOH had a breakout season in 2015 as they posted a 45-15 record and nearly advanced to the World Series. Expect more of the same this spring as the aptly named Racers field one of the most explosive offensives in the NAIA.  The Racers won't have some of the pop they had last season, but will still have the speed that put them in the top five in stolen bases.  Perhaps more importantly they'll have senior starter Ryan Petrangelo back who was arguably the best pitcher in the WHAC last season with a 8-1 record, 2.63 ERA and 80 strikeouts in 78 2/3 innings.
15. Vanguard Lions, Golden State Athletic Conference
The Lions are looking to ride the momentum from a deep late season run last year into a successful 2016. The biggest bats from an explosive offense are back on campus and several experienced and important arms will be back on the mound. Shortstop Jose Rojas is an invaluable part of the Vanguard pride, as he not only did he lead the team in batting and home runs, but he only stuck out 13 times in 237 at-bats and earned a gold glove for his solid play up the middle.
14. LSU Shreveport Pilots, Red River Athletic Conference
The Pilots concluded 2015 in an extremely disappointing fashion as they were leading 11-2 in the middle of the sixth inning of the opening round championship game, but gave up 14 runs in two innings to be sent home for the summer. Overcoming that disappointment and reaching the World Series for the third time in six years will require established players to develop quickly and recruits and transfers to hit the field running as a noticeable chunk of the statistical leaders are no longer on campus. Fortunately for LSUS, top hitter Alex Montero is one of the players back in purple and gold for the spring.
13. Georgia Gwinnett Grizzlies, Association of Independent Institutions
Despite the program only being established in 2013, the young Grizzlies Georgia Gwinnett program has compiled a combined 103 wins over the past two seasons to quickly establish itself as an NAIA baseball power. With seven players back who batted over .280 with at least 100 plate appearances, the Grizzlies should be a threat to hit the half-century mark in wins once again. The pitching corps could use some replenishing but should still provide plenty of gusto to keep games close without needing the bats to power them to wins.
12. Bellevue Bruins, North Star Athletic Association
The Bruins had a crazy-good pitching staff last season which was tops nationally in ERA and fourth in both opposing batting average and total strikeouts. Matching those numbers is extremely unlikely as a pair of dominant aces are no longer on campus, but the good news is that they won't have to be in order to have another successful season. Much of the Bruins offense, headed by Preseason All-American Colton Nash, who hit grand slams in three consecutive games last year, returns and should give more than enough support to the lead the Bruins to their inaugural NSAA title.
11. Lindsey Wilson Blue Raiders, Mid-South Conference
The Blue Raiders' offense will be without their top batsman from last season, but the rest of the well-balanced lineup, which out-slugged their opposition by over 100 points, returns to Kentucky for another run at the World Series. The pitching staff is in good shape as well with Scott Sebald set for another yet of video game type numbers after he had a dainty 1.08 ERA in 99 2/3 innings with 91 strikeouts while only allowing 16 walks last year.
10. Freed-Hardeman Lions, American Midwest Conference
The Lions are coming off one of its best seasons in program history after earning a 37-16 record and winning the AMC regular-season title. FHU also went on to win a pair of games in the opening round of the national tournament before getting bounced. Surpassing last season's success is a obtainable goal as the Lions return three superior starting pitchers along with their relief specialist which alone puts them on the short-short list of teams capable of capturing the title. The offense is spurred by Houston Looser, the Preseason All-American second baseman who hit .374 with 24 stolen bases.
9. Keiser Seahawks, The Sun Conference
Their school name may have changed but the results should be the same as the Seahawks look to build on an historical year when they advanced to the regionals for the first time. The Sun Conference regular season champs return Preseason All-American Keivan Berges, along with four other All-Conference players, as they attempt to take the next postseason step. Keep an eye out for Steven Bruce who dazzled in the eight games he started, going 7-0 with a 1.07 ERA and 45 strikeouts with only seven walks in 50 2/3 innings.
8. Lewis-Clark State Warriors, Frontier Conference
The Warriors are the New York Yankees of the NAIA, having won 17 national championships, including last year's come-from-behind title. Several of the beefiest bats and strongest arms from last year's club have moved on to the professional ranks or graduated, but Head Coach Jeremiah Robbins has a legacy of recruiting the top talent in the region to replenish the roster. Nevertheless, the cupboard isn't bare by any means. Cabe Reiten led the team with a .411 batting average and 99 hits, the second most in the NAIA, and will be back at shortstop for the Warriors.
7. Davenport Panthers, Wolverine-Hoosier Athletic Conference
The Panthers recently announced that they will be transitioning to Division II and would love to capture a NAIA championship banner before making the move. This season could be their year as DU finished last spring with a school record 51 wins and advanced to the NAIA World Series where they suffered their losses to the eventual champion and runner-up. Pitching-wise the Panthers welcome back three starting pitchers and their closer, who tied for second in the nation in saves, and offensively they'll have six regular batters back who started at least 45 games.
6. The Master's Mustangs, Golden State Athletic Conference
The Master's Mustangs are the reigning Golden State Athletic Conference regular-season champion and will return their top hitters and pitchers for another run at the NAIA title. The lineup should be particularly powerful with at least four sluggers capable of launching double-digit home runs. On the bump a pair of hurlers who went a combined 18-5 with a 2.25 ERA in 191 1/3 innings give The Master's stability and the ability to go toe-to-toe with any opponent they may face this season.
5. Faulkner Eagles, Southern States Athletic Conference
Faulkner finished two wins shy of taking the title last season and will be motivated to make it back this season in an effort to win the school's second baseball championship in four years.  Like many perennial powers, the summer wasn't kind to the Eagles' roster as some of their top players signed professional contacts and won't be returning to campus. However, history has shown that the Eagles will have plenty of players ready to pick up where they left off. In particular, Victor Arche, who led the team with 11 wins and posted a 2.20 ERA will be back to lead the Faulkner staff.
4. Oklahoma Wesleyan Eagles, Midlands Collegiate Athletic Conference
The Eagles' offense likely won't quite have the punch it did last season when they batted a fourth-in-the-nation .345, but they should have little problem continuing their winning ways as they can boast one of the most solid pitching staffs in the nation. Alex Martinez, a transfer from De Anza College who was a Northwoods League All-Star over the summer, joins fellow top pro prospect C.J. Gregory and Aaron Garner to give Head Coach Matt Parker a trio of enviable arms. Gregory was a summer season All-American while pitching in the Texas Collegiate League and will be aiming to add a NAIA title to his TCL trophy.
3. Tabor Bluejays, Kansas Collegiate Athletic Conference
The Bluejays finished 2015 with a 54-12 record and a second consecutive trip to the World Series. A trio of trips to Lewiston is an obtainable goal for TC as they'll field one of the most dangerous hitting teams in the nation backed by a formidable pitching staff. Six everyday batters return, highlighted by Preseason All-American Alex Couch who has been gaining scout's attention with his batting prowess and defense at third base. The pitching staff will need some players to step up and take over vacated starting roles, but with athletes like Gregory Turner, who had a 1.20 ERA in 52 1/3 innings, it shouldn't be a concern.
2. Oklahoma City Stars, Sooner Athletic Conference
The Stars are annually one of the top teams in the NAIA and spent much of last spring as the top-ranked school in the nation. OCU was a win away from advancing to the World Series, but lost an extra inning game to have their season come to a close. The Stars look like shoo-ins to make it back this year with a wealth of exceptional players on the mound and in the field. Offensively the team's leaders in batting average and home runs return to spark the Star's scoring. Carlos Chavez dominated on the mound last season, going a perfect 8-0 with a 2.02 ERA while striking out 118 batters in 98 innings with only 78 hits allowed, and will be rejoined by four other pitchers who threw at least 45 innings.
1. St. Thomas Bobcats, The Sun Conference
The Bobcats were six outs away from taking home the title last May, but had to settle for being the runner-up after Lewis-Clark State rallied to take the crown. That loss should be extra motivation this year for the 'Cats who are looking to take home the school's first national title in any sport. Four batters who hit at least .315 will be back, as will Michael Centeno, who is projected to have a breakout season and has been developing interest from scouts. Added to the offensive mix will be Orlando Rivera, who earned First Team All Sunshine State honors while playing for the Tampa Spartans, and Jose Gomez, a speedy hitter from Miami-Dade. Ben Ancheff is projected to be the staff ace and should finally be at full strength after having Tommy John surgery in 2014. He'll be backed by Alex Viera, who Head Coach Jorge Perez predicts will be a MLB draft selection in June. Chris Rodriguez, who saved a dozen games for STU last season, will also be back at his position at the end of the Bobcat bullpen.
2016 NAIA Top 20 Prospects
| | | | | | | | | | |
| --- | --- | --- | --- | --- | --- | --- | --- | --- | --- |
| RK | Player | POS | YR | B-T | HT | WT | School | Hometown | ST |
| 1 | Lucas Erceg | 3B/RHP | JR | L-R | 6-2 | 200 | Menlo College (Calif.) | Campbell | CA |
| 2 | Alex Webb | RHP | SR | R-R | 6-2 | 200 | British Columbia | Surrey | BC |
| 3 | John Schreiber | RHP | SR | R-R | 6-3 | 200 | Northwestern Ohio | Rockwood | MI |
| 4 | Austin Sweet | RHP | SR | R-R | 6-6 | 250 | Missouri Baptist | Huntington Beach | CA |
| 5 | Edgar Lebron | OF | SR | R-R | 6-0 | 210 | Lindsey-Wilson (Ky.) | Richmond Hill | NY |
| 6 | Cabe Reiten | SS | SR | R-R | 6-0 | 180 | Lewis-Clark State (Idaho) | Spanaway | WA |
| 7 | Conner Menez | LHP | JR | L-L | 6-3 | 195 | The Master's College (Calif.) | Hollister | CA |
| 8 | C.J. Gregory | RHP | SR | R-R | 6-1 | 185 | Oklahoma Wesleyan | Tushka | OK |
| 9 | Alex Bush | 1B | SR | L-R | 6-1 | 180 | Westmont (Calif.) | Menifee | CA |
| 10 | Chad Burrows | RHP | JR | R-R | 6-3 | 210 | Bryan (Tenn.) | Nassau | Bahamas |
| 11 | Alex Montero | 3B | SR | R-R | 6-0 | 220 | LSU Shreveport | Canovanas | PR |
| 12 | Justin Morhardt | C | SO | B-R | 6-4 | 210 | Bryan (Tenn.) | Winsted | CT |
| 13 | Jace Herrera | RHP | SR | R-R | 6-4 | 215 | Southeastern (Fla.) | Apopka | FL |
| 14 | John Jaeger | RHP | JR | R-R | 6-1 | 195 | Sterling (Kan.) | Tracy | CA |
| 15 | Houston Looser | 2B | JR | R-R | 5-9 | 154 | Freed-Hardeman (Tenn.) | Muscle Shoals | AL |
| 16 | Alex Martinez | RHP | SR | R-R | 6-0 | 205 | Oklahoma Wesleyan | Union City | CA |
| 17 | Alex Couch | 3B | SR | R-R | 6-3 | 210 | Tabor (Kan.) | Castlewood | VA |
| 18 | Keivan Berges | OF/RHP | JR | R-R | 6-0 | 205 | Keiser (Fla.) | Wellington | FL |
| 19 | Orlando Rivera | 2B/OF | SR | L-R | 5-8 | 162 | St. Thomas (Fla.) | Orlando | FL |
| 20 | Jose Rojas | SS | SR | L-R | 5-11 | 195 | Vanguard (Calif.) | Anaheim | CA |
The No. 1 prospect at the NAIA level, Lucas Erceg, was also named the No. 1 prospect last summer in the California Collegiate League. A star for the Cal Bears last spring, where he hit .303 with 11 home runs and 42 RBI and is expected to be an early (top 3-5 rounds) draft pick come June. Here is what was written about Erceg after his standout summer showing:
Erceg proved to have a flair for the dramatic, both during the spring as a sophomore at Cal and this summer for the Neptune Beach Pearl. He only played in 29 games this summer, but had a huge impact during that time, producing a .336/.439/.527 triple slash line with nine doubles and four home runs. A lefthanded hitter, Erceg gets great extension with exciting pull-side power, hitting .303 in the spring with 11 home runs. For as good as he is at the plate, his single-best tool might be his arm strength, with the ability to throw in the low-90s as a righthanded pitcher, and he posted a 2.53 ERA during the spring over eight relief appearances. Due to academic reasons Erceg has transferred to Menlo College, an NAIA school, for his junior year, and as a result of his summer success Erceg was named to Perfect Game's Summer Collegiate All-America team as an honorable mention.
Originally appeared on Perfect Game website: https://www.perfectgame.org/Articles/View.aspx?article=12103