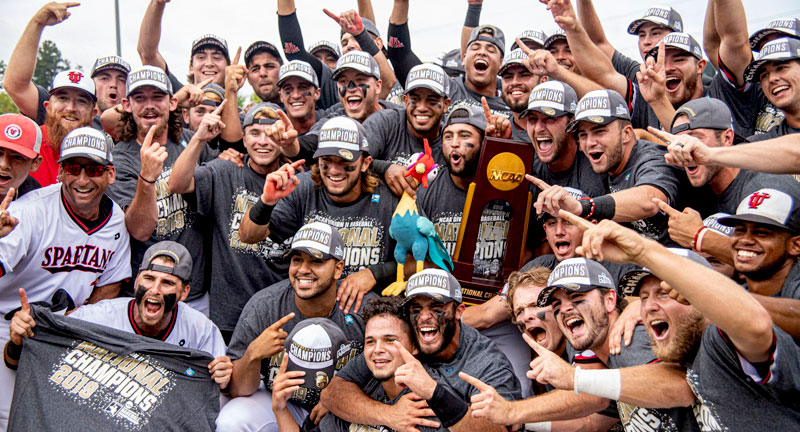 The seasons for each the three small school divisions have come to a close with each division's crown resting upon a familiar head. In D-II the Tampa Spartans held off Colorado Mesa to earn the school's eighth all time title and third in seven years. In the NAIA the trophy had returned to Tennessee as the Bulldogs of Tennessee Wesleyan regained the title they took home in 2012. Meanwhile in D-III, the Chapman Panthers finished as the last team standing, earning the school's second baseball championship, and first since 2003.
Along with each of the three division's final rankings are selections for their top everyday player and pitcher. Additionally a selection has been made for each division's most valuable player.
NCAA Division II
National Champion – Tampa Spartans
The Spartans, who were slated second in the preseason, made the most of their limited opportunity to improve in the rankings and finished the year as the No. 1 team. It marked the eighth time in school history the perennial power has earned the national title and fifth such undertaking under the tutelage of head coach Joe Urso, who took over the team in 2006. The title was climaxed with a flawless postseason run which saw them go 9-0 and only twice allow an opponent to score more than three runs in a contest. During the season the Spartans earned wins over 10 schools who played in the postseason, which not only included Colorado Mesa, the team that ended the year as the No. 2 team, but North Greenville, who ended the year in the No. 3 position.
Most Outstanding Player – Josh Elvir, Angelo State
In addition to leading the nation in hitting at .464, the junior outfielder was tops in RBI with 80 and slugged 20 home runs with nine triples. In total those numbers earned him a .989 slugging percentage and .584 on base percentage, which were also tops in D-II.
Most Outstanding Pitcher – Ethan Elliott, Lincoln Memorial
Elliott helped LMU set a new standard for wins in a season as he went 12-2 for the Railsplitters with a 2.23 ERA. In 92 2/3 innings he only allowed 72 hits and 14 walks while striking out 134 batters. He was particularly dominant during the second half of the season as he complied a tiny 0.78 ERA over his last six starts which included a 16-strikeout shutout performance over Tusculum and a complete game, 12-strikeout win over Mount Olive in the Southeast Regional.
Most Valuable Player – Will Dixon, Colorado Mesa
Dixon, who spent his first two seasons at Mesa at first base, had a scattering of bullpen appearances last season. This year he took over the role of closer and dominated for the Mavericks and dominated the late innings. In 28 relief appearances he earned a nation-leading 16 saves and held opposition to a 0.66 ERA as only three times did he allow an earned run to score. Among his most accomplished saves was a 1 2/3-inning effort over Angelo State in the South Central Regional that sent the Mavericks to Cary, as well as one in their D-II Baseball Championship opening round win over Central Missouri. Even more impressively he made his first-ever pitching start in Cary, which put CMU in the title game. He threw a complete game shutout over the UCM Mules which gave his team a 1-0 win and lowered his season ERA to 0.54.
Rk. Prev. Pre. Team ST Record
1 3 2 Tampa Spartans FL 45-14
2 2 4 Colorado Mesa Mavericks CO 53-12
3 1 1 North Greenville Crusaders SC 45-11
4 4 10 Central Missouri Mules MO 46-16
5 7 17 UC San Diego Tritons CA 41-16
6 8 6 Mercyhurst Lakers PA 36-16
7 6 NR Catawba Indians NC 47-14
8 5 NR Angelo State Rams TX 46-12
9 9 NR Delta State Statesmen MS 42-14
10 10 19 West Florida Argos FL 37-18
11 11 18 Nova Southeastern Sharks FL 34-17
12 12 15 Lubbock Christian Chaparrals TX 35-17
13 13 11 Augustana Vikings SD 43-16
14 16 NR Ashland Eagles OH 48-15
15 14 22 Illinois Springfield Prairie Stars IL 41-17-1
16 15 21 West Texas A&M Buffs TX 41-12
17 17 NR Azusa Pacific Cougars CA 40-15
18 18 8 Columbus St. Cougars GA 31-20
19 19 NR Charleston Golden Eagles WV 41-19
20 21 14 North Georgia Nighthawks GA 33-20
21 22 NR St. Cloud State Huskies MN 41-14
22 23 NR Mount Olive Trojans NC 31-19
23 24 13 Quincy Hawks IL 32-20
24 25 NR Colorado School of Mines Orediggers CO 40-15
25 NR NR NYIT Bears NY 37-16
NR 20 20 Southern New Hampshire Penmen NH 40-15
Dropped out: Southern New Hampshire (20).
NAIA
National Champion – Tennessee Wesleyan Bulldogs
The Bulldogs' head coach Billy Berry had one of, if not the, top incoming classes this season and it paid off with the school's second national title in eight years. After starting the season ranked 12th, TWU slowly climbed the rankings ladder throughout the season with wins over Georgia Gwinnett, Southeastern and Bryan. After a lossless run through the Appalachian Athletic Conference Tournament, where they earned their 12th AAC tournament title, and avenging an early loss to Webber International in the NAIA Opening Round, TWU made their way back to Lewiston. There they led the 10-team tournament in batting average and slugging percentage to finish the season with a 56-10 record and, more importantly, a 6-2 win over St. Thomas in the championship game.
Most Outstanding Player – Aaron Shackelford. The Master's Mustangs
It's impossible not to look the numbers compiled by Aaron Shackelford this season and question if there was some sort of record keeping mistake as his statistics were truly extraordinary. Not only did he bat .415 for the Mustangs, but he led the NAIA in home runs with 36, total bases with 206, runs with 83, slugging percentage at 1.096 and RBI with 99. He also displayed supple leather as the team's shortstop and had 134 assists in the field. He was the Golden State Athletic Conference Player of the Year and was selected by the Pirates in the 14th round of this year's draft.
Most Outstanding Pitcher – Colton Williams, Science and Arts Drovers
Williams had an amazing 2019 season and helped the USAO to a semifinal finish at the NAIA World Series. On the year he was a perfect 16-0, which included earning wins over Oklahoma City, Texas Wesleyan, Antelope Valley and national champion Tennessee Wesleyan. His ERA was second in the nation at 1.33 and he held opposition to a .186 batting average as he only allowed 72 hits in 108 2/3 innings. He also threw seven complete games and struck out 136 batters while only issuing 25 walks.
Most Valuable Player – Glen McClain, Indiana Tech
It is unlikely the Warriors would have advanced to the first NAIA World Series since 2003 without the efforts of slugger Glen McClain. McClain batted .428 with 18 home runs – that average is 61 points higher than any teammate and his home run total nearly accounted for half of the teams' total. He started every game, primarily was the catcher and finished in the top 20 nationally in the aforementioned categories as well as doubles, hits and total bases.
Rk. Prev. Pre. Team ST Record
1 2 12 Tennessee Wesleyan Bulldogs TN 56-10
2 6 2 St. Thomas Bobcats FL 49-15
3 5 17 USAO Drovers OK 49-12
4 1 3 Southeastern Fire FL 53-12
5 4 1 Georgia Gwinnett Grizzlies GA 48-13
6 3 4 Faulkner Eagles AL 49-12
7 7 7 Freed-Hardeman Lions TN 47-17
8 8 5 Oklahoma Wesleyan Eagles OK 45-11
9 9 8 Cumberlands Patriots KY 46-10
10 10 10 Middle Georgia State Knights GA 42-16
11 12 16 Bellevue Bruins NE 48-16
12 13 NR Indiana Tech Warriors IN 42-16
13 11 19 Oklahoma City Stars OK 46-14
14 14 NR Texas Wesleyan Rams TX 46-15
15 15 21 Benedicine Mesa AZ 44-13
16 16 NR LSU Shreveport Pilots LA 47-13
17 17 6 William Jessup Warriors CA 39-14
18 18 9 Bryan Lions TN 36-17
19 19 22 Westmont Warriors CA 37-16
20 20 NR Georgetown Tigers KY 45-15
21 21 20 Webber International Warriors FL 38-22
22 22 23 Madonna Crusaders MI 37-22
23 24 NR Warner Royals FL 41-23
24 23 13 Lewis-Clark State Warriors ID 35-15
25 25 NR Central Methodist Eagles MO 35-16
Dropped out: None.
NCAA Division III
National Champion – Chapman Panthers
Despite never making an appearance in the Perfect Game Top 25 historically before this spring, Chapman was positioned 18th in the Perfect Game preseason rankings, as a breakout season was anticipated. What wasn't expected was how truly remarkable the season would be. The Panthers earned their first title since 2003 in exhilarating fashion. Despite being heavy favorites, it took them five games to eliminate Whitman in regional action; they only advanced to face Concordia (Texas) after walking off in the if-necessary final game. After eliminating the Tornados, the Panthers went to Cedar Rapids where they won their first game but lost to UMass-Boston the next day. They then had to battle through the losers' bracket, which required defeating Washington & Jefferson and the Beacons in the same day. In the National Championship Series their brilliant pitching limited Birmingham Southern to only four runs in 18 innings as they went home with the title.
Most Outstanding Player – Harry Witwer-Duke, Wooster
As the Scots' second baseman Witwer-Duke was a both a major contributor at the plate as well as in the field. He batted .390 with 14 doubles, five triples and seven home runs to amass a .665 slugging percentage. His 56 runs batted in were tops in the North Coast Athletic Conference and just outside the top 10 nationally. Defensively he had a .963 fielding percentage as he held down middle of the infield (with some occasional work at third base and center field).
Most Outstanding Pitcher – Nick Roth, Randolph-Macon
Roth was named the South Region and Old Dominion Athletic Conference Pitcher of the Year and selected by the Baltimore Orioles in the MLB draft after earning a 10-0 record with a 1.93 ERA. In 84 innings on the mound he only allowed 70 hits (.223 B/AVG) and issued only seven walks on the season. He stuck out 98 batters and went the distance in four of his 11 starts. For his career he went 26-2 and struck out 221 batters.
Most Valuable Player – Jake Dexter, Southern Maine
The Huskies had a tremendous run in 2019, finishing 37-9. The advanced to the finals in regional play were Dexter threw 6 1/3 innings out of the bullpen before they were eliminated due to an unearned run. Also in the contest Dexter played second base where he batted cleanup and knocked out a hit in four of seven plate appearances. Those results were a microcosm of the season for Dexter who was invaluable on offense, in the field and on the mound. At the plate he batted .373 with 13 extra-base hits, defensively he was second on the team in chances with 183 (.943 fielding percentage) and on the mound he had eight saves in 24 appearances with a 1.49 ERA in 36 1/3 innings as the school's closer.
Rk. Prev. Pre. Team ST Record
1 4 18 Chapman Panthers CA 36-11
2 18 NR Birmingham-Southern Panthers AL 42-15
3 5 3 UMass-Boston Beacons MA 37-14
4 2 14 Babson Beavers MA 39-10
5 1 NR Concordia University Chicago Cougars IL 42-10
6 16 NR Johns Hopkins Blue Jays MD 37-13
7 17 23 Webster Gorloks MO 37-13
8 3 2 Wooster Fighting Scots OH 30-15
9 6 8 Shenandoah Hornets VA 35-15
10 22 NR Heidelberg Student Princes OH 35-15
11 7 13 Misericordia Cougars PA 35-13
12 8 10 Cortland State Red Dragons NY 34-13-1
13 23 NR Washington & Jefferson Presidents PA 38-13
14 9 5 Southern Maine Huskies ME 37-9
15 10 12 Christopher Newport Captains VA 35-10
16 11 1 Rowan Profs NJ 32-13
17 12 NR Trinity Tigers TX 35-14
18 13 7 Texas Lutheran Bulldogs TX 31-14
19 14 NR Coe Kohawks IA 37-8
20 15 9 UW-Whitewater Warhawks WI 35-12
21 19 NR Concordia Tornados TX 37-13
22 20 4 Randolph-Macon Yellow Jackets VA 28-10-1
23 21 NR Spalding Eagles KY 31-12
24 24 NR Salisbury Seagulls MD 35-10-1
25 25 24 LaGrange Panthers GA 32-12
Dropped out: None.