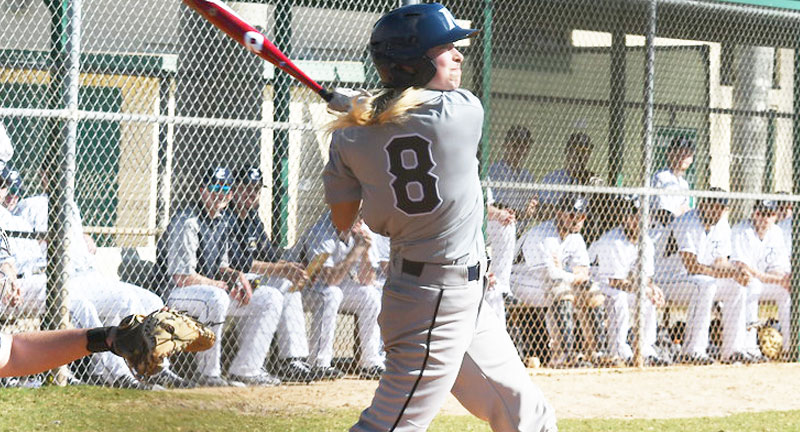 When the latest freshman baseball recruit stepped onto the Rivier University campus, the Raiders received a prospect unlike any they'd ever had on their roster. The 5-foot-10 catcher had a pedigree which included playing for a national team against top competition from around the globe including Puerto Rico, Mexico and Nicaragua.
The recruit, who hailed from just outside Vancouver, British Columbia, had spent part of the summer playing at an elite MLB endorsed invitational in Dallas' Global Life Field, was a touted multi-talented athlete who not only was capable of playing behind the plate, but able to effectively pitch as well.
That wasn't what made the 18-year-old unique. It also wasn't the fact that they had played so brilliantly they caught the attention of an MLB scout who recommended to a long-time coaching friend that he check out video and make a spot on his roster.
What made this recruit special was the long, golden pony-tail which emerged from the back of her ball cap and was frequently found flung over her left shoulder. The Raiders' newest recruit was Marika Lyszczyk, the first female catcher in collegiate baseball.
This isn't the first time that Holman Stadium, the Raider's home ballpark, has hosted history. In the late 1940s the field was home to the Nashua Dodgers, a minor league affiliate of the Brooklyn Dodgers. Their roster included future Hall of Fame catcher Roy Campanella as well as Don Newcombe, who would win the 1949 Rookie of the Year Award and 1956 Cy Young and MVP honors, to make them the first racially integrated professional baseball team. With that background it's fitting that Marika has become the first female athlete to start a game in NCAA baseball.
Growing up in Tsawwassen, British Columbia, just across the Canada-United States border about two hours north of Seattle, Lyszczyk played both softball and baseball. Playing both games concurrently proved to be difficult. While the pair of sports are strikingly similar, the differences between the two made affected her ability in the other. The nuances at the plate were particularly problematic.
"It was hard to swing baseball and softball at the same time because softball's swing is more like straight across and baseball is kinda of an under-swing sort of thing," Lyszczyk explained. "I could either hit at one or the other and I was better at hitting in baseball so I stuck to that."
In middle school Marika waived the conventional choice of softball and instead continued to pursue baseball on boys' teams. She developed her skills around the diamond and found she had a special knack for both pitching and catching. She credits Canadian culture for her continued acceptance and opportunity to play.
"It's not frowned upon and not as many people telling you to switch over to softball," Lyszczyk surmised.
Her game excelled to the point where she earned roster spots on both the senior British Columbia Baseball League as a pitcher and as a catcher for the Canadian Women's National Team. She joined national club prior to the World Cup qualifier in Aguascalientes, Mexico last August and helped the club win a bronze medal and a berth in their ninth consecutive Women's Baseball World Cup.
Last spring she was one of six Canadian female players, and just one of 60 overall, chosen to participate in the inaugural MLB Grit tournament in Arlington, Texas. The showcase event serves to encourage girls to play baseball and continue playing at higher levels. Lyszczyk simply thought it would be a cool opportunity to play with other girls and had no idea that her attendance would alter her playing career.
Jeremy Booth, the founder and CEO of PROGRAM 15, the President of Baseball Operations for The New Balance Baseball Future Stars and a scout who has consulted with multiple Major League organizations, noticed Lyszczyk. Booth, along with Rick Oliver, a former assistant assistant director for the MLB Scouting Bureau, made note of Marika's natural instincts, catch-and-throw skills, leadership, energy, fearlessness and ability to make consistent contact. Both believed she had the aptitude to play at the next level.
Oliver wrote up a scouting report and Booth dialed up his long-time friend Anthony Perry who was the head coach at River University, an NCAA D-III school in Nashua, New Hampshire. Booth knew Perry was a forward thinker and felt that his experience as a former catcher himself would make him an ideal coach to take Marika on board.
When Booth approached Lyszczyk to gauge her interest in playing at college, she assumed he meant as a pitcher. She knew other female players had taken to the mound before, including her Team Canada teammate Claire Eccles, who Lyszczyk reveres and credits for being a baseball groundbreaker herself. Eccles pitched for the Victoria HarbourCats of the West Coast League, a collegiate summer baseball league, in 2017 and 2018.
"It's easier to skip the hitting and concentrate on one part of the game, just the pitching," Lyszczyk stated. "If you're playing a position, you need to be skilled in more processes: hitting, defense, running."
When Lyszczyk learned that she could potentially play catcher in college, she was quickly sold on the opportunity. There had been another school that had shown interest in having her join their roster, but the possibility to continue to play catcher under Perry's tutelage was an opportunity she couldn't turn down.
"Coach Perry is also a catcher so I think he saw it as almost something interesting to do," Lyszczyk stated. "Not that regular guys aren't interesting, but it was kind of like a mission for him almost."
Perry committed her on Oliver's report and Booth's recommendation. The following fall the Canadian baseballer would be exported to the American's northeast to become the NCAA's inaugural female baseball position player.
Lyszczyk has had nothing but praise for the level of acceptance, not just by her teammates, but by opposing teams as well.
"I'm just like another one of the guys and they treat me almost like a sister. They're awesome and so supportive," Lyszczyk touted of the Raider roster. "Anything I do they're there. I'm never scared if I mess up that they're going to be mad at me. They're so supportive both on and off the field.
"I've had a few people reach out to me on teams I've played," Lyszczyk continued. "When I got my first hit off a team I had someone message me and tell me that 'We were happy to be a part of your success' and 'We wish you all the best.' They've been awesome."
As forecast, Perry has taken a shine to his new catcher and has nothing but praise for her ability and attitude.
"Being able to work with her for the short time we had this year, you could just tell she has a natural feel for the position," Perry boasted. "You wouldn't even know she's a girl until you see her pony tail flying her head after she threw the ball down to second base."
In the limited time they had on the diamond this spring, Lyszczyk was as advertised.
"For me evaluating it she hit all the right spots," the Rivier head coach stated. "The way she sets up, the way she receives, the way she blocks, she threw the ball well, her footwork was good, so I was comfortable saying, 'This girl can play.'"
In the abbreviated season Lyszczyk saw action in seven games and had 10 plate appearances. During her extremely limited at-bats she earned a hit, a walk, a pair of RBI and scored twice. She also took to the mound against the St. John's Johnnies – a team which went 7-1 on the year – and pitched a scoreless inning which included a strikeout to end the frame.
Despite the disappointment of the shortened season, Lyszczyk is completely committed to playing again in 2021. When asked if she would be back on the baseball diamond next year she gave a definitive reply.
"One hundred percent. I think I was on a roll and just getting into it. I think it went pretty well for what it was. I was really happy with the way it went and how I played."
Lyszczyk has been spending the quarantine-induced break taking batting practice, running, playing catch with her dad and lifting weights obtained from a local gym. Should the opportunity arise, she is scheduled to play this summer in the Hampton's Collegiate Baseball League for the Sag Harbor Whalers.
This past season she made a number of fans who lauded her determination and the example she set for female athletes. Perhaps her biggest fan was the coach who is proud to have her on his roster.
"She's very, very knowledge about the game," Perry asserted. "She brings that experience of playing at a national level as she's on the Canadian women's national team, so she's able to take that experience and share that experience with the guys. Her intangibles are off the charts.
"It's her personality – she always has a smile on her face, always upbeat at practice. You can tell she just loves the game which is really, really refreshing to see. … I'm excited to see, not only when she's done with me, but what she does after my four years, how far she can take this."