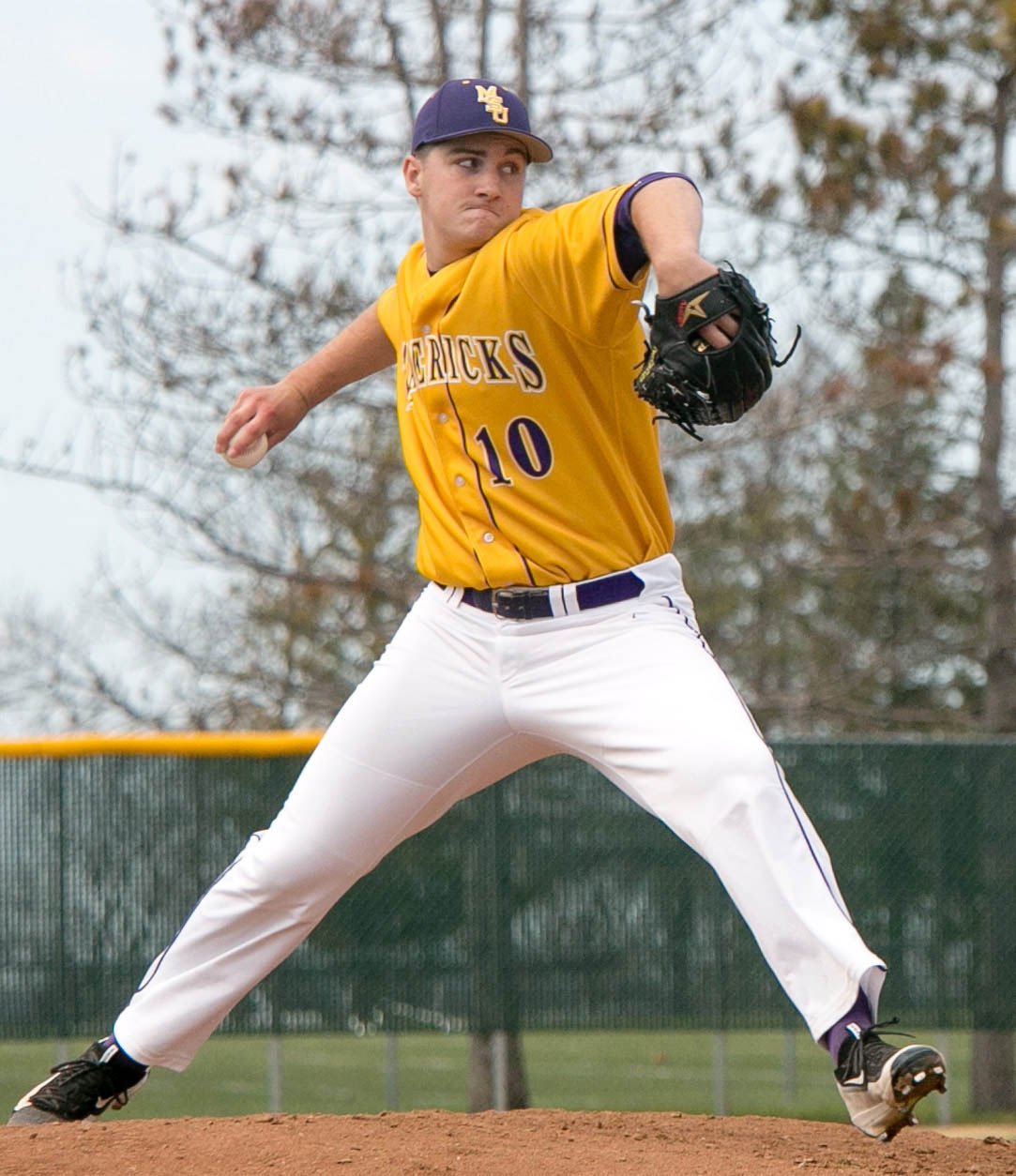 Minnesota State's Dalton Roach has been named the winner of the fourth annual Brett Tomko Award.The annual award is bestowed to a college baseball pitcher whose on the field performance is deemed the most outstanding at the Division II level.
Roach has been a dominating force since he first stepped on campus, earning a 1.91 ERA and holding batters to a .174 batting average as a freshman. This season his numbers skyrocketed into the stratosphere as he was as nearly as unhittable as the Mavericks logo is purple. Roach recorded a 10-1 record with a 1.56 ERA while he tallied six complete games and two shutouts, including a three-hit shutout in the Mavericks' 4-0 win over Central Oklahoma in the NCAA DII Central Region Tournament. In his 14 appearances he amassed 86 2/3 innings in which he only allowed 54 hits (.180 opposing batting average) while ruthlessly striking out 128 batters. Only once did he allow more than a pair of runs to score in a single outing. In the NSIC and NCAA tournaments he threw 17 innings while only allowing four total hits in his part of two shutout wins. Roach's 285 career strikeouts are second in Minnesota State program history to Hoppe's total of 295.
Marshall Kasowski, West Texas A&M finished second in the voting and Kyle Leahy, Colorado Mesa finished third.
Other finalists included:
Joseph Benitez, USC Aiken
Jacob Blank, Augustana
Gibson Russ, Central Oklahoma
Bryant Haralson, Henderson St
Austin Hutchison, Mount Olive
Tyler Jandron, Northwood
Caleb Kutsche, Columbus State
Frankie Moscatiello, St. Thomas Aquinas
Jake Walsh, Florida Southern