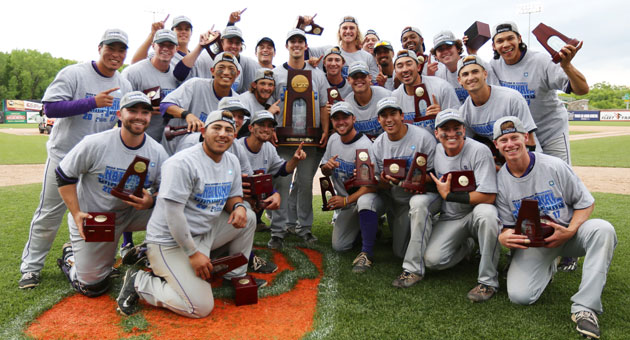 The national titles were decided last week, but there are still a few loose ends to tie up. The rounding out of the final Top 25. It's the final rankings which are usually the toughest, perhaps even more than the preseason ones, as so much goes on those final weeks with conference tournaments, regional play and the final series. Ultimately anything aside from a national title and No. 1 finish is bummer, but at least having someone state their program is a top five, 10 or 25 club still is a palatable consolation prize. A distant, distant solace, but one nonetheless.
Along with the final D-II, NAIA and D-III rankings are selections for each division's player and pitcher of the year. Just as with choosing the top teams singling out individual players is just as cumbersome. Nevertheless, it would be difficult to argue that any of the selections aren't a part of the crème de la crème of this year's crop.
A special deviation from the norm has been made in the final rankings of the NAIA teams, one which regrettably hasn't been made previously. The team that won the national tournament is not the top team, at least not exclusively. The NAIA bequeaths its tournament host an automatic berth to its final series. This gives that school what is deemed as potentially an unfair advantage over the rest of the teams. As a result, they are not the incontestable top team.
*Pre. denotes preseason ranking.
NCAA Division II
2017 Perfect Game/Rawlings Team of the Year:
Westchester Golden Rams, Pennsylvania State Athletic Conference
I'm starting to wonder if Westchester's Jad Prachniak is perhaps a warlock masquerading as a college baseball coach…
When Prachniak took over the Rams in 2012, WCU had barely eclipsed the .500 mark. Yet he was able to somehow (magically?) transform his team into national champions his very first year in the dugout. The next season (as to not arouse suspicion I suspect) Prachniak's team came back to earth with a more insipid 25-24-1 mark.  Since then, the Rams have been consistently good, but not overwhelming great.
This year the preseason expectations weren't overly high once again. The Rams looked good having won the PSAC Baseball Championship the previous spring, but a lack of dominating returners positioned them 25th in the NCBWA preseason rankings and they were completely omitted from the Perfect Game prognostications.
Yet the wizardly Prachniak cast his spell once again. The ballyhoo-less Rams stealthy entered the rankings midseason and creeped their way up the positioning earning win after win in the competitive PSAC conference. The lost the conference title game, but easily earned an at-large bid into the Atlantic Region where they wrecked havoc on their opposition. They completed their regional slate with an undefeated 4-0 mark and earned the school its fourth appearance in the D-II National Championships.
While in Grand Prairie the Rams looked like national champions from the first pitch. They swatted down a formidable North Georgia team 9-4 courtesy of an impressive offense outburst against one of the nation's top pitching teams. From there the Golden Ram pitching shined. WCU hurlers only allowed four total runs the next three games, one of which was a 1-0 edge-of-the-seat nailbiter against Colorado Mesa, a team that finished in the top five nationally in slugging percentage.
The final championship win was a 5-2 deflating of UC San Diego. The victory gave West Chester its second baseball title and kept Coach Prachniak undefeated in the national finals round of the tournament with a perfect 8-0 mark. The Rams, who are the only D-II team from the northeast region to have won the title, now have conjured it up twice.
2017 Perfect Game/Rawlings Player of the Year:
Zach Shannon, Delta State Statesmen
Shannon transferred to Delta State from Wabash Valley CC in Mount Carmel, Illinois and made an immediate impact with the Statesmen. The 6-foot-3 junior first baseman (and former PG All-American) mashed 19 home runs while maintaining a seventh-in-the-nation .434 batting average season. His Herculean bat was a huge part of why the Fighting Okra made their 12th appearance D-II CWS appearance as he concluded the year in the midst of a 22 game hitting streak.
Shannon is a health and physical education and recreation major but should seriously consider adding some woodworking classes to his course load as he's going to need some serious shelving to house all the awards he's earned this season. It would be much easier to list the awards he didn't win (are there any?) rather than catalog every honor he has accumulated this season.
Others strongly considered: J.D. Osborne, Tampa Spartans; Nick Beinlich, Belmont Abbey Crusaders; Brandon Benson, Georgia College Bobcats; Trevor Rucker, Southern Arkansas.
2017 Perfect Game/Rawlings Pitcher of the Year:
Dalton Roach, Minnesota State Mavericks
Roach has been a dominating force since he first stepped on campus, earning a 1.91 ERA and holding batters to a .174 batting average as a freshman. This season his numbers skyrocketed into the stratosphere as he was as nearly as unhittable as the Mavericks logo is purple. In his 14 appearances he amassed 86 2/3 innings in which he only allowed a measly 54 hits while ruthlessly striking out 128 batters. Only once did he allow more than a pair of runs to score in a single outing. In the NSIC and NCAA tournaments he threw 17 innings while only allowing four total hits in his part of two shutout wins.
As a part of his collection of awards on the season he won this, that, the one over there as well as a slew of other honors. Roach was All-Everything. Next season Roach will only need 11 more strikeouts to bypass MSU legend Jason Hoppe's total of 295.
Others strongly considered: Kyle Leachy, Colorado Mesa Mavericks; Marshall Kasowski, West Texas A&M Buffs; Bryant Haralson, Henderson State Reddies.

| | | | | |
| --- | --- | --- | --- | --- |
| Rk. | Pre. | School | ST | Record |
| 1 | NR | West Chester Golden Rams | PA | 44-12 |
| 2 | NR | UC San Diego Tritons | CA | 44-19 |
| 3 | 8 | Colorado Mesa Mavericks | CO | 50-12 |
| 4 | NR | Delta State Statesman | MS | 45-13 |
| 5 | 12 | North Georgia Nighthawks | GA | 46-12 |
| 6 | 1 | Tampa Spartans | FL | 39-14 |
| 7 | 16 | Mercyhurst Lakers | PA | 38-8 |
| 8 | NR | Chico State Wildcats | CA | 45-11 |
| 9 | 9 | Dixie State Trailblazers | UT | 39-14-1 |
| 10 | 21 | Angelo State Rams | TX | 43-15 |
| 11 | NR | Mount Olive Trojans | NC | 48-10 |
| 12 | 5 | USC Aiken Pacers | SC | 40-15 |
| 13 | 6 | Lubbock Christian Chaparrals | TX | 38-16 |
| 14 | 13 | Emporia State Hornets | KS | 42-13 |
| 15 | 23 | Azusa Pacific Cougars | CA | 42-12 |
| 16 | 7 | Minnesota State Mavericks | MN | 46-11 |
| 17 | 2 | Nova Southeastern Sharks | FL | 35-18 |
| 18 | NR | St. Thomas Aquinas Spartans | NY | 44-17 |
| 19 | NR | Quincy Hawks | IL | 37-23 |
| 20 | NR | Northwood Wolves | MI | 46-13 |
| 21 | NR | Lindenwood Lions | MO | 40-20 |
| 22 | NR | Southern Arkansas Muleriders | AR | 39-16 |
| 23 | 10 | Belmont Abbey Crusaders | NC | 37-17 |
| 24 | NR | Southern New Hampshire Penmen | NH | 42-11 |
| 25 | 25 | Lincoln Memorial Railsplitters | TN | 35-19 |
NAIA
2017 Perfect Game/Rawlings Team of the Year:
Faulkner Eagles, Southern States Athletic Conference
Lewis-Clark State won the NAIA World Series tournament but their win comes with as asterisk. The Warriors didn't earn their way into the final 10, they were gifted the berth by being the tournament's host. For 26 days LCSC didn't play a competitive game. During that time their players stayed at home and rested, recovered and practiced. No need to worry about pitch counts or injuries, they simply awaited their opposition to come to their stadium to play the final series. Without worry of a postseason bid, LSCS even forwent playing in the NAIA West Championship, allowing a sub .500 team to take their place in the tournament.
Meanwhile Faulkner played a grueling schedule this past spring. During the year they took on all comers, playing Tennessee Wesleyan, St. Thomas, Georgia Gwinnett, Middle Georgia State and William Carey and finished the regular season with a 43-10 record and spent a chunk of the season as the nation's top-ranked team. In the SSAC tournament they twice defeated (eventual NAIA World Series participant) William Carey, outscoring the Crusaders 29-4 as well as MGA in the championship game where they earned a comeback win over the Knights to take their second consecutive conference title.
Their 47-10 record up to that point earned the Eagles a hosting opportunity for the first round of the NAIA national tournament. Faulkner again brought their "A" game and impressively swept their way into the World Series, one of only four top seeds to manage to advance to the finals. The trip would remarkably be Faulkner's fifth earned trip in a row, the most of any active member institution (aside from Lewis-Clark which receives an automatic bid).
While in Lewiston Faulkner earned lopsided wins over The Master's University and Missouri Baptist before facing Lewis-Clark State. The Warriors edged Faulkner in front of an oversized spirited crowd, but Faulkner would get a second chance to upended the defending champs again after eliminating top-ranked Oklahoma City on the neutral Idaho ground. That set up a pair of must-win opportunities to take home the national title against LCSC.
With a lot of tenacity and a little bit of luck Faulkner won the rematch with the Warriors, creating a final, winner-take-all battle. The game went back and forth with the game in doubt until the final out, but in the end it was LCSC who seemed to have a little more gas in the tank and were able to pull out the win. For the second year in a row, LCSC overcame Faulkner to win the national title.
While the Warriors won the tournament, it would be remiss to discount the overall play of Faulkner this past season. They played well in Lewiston, but came just short of capturing the title. Had they had the advantages and opportunities afforded to LCSC the finale may have been different. Furthermore, had the Warriors been required to play in the über competitive opening round, it's possible that they may not have even advanced to the final 10.
LCSC may very well be the unequivocal top team in the nation, but until they play by the same rules as the other teams one can only speculate. Until then, and especially in this case, there are two No. 1 teams in the final NAIA rankings with Faulkner being the team of the year.
2017 Perfect Game/Rawlings Player of the Year:
Jared Baker, Oklahoma City Stars
It was a laborious decision made after much struggle, but Jared Baker got the final thumbs up over a slew of deserving candidates. Baker led Oklahoma City with a .406 batting average while also pacing the stalwart Stars with a blistering 20 home runs and 25 doubles. For the season, Baker finished second in the nation with 93 RBI, third in doubles and fourth in total bases with a robust 180. Had his senior season not been as prolific as it had it's certain the Stars would also not have been as successful as they were. With him in the middle of the lineup OCU spent a chunk of the season as the top-ranked team and reached the NAIA World Series for the 15th time in school history.
Oklahoma Wesleyan had a number of deserving candidates for the honor but it was coin toss to determine who was even the best batter on the team. While it shouldn't diminish the Eagles' accomplishments for the season, it would be hard to argue that the cozy confines of OKWU's home field didn't inflate the OKWU's offensive numbers. Had Baker been able to play half of his games in Bartlesville his numbers may have even been more grotesque.
Others strongly considered: Pretty much the entire Oklahoma Wesleyan Eagles Roster; Derik Bontempo, Bellevue Bruins; Marcus McCorkle, Georgia Gwinnett.
2017 Perfect Game/Rawlings Pitcher of the Year:
Damon Proctor, Northwest Ohio Racers
Proctor became the Racers' first-ever NAIA First Team All American after a dominating senior season. The Cheboygan native threw a perfect game during his unblemished 13-0 spring while accumulating 114 innings for the highly rated UNOH team while only allowing 76 hits. His 129 strikeouts tied for first in the nation and he finished with a second-in-the-NAIA 1.50 ERA despite pitching against the unnerving ilk of Davenport, Indiana Tech, Keiser, Georgia Gwinnett, Concordia and MidAmerica Nazarene.
Proctor edged Tennessee Wesleyan's Aaron Ford for the alpha honor. Ford had a 1.94 ERA and fanned 101 batters in just 74 1/3 innings. In a game against Milligan Ford threw a complete game, three-hit shutout in which he struck out 18 Buffaloes.
Others strongly considered: Aaron Ford, Tennessee Wesleyan; Enrique Zamora, Reinhardt; Noah Gapp, Cumberlands.
| | | | | |
| --- | --- | --- | --- | --- |
| Rk. | Pre. | School | ST | Record |
| 1 | 10 | Faulkner Eagles | AL | 54-12 |
| 1 | 3 | Lewis-Clark State Warriors | ID | 40-14 |
| 3 | 20 | Oklahoma City Stars | OK | 50-10 |
| 4 | 18 | William Carey Crusaders | MS | 45-20 |
| 5 | 1 | Keiser Seahawks | FL | 43-21 |
| 6 | 5 | Missouri Baptist Spartans | MO | 45-16 |
| 7 | 11 | The Master's Mustangs | CA | 41-23 |
| 8 | 13 | Oklahoma Wesleyan Eagles | OK | 51-12 |
| 9 | NR | USAO Drovers | OK | 45-17 |
| 10 | NR | Hope International | CA | 35-18 |
| 11 | 2 | Bellevue Bruins | NE | 51-11 |
| 12 | 21 | Southeastern Fire | FL | 50-11 |
| 13 | 8 | Northwestern Ohio Racers | OH | 44-12 |
| 14 | 15 | Middle Georgia State Knights | GA | 46-16 |
| 15 | 23 | Texas Wesleyan Rams | TX | 47-15 |
| 16 | NR | Indiana Tech Warriors | IN | 44-14 |
| 17 | 12 | Georgia Gwinnett Grizzlies | GA | 40-21 |
| 18 | 7 | Tennessee Wesleyan Bulldogs | TN | 47-15 |
| 18 | NR | Indiana Southeast Grenadiers | IN | 48-15 |
| 19 | NR | Huntington Foresters | IN | 35-13 |
| 20 | 17 | Tabor Bluejays | KS | 44-17 |
| 21 | NR | Davenport Panthers | MI | 43-17 |
| 22 | NR | Webber International Warriors | FL | 39-17 |
| 23 | NR | Clarke Crusaders | IA | 46-14 |
| 24 | 4 | St. Thomas Bobcats | FL | 35-19 |
| 25 | NR | Biola Eagles | CA | 35-18 |
NCAA Division III
2017 Perfect Game/Rawlings Team of the Year:
Cal Lutheran Kingsmen, Southern California Intercollegiate Athletic Conference
At the beginning of the season CLU Head Coach Marty Slimak stated his team was honored to be selected as the favorite to win the Southern California Intercollegiate Athletic Conference, but in reality Slimak figured it was more of a pipe dream that his team would accomplish more than that.
"If you would have asked me in February, that these guys and this team would be sitting here, I would have looked at you and said 'you're nuts,'" Slimak said after the Kingsmen took the title, "We had so many question marks we didn't know we could get close to something like this, but as the season progressed these guys started coming together and it was just a great clubhouse."
As late as mid-Mark, CLU didn't look like they were on the verge of taking home the school's third baseball national title. The team stumbled out of the gate going a pedestrian 7-6. However on March 14, after the team edged Whittier for a hard fought one-run win, they never looked back.
It would be the first of 15 wins in a row that brought them back onto the national stage. A sweep at the hands of Pacific Lutheran proved to be nothing more than a minor setback as the wins started accumulating once again. Perhaps even more impressively is that the Kingsmen weren't mauling their opposition. Instead they were nickel and diming their runs and edging their way to victory. Each W was hard earned and further battle tested them for the extended postseason.
CLU swept though the SCIAC Postseason to pair the conference title with a tournament win and headed into the regionals. Again, the wins didn't come easy, but they came. Four more wins a row and CLU advanced to the D-III College World Series for the sixth time in program history.
While in Wisconsin, the Kingsmen downed Wheaton and North Central to earn a date with Washington & Jefferson. Whichever team won would be taking home their first NCAA D-III National Championship. CLU lost the first game of the best-of-three series but dominated the second, 12-4, to establish a winner-take-all contest. The Kingsmen carried the momentum from their lopsided game two win and earned a 7-3 win to take the title and finished the season with an overall record of 40-11.
2017 Perfect Game/Rawlings Player of the Year:
Pete Grasso, Salisbury Seagulls
Grasso's statistical numbers blossomed exponentially throughout his four years at Salisbury, culminating with a sensational senior season with nonpareil numbers both at the plate and on the mound. As the team's everyday second baseman Grasso tallied a team-high 72 hits as a part of his .381 average. He also added 13 doubles, three triples, eight home runs and 47 RBI. Defensively he had a splendid .966 fielding percentage and helped the team turn 19 doubles plays.
Despite those impressive numbers, Grasso may have been even more impressive on the mound. As a pitcher he finished just outside the overall top 50 nationally with a 2.17 ERA as he split time as a starter and reliever. He earned nine wins and four saves in his 17 appearances, striking out 89 batters in 91 1/3 innings while holding opponents to a .227 batting average.
Like the other players listed above, Grasso took home a wealth of postseason awards including four separate first-team selections.
Others strongly considered: Tanner Nishioka, Pomona-Pitzer Sagehens (but not really – as good as Nishioka was batting .441 with 18 HRs, Grasso was an absolute boss).
2017 Perfect Game/Rawlings Pitcher of the Year:
Riley Groves, Washington & Jefferson Presidents
While it wouldn't be hard to argue that there were pitchers who put up more impressive numbers over the past season, it would be fatiguing to name a pitcher whose contributions were more instrumental to his team's success than Groves. Groves completed his college career in style as led the Presidents to a national runner-up finish as he earned a 2.30 ERA and held opposition to a .220 batting average. He threw a complete game in four of his 15 starts and finished with a 11-3 record.
Groves set the new W&J standard in program wins when he went seven innings against Roanoke at the D-III College World Series. Although he was tagged with the loss in the championship game, it's undeniable that without him they wouldn't have had the opportunity to compete in it. The Presidents finished the season with a school-record and nation-high 42 wins. Groves earned All American honors, was named the PAC Pitcher of the Year and ECAC Division III South Pitcher of the Year as well.
Others strongly considered: Josh Fleming, Webster Gorlocks; Billy Dimlow, Emory Eagles; Caleb Boushley, UW-La Crosse Eagles.


| | | | | |
| --- | --- | --- | --- | --- |
| Rk. | Pre. | School | ST | Record |
| 1 | 19 | Cal Lutheran Kingsmen | CA | 40-11 |
| 2 | NR | Washington & Jefferson Presidents | PA | 42-13 |
| 3 | 5 | Oswego State Lakers | NY | 32-11 |
| 4 | 3 | UW-Whitewater Warhawks | WI | 36-9 |
| 5 | NR | Roanoke Maroons | VA | 35-19 |
| 6 | 1 | Cortland State Red Dragons | NY | 38-9 |
| 7 | 2 | Birmingham-Southern Panthers | AL | 39-10 |
| 8 | 7 | Shenandoah Hornets | VA | 41-10 |
| 9 | NR | LaGrange Panthers | GA | 40-6 |
| 10 | 10 | Concordia University Chicago Cougars | IL | 34-13 |
| 11 | NR | Johns Hopkins Blue Jays | MD | 38-8 |
| 12 | 21 | Salisbury Seagulls | MD | 35-11 |
| 13 | 25* | North Central Cardinals | IL | 31-18 |
| 15 | NR | UMass-Boston Beacons | MA | 38-12 |
| 16 | 16 | Tyler Texas Patriots | TX | 39-9 |
| 17 | 6 | Wooster Fighting Scots | OH | 36-10 |
| 18 | 24 | Centenary Gents | LA | 35-10 |
| 19 | 8 | La Roche Redhawks | PA | 34-10 |
| 20 | 11 | UW La Crosse Eagles | WI | 31-19 |
| 21 | NR | Washington Bears | MO | 27-10 |
| 22 | NR | Wheaton Lyons | MA | 27-17 |
| 23 | 14 | Tufts Jumbos | MA | 30-10-1 |
| 24 | NR | Southern Maine Huskies | ME | 34-13 |
| 25 | NR | Concordia Tornados | TX | 31-18 |